The Only Law & Order: SVU Character Who Appears In Every Episode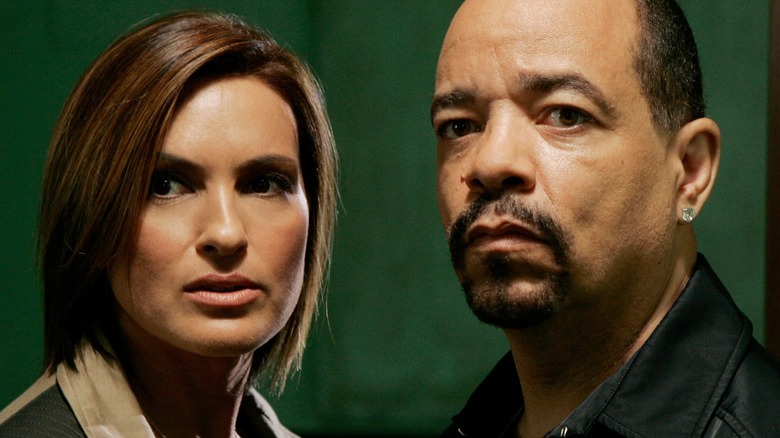 NBC
"Law & Order: Special Victims Unit" is one of many shows in a massive crime-fighting universe that includes all of the "Law & Order" series. In addition to the "Law & Order" franchise, many other shows are connected and take place in the same reality. Some of the other series include "Chicago P.D.," "Chicago Fire," "Conviction," and "Homicide: Life on the Street."
Of all the television shows in this universe, "SVU" is one of the most recognizable. Known not only for outliving the original "Law & Order," but for becoming one of the longest-running shows of all time. "SVU" has been on the air since 1999 and is in its 24th season.
Many factors go into "SVU's" success, but the main characters carry much of that weight on their shoulders. Ice-T confirms that Dick Wolf, the creator of "Law & Order," has always been firm on these shows focusing on the stories and not so much the characters' lives, but having solid and likable characters is still an essential foundation of any form of entertainment. "SVU" understands the balance between characters people want to watch every week and the crimes they're covering.
With over 500 episodes of "SVU," the series sees regular cast members constantly come and go. Only two characters have starred in more than 500 episodes and only one has been in every single episode.
Mariska Hargitay's Olivia Benson has been there since Episode 1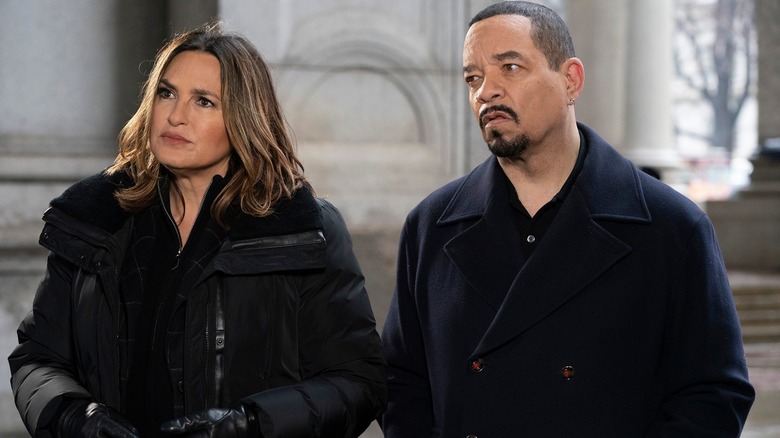 NBC
Mariska Hargitay has played Olivia Benson since the first episode of Season 1 and has appeared in every single episode of "SVU" since her first appearance. Starting out as a detective partnered with Elliot Stabler (Christopher Meloni), Benson has worked her way up the ladder. In Season 21, she officially became the precinct's Captain. Benson is the only remaining member of the original cast. However, it is worth mentioning that Meloni has made a triumphant return in his own series, "Law & Order: Organized Crime." This new spin-off does consistent crossovers with "SVU," allowing old partners Benson and Stabler to reconnect.
Ice-T holds the record for the second longest run on the series, with over 500 episodes under his belt as Odafin "Fin" Tutuola. Fin debuted in Season 2 and has been a consistent main cast member for almost every episode since. Ice-T told Smashing Interviews that he'd stay for as long as Hargitay is there because "SVU" is her show now. As long as she's got a job, he's confident he's got one too.
Benson is the longest-running primetime live-action television series character of all time. With so much exposure, she's become the main face of "SVU." Beyond that, she's become the poster child for the "Law & Order" franchise. As the most memorable character in the entire franchise, it's hard not to know who she is.
Olivia Benson is a female icon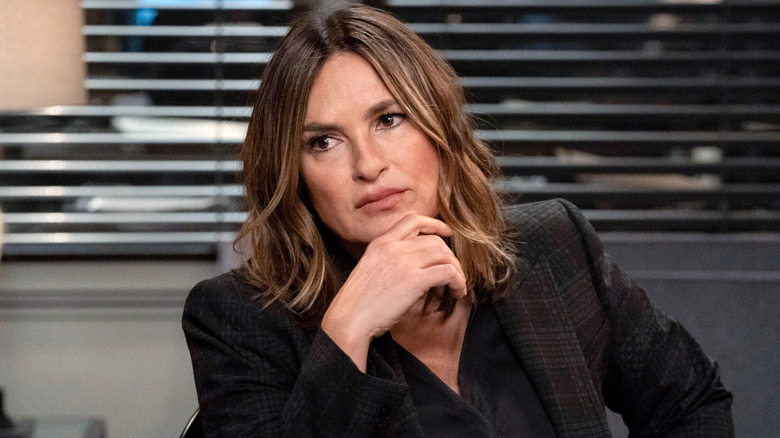 NBC
As one of the most recognizable faces on television, Olivia Benson has more influence than most fictional characters ever will. She's a well-rounded character who's strong and independent, but also kind and compassionate. Benson holds a place in the hearts of fans everywhere due to her genuine good nature and her belief in doing what's right. She's been a victim herself, but that has never stopped her from putting the needs of the people who come to her for help first.
Although "SVU" is a work of fiction, its setting is real-world New York City. It's meant to mimic actual crimes and how complex the investigation can be. Sometimes our heroes nail the bad guy and put them behind bars, and sometimes they don't. The show realistically captures what it's like to pursue justice and sometimes come up empty-handed. It pokes holes in the system and shows how not everything is black and white. Most importantly, it highlights the survivors' stories.
Sophia Soto interviewed Hargitay on the red carpet of Season 24 and she reflected on how important Olivia Benson is, not just to her, but to the world.
"I am so grateful to play whatever part, however big or small, in any survivor's healing. So for me, if I walked away tomorrow, I would be happy because it's just been beautiful to teach people how to deal with survivors, teach people about the neurobiology of trauma, teach people things that they didn't understand, and also play a part in a victim's healing," Hargitay recounted. "To believe somebody, to promote empathy and compassion, and to know that the only way forward is love, the only way forward is those things and the show is truly a vehicle for good."