Fans Caught The Hint About Stabler And Benson's Possible Romance On Law & Order: Organized Crime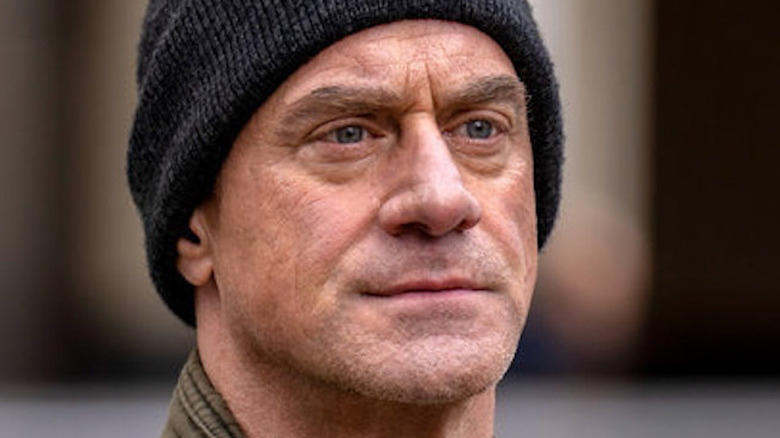 Zach Dilgard/NBC
Since the early seasons of "Law & Order: Special Victims Unit," fans of the series have noted how much chemistry exists between detectives Olivia Benson (Mariska Hargitay) and Elliot Stabler (Christopher Meloni). Stabler worked side-by-side with Benson for 12 seasons of the groundbreaking "SVU" series before Meloni's abrupt departure from the show. His character was written out off-screen in the Season 13 premiere, leaving many fans distraught. Benson and Stabler were always the backbones of the series and their dynamic was what many fans came for.
In fact, despite Stabler being married with children, fans have been shipping Benson and Stabler for decades. Fondly referred to as "Bensler," this duo has always had the chemistry to form a romantic relationship. As partners, the growing co-dependency that they formed felt suspicious, especially when taking into account that Stabler had a wife. Fans anticipated that eventually, they might take the plunge, providing lots of juicy drama in the midst. Being involved in a romantic entanglement with your work partner never ends well, after all.
"SVU" never actually dived into those waters in the way that fans hoped for, but now that Stabler has his own show, "Law & Order: Organized Crime," hope for Bensler shippers everywhere has once again been rekindled.
Stabler makes a love confession in Season 3 of Organized Crime
Season 3, Episode 8, titled "Whipping Post" explored the potential that Stabler might actually be in love with his old partner. Stabler meets up with a woman by the name of Tia Leonetti (Ayelet Zurer), a woman that Stabler's insinuated to have had some sort of fling or romantic entanglement with in his years off-screen (during his marriage or after the death of his wife). It's worth noting how much Tia resembles Benson, as Stabler might have been projecting his desires onto her. While Tia seems interested in rekindling old flames with Stabler, Stabler doesn't reciprocate.
Instead, they spend most of the night talking, and Stabler admits that he's in love with someone. Unfortunately, the episode doesn't give fans the direct confirmation that they want, because we never actually hear him say the name of the woman that he's in love with. Even the following morning, when Tia's recounting the topic of their conversation, she says that she knows just about everything there is to know, except, of course, for a name.
Tia does offer Stabler some heartfelt sentiment about the whole ordeal, though. She says, "Love shouldn't be complicated. Love affairs, yes, they can get messy. But love, that's different." Tia also offers him a little bit of comfort by adding, "Whoever it is you're in love with, she's a lucky woman."
Fans have latched onto Stabler's love confession as Bensler proof
Fans have taken to social media to rave about their theories of Elliot Stabler confirming his love for Olivia Benson. While any canon confirmation is not likely to crop up anytime soon, Twitter and Reddit are alive with excitement over the potential of the biggest slow-burn of all slow-burn ships potentially coming to fruition.
Twitter user @paulsenweltons posted a clip of Stabler and said, "'Whoever it is you're in love with, she's a lucky woman.' HIS FACE. IT'S HAPPENING!!!" They added a sobbing emoji to their tweet just to emphasize how emotional this potential is for long-term fans who have been invested in the idea of Bensler since the beginning.
The episode sparked a Reddit discussion posted by u/laurasroslin. This discussion broke down into fans gushing over the possibility that Stabler might be in love with Benson. u/savagemom10 simply wrote, "Benson. Her name is Olivia Benson," likely in response to the unnamed woman Stabler admitted to loving. u/kebdashian exclaimed, "LIV LAUGH LOVE CONFESSION LET'S GOOOOOOO!!!," dropping some clever wordplay on Benson's nickname.
Some fans had a change of heart over Tia's character amid the alleged confirmation. u/bayalyboo wrote, "It's amazing how much more agreeable I am towards Tia now that it's confirmed she knows about Stabler being in love with Olivia." Others seemed to agree with this sentiment. u/Adventurous_Deer replied to this by saying, "Now I want to see her meet Olivia."
No matter who Stabler was actually talking about, the fans won't be persuaded that he wasn't talking about Benson.