Jeremy Renner Proves He's The Strongest Avenger In His First Social Media Video Since Accident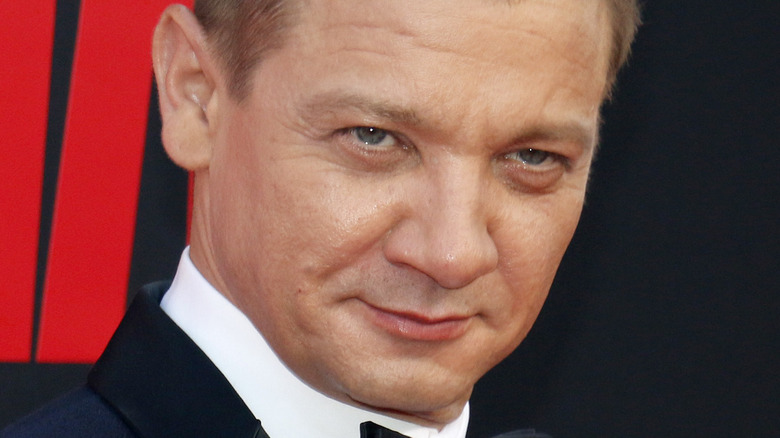 Tinseltown/Shutterstock
Jeremy Renner is primarily known for playing Clint Barton aka Hawkeye in the Marvel Cinematic Universe. For years, fans have watched Hawkeye team up with other superheroes and save the world from dangerous threats time and time again. That said, Hawkeye has never been perceived as the strongest hero in the MCU, as he's mostly served as a supporting player to the likes of Iron Man, Captain America, and other notable Avengers. However, recent real-world events prove that Renner might be the strongest member of the gang after all.
Renner has been in "critical but stable" condition these past few days following a snowplow accident that took place near Mt. Rose Highway in Reno, Nevada on January 1. Following the accident, the 51-year-old underwent surgery for blunt chest trauma and orthopedic injuries. While it seemed like touch and go for a while, it appears that he's finally on the mend, and he's been active on social media to ease the concerns of his fans.
Earlier this week, Renner posted a heartfelt message thanking his fans for their support, revealing that he was "too messed up to type" but grateful for all of the well-wishes. Since then, the "Hawkeye" star has also made enough progress to share a video message with his social media followers.
Jeremy Renner needs a shower following snowplow accident
Jeremy Renner took to Twitter on Thursday, January 5, and shared his first social media video since the life-threatening accident. The clip shows the actor in jovial spirits as he sits upright in bed rocking a shower cap, and receiving a head massage. In the accompanying caption, he revealed that he was having an "amazing spa day" in the intensive care unit after having a "not so great" day beforehand. His mother and sister were also present to keep his spirits high.
It's clear from the 23-second clip that Renner is still in the early stages of the recovery process, but he certainly hasn't lost his sense of humor. "Check it out. That's the first shower in definitely a week or so. Gross," he said. As of this writing, the video has amassed over 2.6 million views and received lots of engagement from Twitter users.
it's unknown how long it will take for "The Avengers" star to be on his feet again. However, the fact he's been active on social media since the accident suggests that he's on the road to recovery.
Fans and celebrities rally behind Jeremy Renner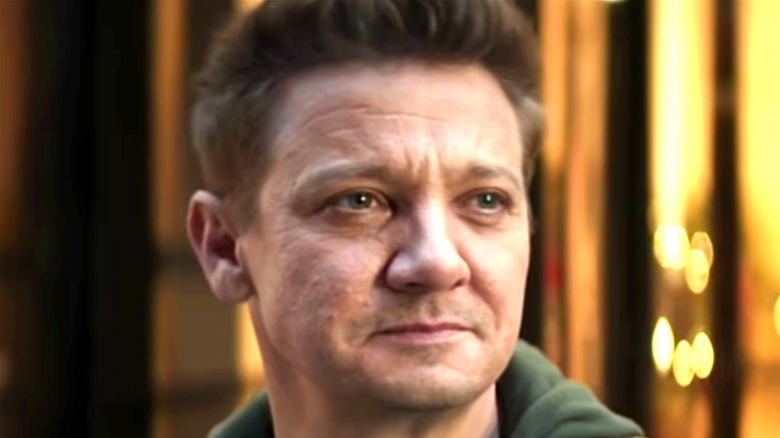 Marvel Studios/Disney+
After posting the video update to social media, many of Jeremy Renner's fans and peers flocked to the comments section and sent him their kindest regards. "Wishing you a speedy recovery @JeremyRenner, wrote @athompsonABJ. Glad that you are alive." This sentiment was echoed by @Jfrumess, who wrote, "Wishing you a strong, healthy recovery. Glad you are here. Keep healing."
Elsewhere, @JoyHenningstenMD stated "healthcare workers everywhere are rooting for your success" and wished him all the best on the road to recovery. Meanwhile, some of Renner's fans, such as Twitter user @sanjukta, were happy to see him in a good mood, despite having every reason not to be. "So heartwarming to see you in high spirits" she noted. "Best wishes for a speedy recovery. Thank you for your strength."
One of Renner's Marvel co-stars also showed up to cheer him on. Dave Bautista, who plays Drax the Destroyer in the "Guardians of the Galaxy" movies, wrote, "Get better Dog." Of course, Bautista isn't the only Marvel star who's rooting for his colleague. As documented by Variety, performers such as Chris Pratt, Chris Evans, Chris Hemsworth, and Taiki Waiti have been active on social media since his accident occurred, sending him prayers and positive sentiments. Hopefully, Renner will be sharing screens with some of them again in the near future.