Dave Bautista Has A Peaky Blinders Star Tattooed On His Leg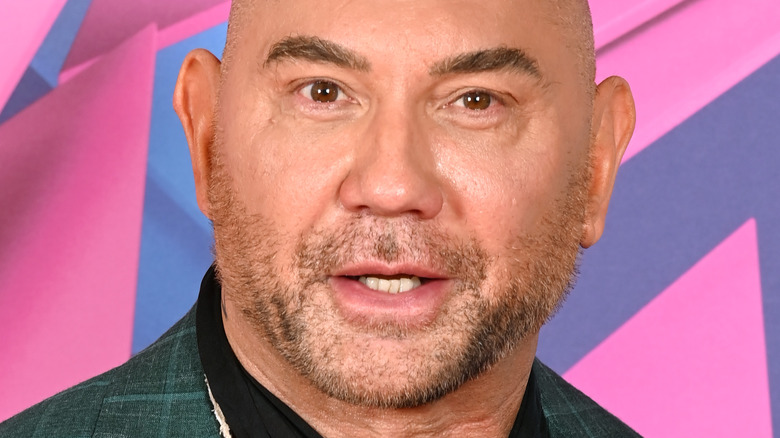 Dave J Hogan/Getty Images
Dave Bautista is someone who loves to tell stories, whether it be on the big screen or with his body. "I am a storyteller," the Marvel star explained in a video interview with GQ. "In every aspect of my life, from my career to what I've done in wrestling, with films, being a film producer, being an actor. And through my tattoos, I tell the story of my life."
Bautista, who is set to star in his very last performance as Drax in "Guardians of the Galaxy Vol. 3," is famously tattooed from head to toe. Much of his ink came throughout his years in the WWE and professional wrestling. When folks ask the 53-year-old actor how many tattoos he actually has, he offers up a surprising answer. 
"I typically say, 'Like three,'" Bautista revealed. "Because most of them are just all connected together. I consider it like one big tattoo." Bautista went on to say that he had close to 50 hours worth of ink work on his back, noting that he had his dragon backpiece completely re-done. "I did my back and I let it set for so long without finishing that I had to go back and retrace and do my whole back over again." 
While most of Bautista's tattoos bring him joy, there is at least one piece of art on his body — featuring a famous "Peaky Blinders" star — that does make him feel "a little embarrassed." 
Dave Bautista has a giant tattoo of Cillian Murphy on his leg
It's not the worst tattoo in the world, but Dave Bautista's inked "Peaky Blinders" homage is definitely one that the "Glass Onion: A Knives Out Mystery" star wishes went differently. The piece is located on the entire front side of his left thigh and features a portrait of Cillian Murphy's "Peaky Blinders" character, Tommy Shelby, along with the words "Gentleman Hooligan." Speaking to GQ (via YouTube), Bautista talked about how he found a picture he loved that featured Murphy. The "Gentleman Hooligan" message resonated with the former WWE star. However, he didn't exactly expect his tattoo to look so much like Murphy.
"And I asked [the tattoo artist] to alter it so it didn't look so much like Cillian Murphy," Bautista said. "And I got it and I thought, 'Okay. That doesn't look exactly like I have a tattoo of Cillian Murphy on my thigh.'" It wasn't until after Bautista posted the tattoo on Instagram that he realized how uncanny the resemblance was.
"The first time I posted it on my social media, all I got was, 'Oh my god — you've got a tattoo of Cillian Murphy,'" Bautista remembered. "Well, yeah. I guess I do. It is what it is. I'm a fan, so you know, [I'm] a little embarrassed, but not ashamed. So Cillian, there you go. Your face is tattooed on my thigh."