The Aaron Line In The Rookie Season 5 That Fans Can't Stop Talking About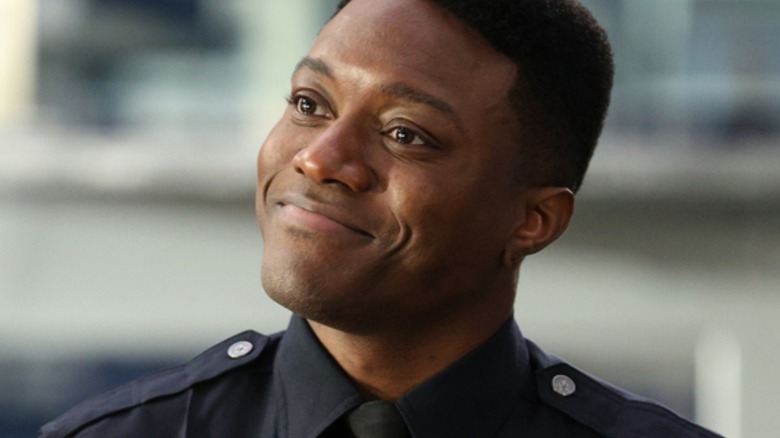 ABC
Patrolling its police-drama beat on ABC since 2018, "The Rookie" started its network run featuring Nathan Fillion as John Nolan. Average 40-something guy Nolan helps thwart a bank heist and, as a result, ends up making a hasty move to Los Angeles followed by a late-in-life decision to join the L.A.P.D. As part of a new class of rookie cops fresh out of the department's training academy, the show chronicles Nolan's dogged attempts to keep up with the much younger recruits and officers as they fight the good fight battling crime on the mean streets in the City of Angels.
As the show's titular rookie, it comes as no surprise that Fillion's Nolan has generally been the focus of the show's episodes. But as fans of the series would be happy to tell you, that situation no longer applies. It turns out Nolan graduated from his training stint in Season 4, earning his bones as an actual police officer who no longer carries the newbie rookie label. To avoid a title-narrative conflict, the series has brought Tru Valentino's Aaron Thorsen on board as a new trainee. And, as it turns out, rookie Thorsen has sparked more than a little fan interest, including one line in particular uttered by him in a recent Season 5 episode of "The Rookie."
Fans got a kick out of Aaron's anxious line to Tim Bradford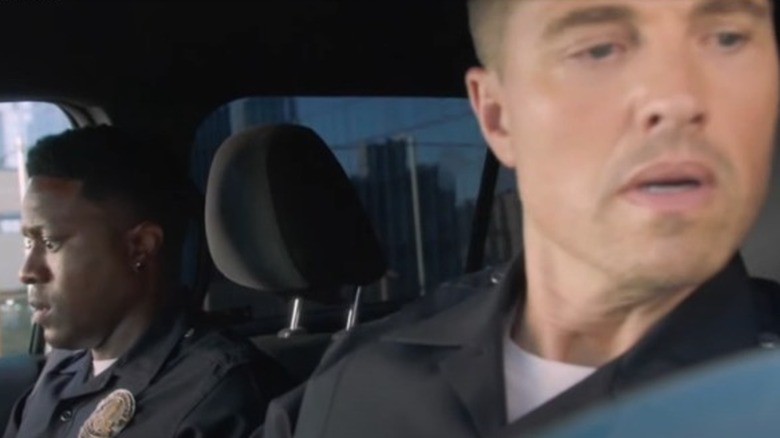 ABC
In Season 5's tenth episode "The List," Tru Valentino's rookie cop Aaron Thorsen is in a squad car with Officer Tim Bradford (Eric Winter) as their vehicle is tilting precariously, about to plunge off of a parking structure after being rammed by the car of the suspect they've been chasing. Bradford is the love interest of Officer Lucy Chen (Melissa O'Neill), making up the fan-favorite ship known as Chenford.  Paired with Bradford for training, Thorsen is now more or less responsible for keeping his fellow cop from dying on the job, which prompts him to tell Bradford, "Lucy will kill me if I let anything happen to you." Fans were quick to applaud the gallows' humor.
Posting on the show's subreddit, user u/starlurkerx3 basically framed fans' response to the line, writing, "I love how Aaron was like 'Lucy will kill me if I let anything happen to you' to Tim," followed by three laughing-crying emoticons. This prompted Redditor u/sweetscaitlin to add the rest of Aaron's line, "So I'm dead either way," capped with a pair of similar emoticons. 
Also reacting to the dialogue, Twitter fan @breebaqbooks tweeted, "that was the funniest thing Aaron could say at that precise moment. Another Twitter poster chimed in to say simply, "Damn right #The Rookie #Chenford."