​​Seth Rogen Found Steven Spielberg's Raw Emotion On The Fabelmans Beautiful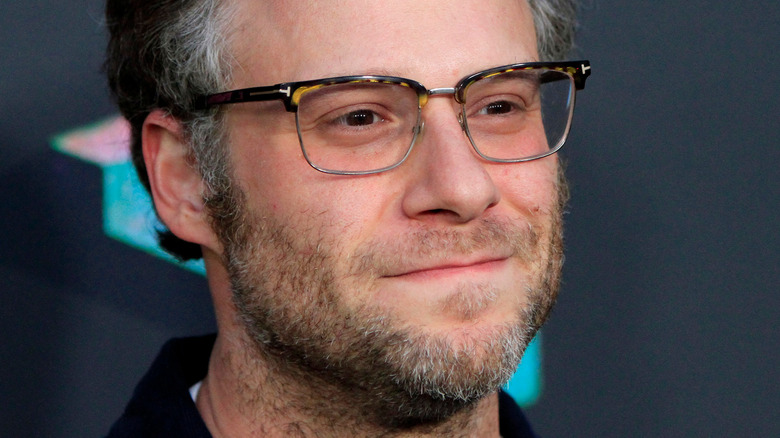 Kathy Hutchins/Shutterstock
From his humble beginnings as a "Freaks and Geeks" cast member, Seth Rogen has parlayed his raucous laugh and unpretentious brand of humor into a successful comedy career. But alongside his slate of Judd Apatow productions and comedies like "Sausage Party," Rogen has also been padding his resume with dramatic roles, including Sarah Polley's 2011 indie gem "Take This Waltz" and Danny Boyle's "Steve Jobs" (via IMDb). Now, he's working with a director who is every dramatic actor's white whale: Steven Spielberg.
Loosely based on Spielberg's childhood in the 1950s and '60s, "The Fabelmans" follows youngster Sammy Fabelman (Gabriel LaBelle), a stand-in for Spielberg, as he contends with his parents' strained relationship and his own journey to become a nascent filmmaker. Rogen stars as Bennie Loewy, an avuncular family friend. For Rogen, working with Spielberg was a deeply surreal experience. 
"I have friends who have worked with Steven Spielberg and it's been surreal for everyone I know," the actor told The Hollywood Reporter. "The added layer of it being such a deeply personal film, it was something that was not lost on anybody." Indeed, Spielberg called "The Fabelmans" the most personal project of his career, making the set a highly emotional place.
Rogen saw Spielberg cry dozens of times on the Fabelmans set
Seth Rogen shared that his co-star Michelle Williams said portraying versions of Steven Spielberg's real-life family members in "The Fabelmans" was "a singular experience." As such, Spielberg had a lot of emotional moments on the set of "The Fabelmans." "To come to work every morning and walk on a set that is an exact replica of the house I grew up in created a level of nostalgia verging on grief," said the director (via The Hollywood Reporter). "It was a healthy kind of grieving."
Spielberg didn't hide that emotional response from his cast, who saw the director's reaction firsthand. "He would cry a lot, openly," Rogen told The Hollywood Reporter. "We'd show up on set and he would just see a certain piece of wardrobe or a certain piece of set dec[oration] or everyone coming together to recreate a certain thing." For Rogen, seeing Spielberg's unfettered emotion was moving. "I saw him cry dozens of times throughout filming the movie which was actually very beautiful and I think made everyone want to really honor what he was doing," he said. "You saw how much it meant to him and how truthful he was being."
That vulnerability will surely shine through in "The Fabelmans," which opens in select theaters on November 11.