Tyler, The Creator Divided Ridiculousness Fans With His Mr. Rochelle Character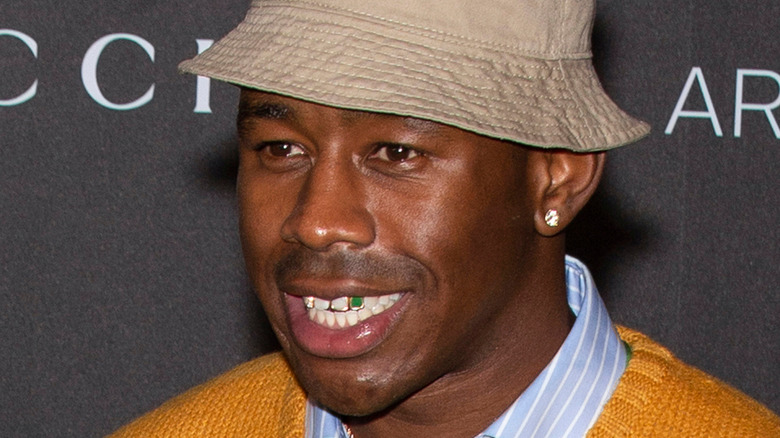 Ovidiu Hrubaru/Shutterstock
"Ridiculousness" is the modern-day equivalent to what "America's Funniest Home Videos" was in the '90s. By crowd-sourcing its content from an unlimited supply of silly internet videos of people attempting ridiculous stunts and pranks, the MTV comedy series ensures that it will never run out of content, a fact seen clearly in its current count of 27 seasons across just 11 years.
Meanwhile, its rotating cast of celebrity judges keeps fans tuning in weekly to see who will be guest-hosting on the series next. Unfortunately, however, not every guest host brings their best material or receives a great reaction from viewers. Such was the case with musician and comedian Tyler, the Creator's appearance on an episode of the long-running series.
While some "Ridiculousness" viewers seemed to eat up Tyler, the Creator's absurd substitute teacher character Mr. Rochelle, others clearly felt that the rapper's appearance was inappropriate and left much to be desired.
Mr. Rochelle seems to be a very one-note character
On the r/television subreddit, fans discussed the appearance by Tyler, the Creator, as Mr. Rochelle on "Ridiculousness," and the consensus was not kind. It's not hard to see why, either, because much of the character seems to be pretty one-note and he yells words like "Idiots!" repeatedly throughout his stint.
"I don't think anything funny or clever was said by him at all. I know it was Tyler, the Creator in disguise, but it really was not amusing in the least," wrote u/Shrekk_Wpg in their thread. "I found Rochelle annoying and just wanted him to shut up," agreed u/Manky_Dingo. "He had 2 lines and just wanted to repeat them over and over."
Though Tyler, the Creator is a Grammy-winning performer and has long been admired as the ringleader of the hip-hop collective and fashion empire Odd Future as well as the alt-comedy crew Loiter Squad, it would seem that these achievements did not correlate to an amusing or entertaining experience for the rapper on "Ridiculousness."
Apparently, not everyone agrees that Tyler, the Creator and the Mr. Rochelle character are a miss, though, as the multi-talented musician has gone on to make several repeat appearances on "Ridiculousness" since. Either way, this example is a clear indicator as to why the controversial performer remains so divisive outside of his devoted fanbase.