Glass Onion's Marriage Tease Has Been Confirmed By Hugh Grant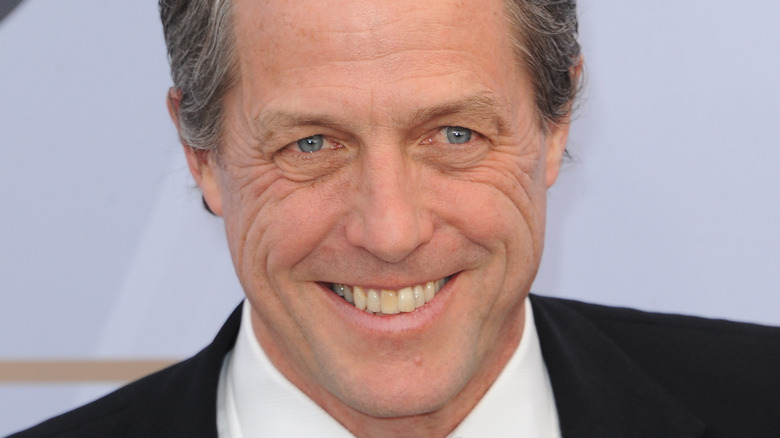 Tinseltown/Shutterstock
Romantic comedy legend Hugh Grant confirmed something big about his latest on-screen pairing.
"Glass Onion," the second film in Rian Johnson's "Knives Out" universe that centers around detective Benoit Blanc (Daniel Craig), features a ton of thrilling cameos, from late icons like Stephen Sondheim and Angela Lansbury to the venerable Ethan Hawke (who apparently just popped over from filming "Moon Knight" to join Johnson's party. One cameo, though, stirred up a ton of chatter, and that's Hugh Grant appearing very briefly as Benoit Blanc's live-in partner, once off-screen in a voiceover and extremely quickly in person. Appearing roughly midway through the film as the central twist is revealed, Grant's presence in "Glass Onion" was a welcome surprise, and it's kept audiences talking ever since.
Sure, you could argue that Grant's unnamed character and Benoit are just friends, but Grant (and Johnson himself) beg to differ. Here's what Grant had to say about his character's connection to Benoit Blanc.
Hugh Grant says he and Daniel Craig's Benoit Blanc are married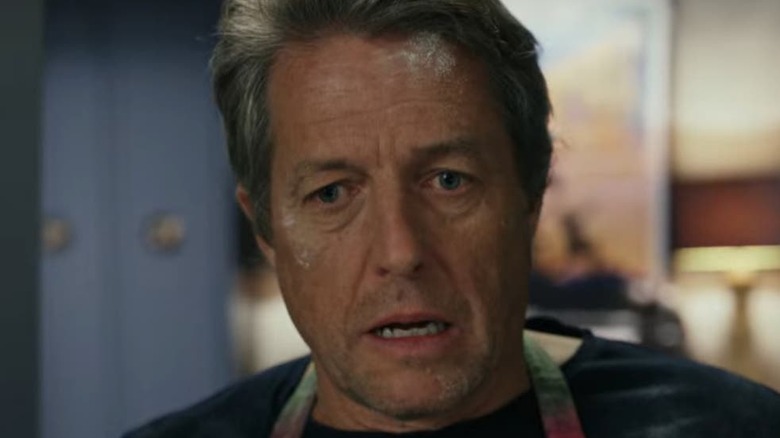 Netflix/YouTube
In conversation with Collider, Grant opened up about his very, very brief cameo, where he opens the door to Benoit's apartment holding, appropriately, a jar of sourdough starter (a cheeky nod to the early days of the COVID-19 pandemic in 2020, when it seemed as if every person in the world got super into baking). He can also be heard earlier in the film calling out to Benoit asking the depressed detective if he's sulking in the bath again.
"It is true, I'm married to James Bond," Grant told Collider editor-in-chief Steven Weintraub, though, according to the outlet, he chose not to elaborate because Chris Pine — Grant's co-star in the upcoming "Dungeons and Dragons: Honor Among Thieves" — was present and hasn't seen "Glass Onion" yet.
"It's the tiniest little moment," Grant revealed, without getting too specific for Pine's sake. "I don't really know why they wanted to do it but anyway, I thought 'Knives Out 1' was brilliant, and so yeah, I thought why not? I turn up for a few hours..."
Rian Johnson previously confirmed Benoit Blanc is queer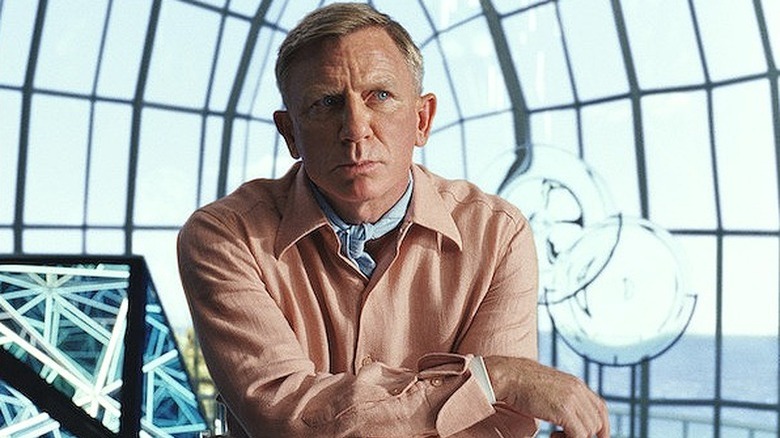 Netflix
Before "Glass Onion" even came out, though, Johnson already cleared things up about Benoit Blanc's personal life. According to Insider, after reporters saw a screener that indicated Blanc lives with a man, Johnson was asked if Blanc was queer during the London Film Festival. "Yes, he obviously is," Johnson said, before continuing, "And there's nobody in the world I can imagine in bringing me more joy for Benoit Blanc to be with. No spoilers [but] who wouldn't want to live with that person?"
That said, don't expect a look back at Benoit Blanc's entire life story any time soon. Speaking to Mike Ryan at Uproxx, Johnson, facing questions about Blanc's history, said he prefers to give "glimpses" about Blanc than spell out his backstory: "He's interesting in his function within the mystery, you know what I mean?"
Asked about Blanc's time playing "Among Us" in the bathtub, Johnson continued, "I guess, I still count that as a glimpse. But yeah, I don't know the notion of building out a backstory, learning where he came from, all of that stuff, to me, I don't know, I have a natural inclination to kind of push that stuff back and to say a little goes a long way in terms of that. And ultimately this has to be the story of the mystery. The mystery's the thing. And the detective is interesting is the way he solves his function within solving the mystery. And if we get glimpses beyond that, that's great. But I feel like a little of that goes a very long way for me."
When Ryan followed up and asked if that means we won't get "The Young Benoit Chronicles," Johnson was very firm: "Sorry. Maybe, someday after I'm dead and gone, it'll be streaming on a mind chip."
"Glass Onion" is streaming on Netflix now.