The Best Detectives On Law & Order: SVU Ranked By Skill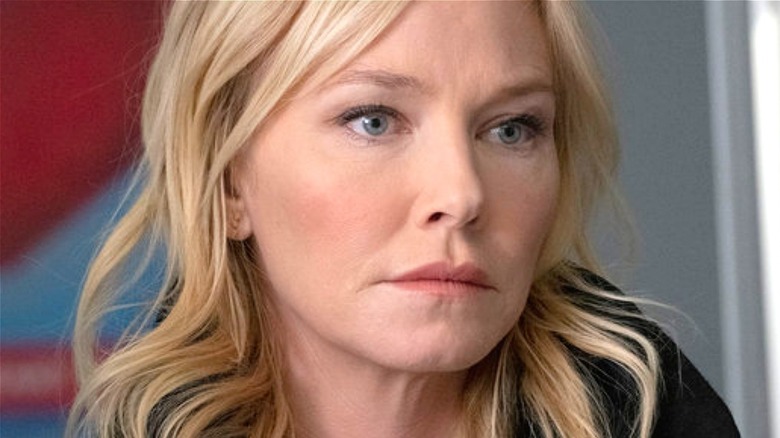 NBC
Being an SVU detective is a tough gig. As described in the opening narration of the long-running spin-off "Law & Order: Special Victims Unit," the crimes they investigate are considered "especially heinous," often dealing in sexual violence. Week in and week out for over 20 years now, the unit has been confronted with some of the worst acts that a human can commit against another person: Rape and incest, murder, sex trafficking, and more. Some episodes are "ripped from the headlines," while others are tales as old as time.
The constant stream of misery, often perpetrated against society's most vulnerable and marginalized, wears on the detectives who choose this line of work. Where the original "Law & Order" series adopted a "just the facts" approach to its police drama, focusing on the case of the week above all, "SVU" delves into the personal lives of its detectives. Many of them have traumas in their backgrounds that drew them to SVU, only to find that those traumas make living with the work difficult. Nearly all of them are good cops, but the mark of a great SVU detective is being able to do the job without succumbing to despair or one's darker impulses. Let's take a look at the best "Law & Order: Special Victims Unit" detectives, ranked by skill.
If you or anyone you know has been a victim of sexual assault, help is available. Visit the Rape, Abuse & Incest National Network website or contact RAINN's National Helpline at 1-800-656-HOPE (4673).
Elliot Stabler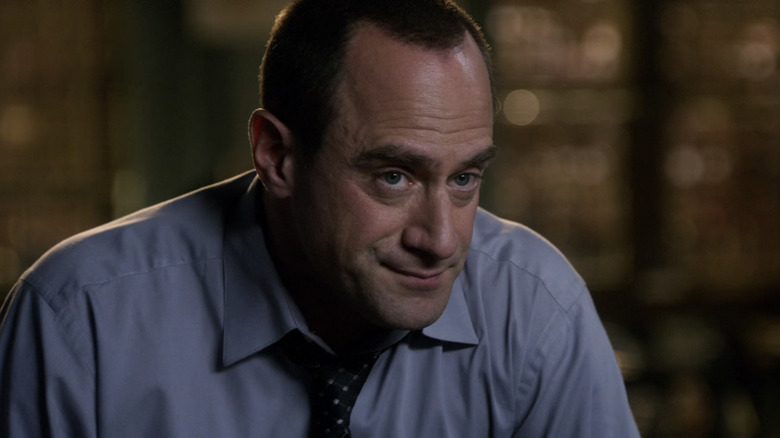 NBC
Though "SVU" has always been an ensemble series, from the beginning it had one pair of detectives at the center: Mariska Hargitay's Olivia Benson and Christopher Meloni's Elliot Stabler. Benson and Stabler are a study in contrasts. Both detectives are passionate about the work, but Benson is measured where Stabler is hotheaded — naturally, fans have wanted them to hook up for decades. A family man and a devout Catholic who is devoted to his work and protecting the innocent, Stabler was a fan favorite from the very beginning, and Meloni's departure in 2011 left an empty space that the series could never quite fill.
However, despite his status as a fan favorite, there's no getting around the fact that Stabler is a bad cop. He's reckless and violent, dismissive of suspects' rights, and often doubtful of female victims with a sexual history. Meloni's performance was always compelling, but the truth is that Stabler's actions in real life would endanger investigations, not to mention lives. And while some of the other detectives on this list are just as bad, if not worse, the difference is that Stabler is still on the job, having worked in Rome for a decade before returning to Dick Wolf's Manhattan in the 2021 spin-off "Law & Order: Organized Crime."
Chester Lake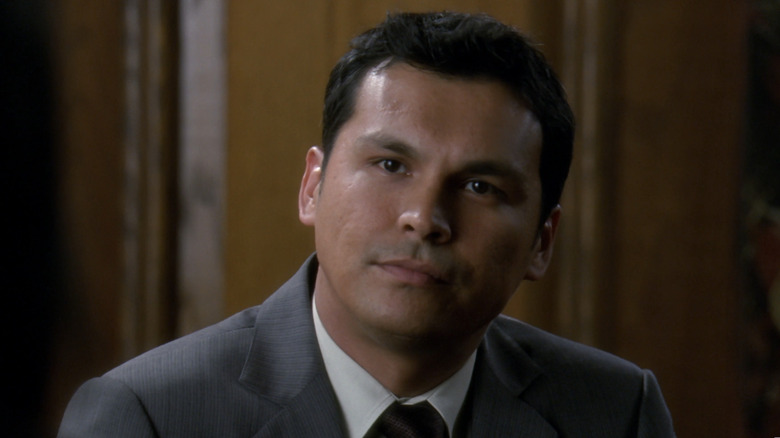 NBC
Adam Beach's Chester Lake joined the SVU squad in Season 9, partnering with Fin Tutuola (Ice-T) after the promotion of Fin's former partner John Munch (Richard Belzer). A native New Yorker of Mohawk ancestry, Lake's keen powers of observation and handiness with his fists (he's a former MMA fighter) made him a valuable asset to the 16th precinct. However, being an asset to the SVU isn't just about being a good detective, it's about being able to weather the darkness at the heart of each case and, when necessary, accepting that some cases will not see justice served. This is where Lake falls flat.
This inability caused Lake's downfall in the Season 9 finale "Cold," where it's revealed that Lake is a member of the Vidocq society, a real-life organization of investigators who work on cold cases. While independently investigating a decade-old assault case — the first of his police career — he kills two NYPD cops who were involved: One in the course of protecting the sole remaining witness to the crime, the other after justice in the case once again goes unserved. Like many other detectives on this list, Lake's zeal overtook his consideration of the law, and he suffered for it.
Monique Jeffries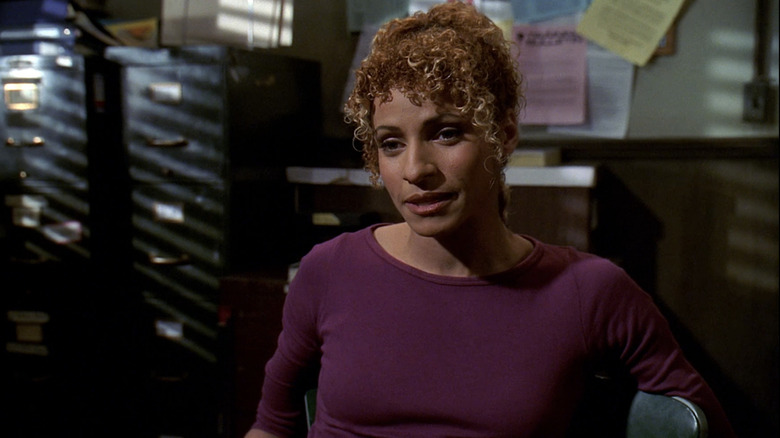 NBC
Monique Jeffries (Michelle Hurd) was Munch's partner in the show's first season and a case study of the unique pressures and pitfalls an SVU detective faces. While in pursuit of a suspect in the late-season episode "Remorse," she is injured by a nearby car bomb. After taking a few days off to recover from the shock, Jeffries finds that her trauma is manifesting in risky behaviors, particularly of the sexual variety. Her private and professional lives come to a head in the season finale "Slaves."
SVU is part of a trial program where every NYPD unit receives bi-annual psychological exams. When speaking to the police psychiatrist (guest star Audra McDonald), Jeffries confesses not only to her newfound zest for one night stands, but to recently sleeping with a man who had been a suspect in an investigation a year earlier. The revelation, which Jeffries assumed to be confidential, turned out to be anything but. Her lapse in judgment led to her being reassigned to a desk position at One Police Plaza and, later, the NYPD vice squad. Hurd was only in a handful of Season 2 episodes; she was the first main cast member of many to depart the series, as well as the first to depart on less than good terms, according to reports.
Nick Amaro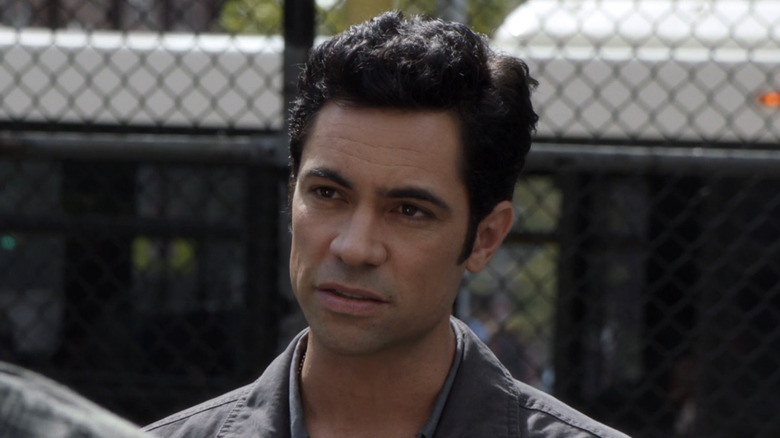 NBC
Going undercover is dangerous, but it's all in a day's work for an SVU detective. Whether it's Kat Tamin posing as a jogger in the park, Benson joining a terrorist cell, or Stabler moving into a halfway house for convicted sex offenders, the pressures of leading a double life can send a cop down some dark roads. That was the case for Detective Nick Amaro (Danny Pino), the former undercover narcotics officer who became Benson's new partner following Stabler's departure. In his previous assignment Amaro went deep undercover and became sexually involved with Cynthia Mancheno (Andrea Navedo), the sister of the high-level drug dealer he was pursuing. Their relationship resulted in a child, Gilberto, who Amaro only found out about years later while working with SVU.
While you could argue that the high-stakes nature of his undercover assignment was to blame, Amaro's relationship with Cynthia was not exactly ethical. He also has a habit of threatening people with violence, particularly when it comes to child abuse. Like Stabler, Amaro has little sympathy for those who prey on women and children, but, unlike Stabler, he was censured for his actions numerous times. Finally, after being wounded on the job at the end of Season 16, he decides that he needs a fresh start away from SVU and retires to California, where Cynthia, Gilberto, and his daughter from a previous marriage all live.
Brian Cassidy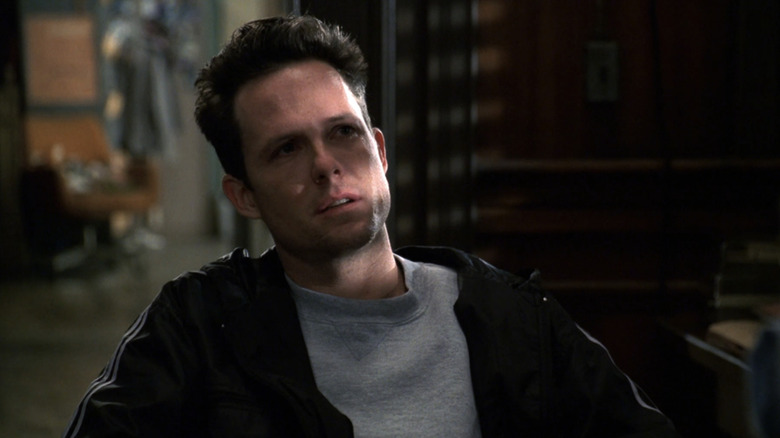 NBC
Not everyone is cut out to be an SVU detective. It takes a certain disposition, a certain hardness to keep coming into the squad room every morning, and not everyone is up for it. Already on this list we have seen detectives wash out of SVU for being bad cops, but sometimes even good cops can't handle it. That was the case in Season 1 with Brian Cassidy (Dean Winters), Munch's original partner for the first half of the season. The unit's newest member, Cassidy is young and bright-eyed, eager to please — perhaps too eager, considering his short-lived secret relationship with Benson. But he's immature and unsophisticated, and the nature of the work takes a strong emotional toll on him. In the mid-season episode "Disrobed," the squad's commanding officer Captain Cragen (Dann Florek) gently suggests that Cassidy take an open position in Narcotics.
Cassidy has returned to "SVU" many times over the years. After leaving Narcotics, he took a position with the Internal Affairs Division, and over a decade later, he eventually rekindled his romance with Benson, starting in Season 13. But, even after all that time, the same issues that made Cassidy a bad fit for SVU continue to cause problems, as seen in the Season 19 episode "Chasing Demons" and its Season 20 sequel "Facing Demons." His previous misconduct while undercover and his anxiousness on the witness stand cause a mistrial and a serious breach in his personal and professional relationship with Benson.
Joe Velasco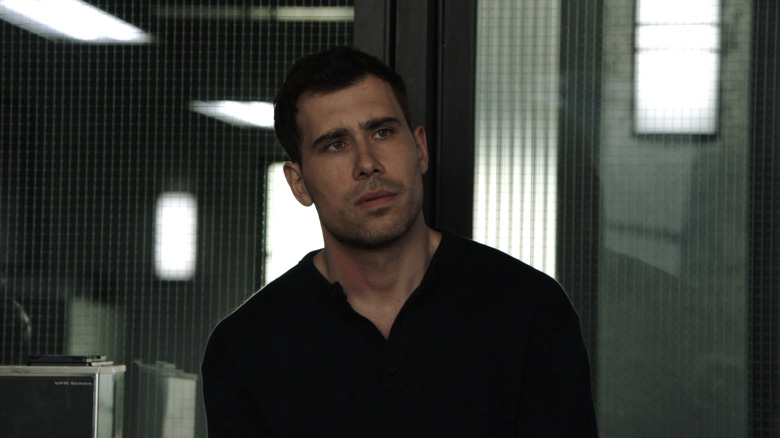 NBC
Mexican-born Jose "Joe" Velasco (Octavio Pisano) is the newest member of the SVU team, taking over for the retired Kat Tamin in Season 23. Partnered with Fin, he seems to be built from the spare parts of previous detectives. Like Rollins, he is a transplant to New York, having grown up on the tough streets of Ciudad Juárez; like Amaro, his childhood was marked by abuse and neglect; like Stabler, he has a violent streak that puts him at odds with veterans Benson and Fin. And, like Cassidy, he is inexperienced and surprisingly naïve.
The Season 23 episode "Confess Your Sins to Be Free" takes a hard look at Velasco's naivety, especially when it comes to his Catholic faith. He is no stranger to the dark side of humanity, having witnessed firsthand sex trafficking in his hometown, but when the evidence points to a priest (Kelly AuCoin) being a serial rapist, he has difficulty reconciling his faith with his job. Like devout SVU detectives Amaro and Stabler before him, Velasco must confront his own biases and recognize that predators can be lurking anywhere, especially in places where they can hold power over the vulnerable.
Amanda Rollins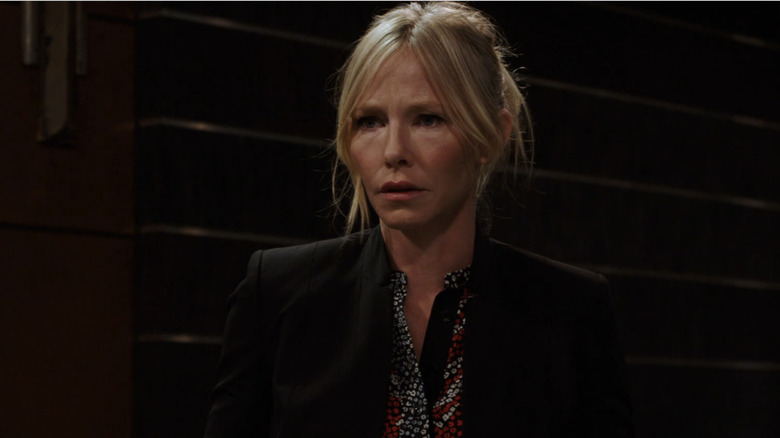 NBC
Though Nick Amaro was technically Stabler's replacement as Benson's partner in Season 13, in many ways it's Amanda Rollins (Kelli Giddish), the tough-talking Atlanta PD transfer, who is the true yin to Benson's yang. As Benson's leadership took the unit in a more compassionate direction, Rollins remained a prickly, slightly retrograde counterpoint, often taking what we could imagine would be Stabler's side when the squad room would debate political or social justice topics. And, like Stabler, Rollins often throws herself into undercover assignments and dangerous situations with reckless abandon, as if trying to punish herself for her transgressions.
Rollins is a dogged, fearless detective, but also a real mess. She is a recovering gambling addict who got in deep with an illegal gaming operation. She has embarked on romantic relationships with two other SVU detectives, Amaro and Carisi, and the father of her second child is NYPD lieutenant Declan Murphy (Donal Logue). While not as violent and dismissive of civil rights as Stabler, more than once Rollins kept her job by the skin of her teeth, and her Season 24 retirement and marriage to Carisi marks the end of an era. Years from now, we might look back and see Rollins as the last of the show's loose-cannon cops.
Kat Tamin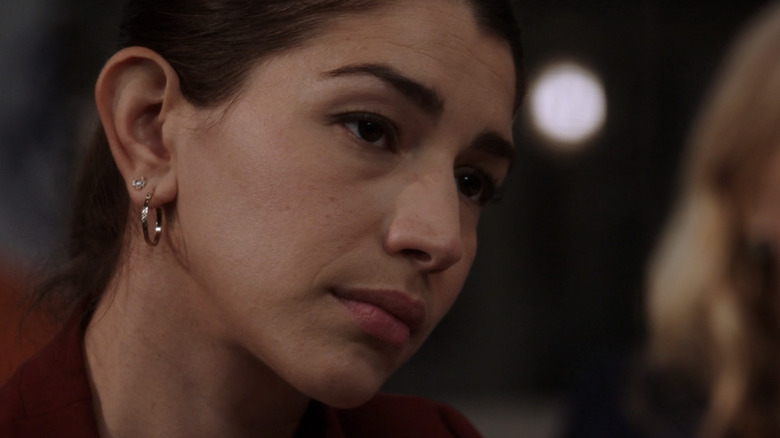 NBC
Real life events brought a lot of changes to Season 21 and Season 22 of "SVU." There was the birth of the #MeToo era (signified by Ian McShane guest-starring as a Harvey Weinstein surrogate), the COVID-19 pandemic, and the nationwide reckoning on police violence brought on by the murders of George Floyd, Breonna Taylor, and others. The world had transformed in a relatively short space of time, and "SVU" had to change with it. At the center of these wild two years was a brand new character, young detective Katriona "Kat" Tamin, first introduced as part of the sting operation that takes down McShane's predatory film producer. A few episodes later, Kat was a full-fledged SVU member.
In her short time on the show, the earnest and insightful Kat worked alongside Rollins and was often placed at the forefront of episodes that specifically dealt with public distrust of the police. The show has had many Stabler surrogates over the years, from Amaro to Rollins and Velasco, but Kat was a rare surrogate for Benson, a truly caring and decent cop who seemed born for the work. But Kat managed to do something Benson never could, or perhaps never would: She gets out. The early Season 23 episode "Never Turn Your Back on Them" has Kat barely survive a gunshot wound in the line of duty, and the experience leads her to, quite understandably, leave the NYPD in search of a new calling. It's perhaps the healthiest choice that any "SVU" detective has ever made.
Sonny Carisi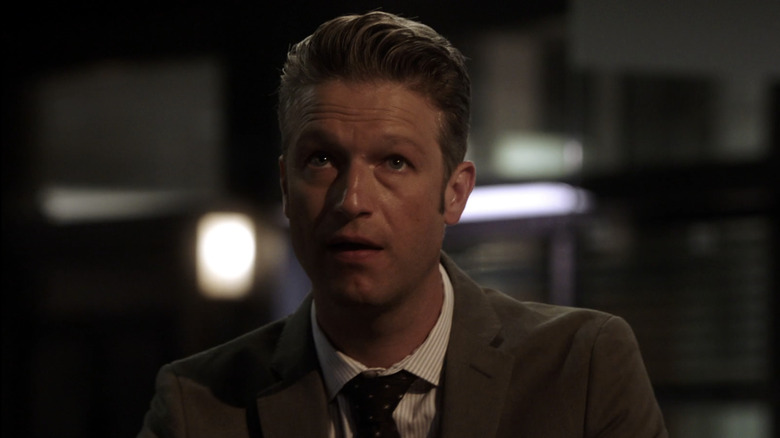 NBC
The structural dichotomy at the heart of "Law & Order" is baked right into the name: Each episode is split between the cops working cases on the street and the prosecutors dedicated to serving justice. Detectives and attorneys alike have bounced around the flagship series and its many spin-offs, but to date only once has a character crossed the ampersand that divides law from order: SVU detective Dominick "Sonny" Carisi, played by Peter Scanavino. Scanavino had actually appeared on the series in a bit part before being cast as a regular in Season 16, replacing the departing Danny Pino as Benson's new partner.
Carisi is a nice Italian boy from Staten Island, and while he shares Stabler and Amaro's Catholic guilt and tortured relationship with the church, he has an empathy that they lack. He also has ambition, getting his law degree at night and making the unprecedented jump from detective to Assistant District Attorney at the start of Season 21. Things haven't been easy for him in his new position, and as a prosecutor, he has often found himself at odds with his former SVU colleagues on how best to handle a case. But Carisi still has that same empathy that made him a great detective, and even better, he's willing to learn from his mistakes.
Fin Tutuola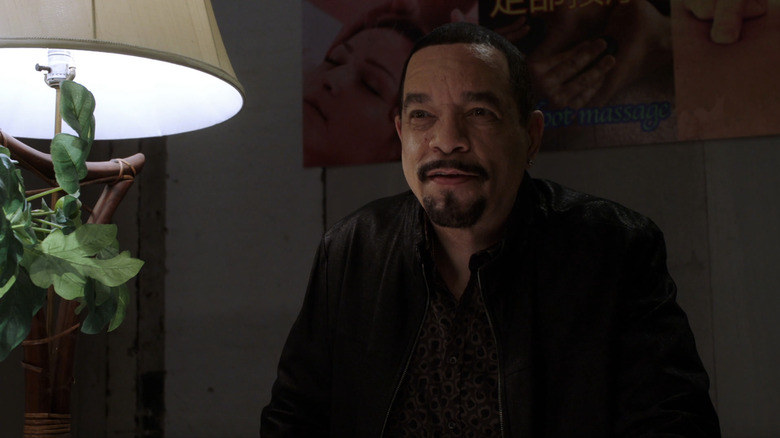 NBC
There are detectives who are great because they possess some special insight (as seen on "Law & Order: Criminal Intent"), and there are detectives who are great because they put in the work day after day and year after year. Odafin "Fin" Tutuola, played by rapper-turned-actor Ice-T, is a sterling example of the latter. Fin joined the SVU at the start of Season 2, replacing Monique Jeffries as John Munch's partner. Together for years, Fin and Munch were the perfect B-team to Benson and Stabler, streetwise and sarcastic, and handy with a one-liner. After Richard Belzer left the show Fin became a mentor of sorts to the next generation of detectives, showing Rollins, Kat, and Velasco the SVU ropes.
Besides Benson, Fin is the most tenured SVU detective, but we know relatively little about his life outside of the squad room. Episodes have told his story in dribs and drabs, from his time as an Army ranger in the early 1990s to his years spent in Narcotics before transferring to SVU. We've seen him reconnect with his estranged son Ken and become a grandfather, and most recently he found love with his old Narcotics colleague Phoebe Baker (Jennifer Esposito). For the most part, though, Fin's world is the squad room. He's always there, always on the case, and here's hoping he always will be, because he's great at his job.
John Munch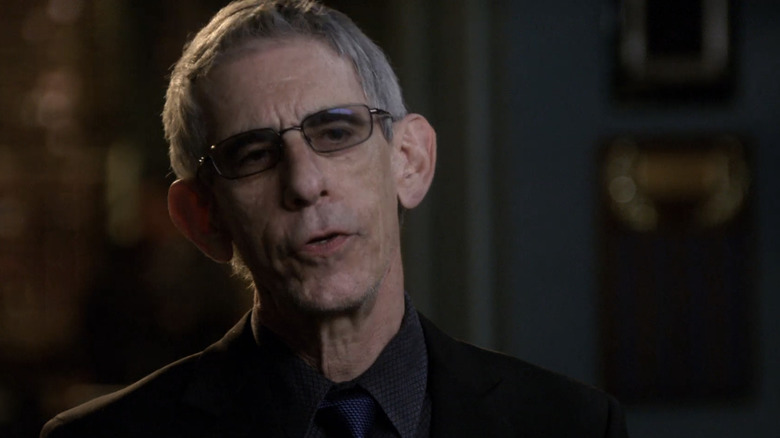 NBC
Before "SVU" was even a twinkle in creator Dick Wolf's eye, detective John Munch was already working the streets, but not in New York, and not even on "Law & Order." In 1993 Munch made his primetime debut on the NBC drama "Homicide: Life on the Street," a fictionalized look at a Baltimore Homicide unit. Based on the nonfiction book by future "The Wire" creator David Simon, "Homicide" was a gritty, mature police procedural populated by ace character actors like Andre Braugher, Yaphet Kotto, Melissa Leo, and Ned Beatty. At the center of it was the sarcastic, conspiracy-minded John Munch, whose chatty intellectualism and savage insults would be familiar to fans of Richard Belzer's stand-up comedy.
Just as Carisi would make the rare move from detective to attorney, so would Munch make the even rarer move from one mostly unrelated TV show to another, retiring from the Baltimore PD and heading north to New York and the NYPD's sex crimes division. He even swore in one episode that he would never return to Baltimore, though a Season 5 episode of "The Wire" shows him breaking that oath. The permanent move from "Homicide" to "SVU" apparently gave Munch the ability to travel to any show he wanted; Belzer made in-character (and presumably in-canon) appearances on "The X-Files" and "Arrested Development," among others. Partnered with Cassidy and Jeffries in Season 1, and then Fin for more than a decade, Munch is the quintessential seen-it-all detective with the brain of a cynic but the heart of an idealist.
Olivia Benson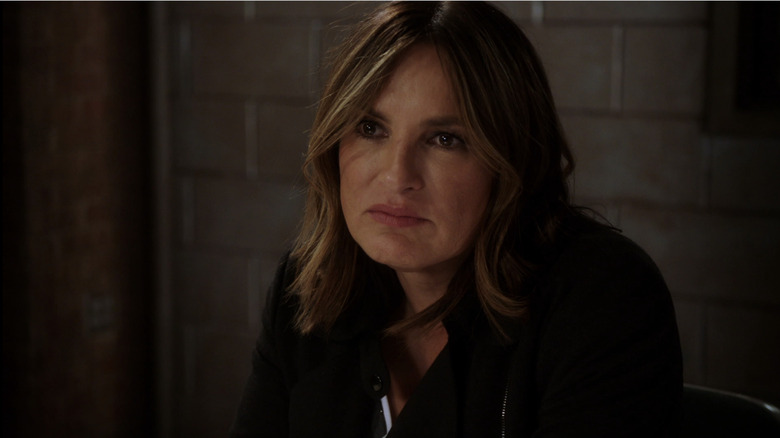 NBC
Munch may be the quintessential "SVU" detective, but Olivia Benson is its heart and soul. From the first episode to presumably the last, whenever that might be, Benson has anchored the show. Even when partnered with Stabler, who was arguably the series lead, she was irreplaceable; just ask Connie Nielsen, who "replaced" Benson as a new character for several Season 8 episodes while Mariska Hargitay was on maternity leave. It's a move that continues to draw "SVU" fans' ire more than a decade later. Benson and Stabler were a crime-fighting duo for the ages, and their love for each other — whether platonic or professional or something more — anchored the first half of the series run.
After Meloni left the show, however, both Benson and Hargitay took center stage. Hargitay received a well-earned "starring" place in the opening credits in Season 13 and got a producer credit in Season 16, followed by an executive producer credit in Season 18. On the screen, Benson adopted a son and eventually became the head of the unit. While not on the streets quite so often, Benson's qualities — her empathy, her determination, and her compassion toward victims — became the qualities of not just the squad, but of the show itself. The return of Stabler in Season 22 only emphasized how much Benson has grown and changed since she was his junior partner, and how much the series has in turn.