What Law & Order: SVU Episode Started Mariska Hargitay's Run As An Executive Producer?
Dia Dipasupil/Getty Images
"Law & Order: SVU" is the most successful show in the "Law & Order" franchise. The show is the longest-running Dick Wolf production and the longest-running non-animated show in primetime. At a staggering 23 seasons, with the 24th set to premiere soon, the show has more episodes than the original "Law & Order."
Several have speculated why "Law & Order: SVU" is so incredibly popular, especially compared to the other shows in the "Law & Order" universe. "SVU" has an IMDb audience score of 8.1, while the original "Law & Order" holds a 7.8. Perhaps it is the unique subject matter of the show, which tackles the dark underbelly of New York City through the prosecution of sexual crimes. Women gravitate toward the show, perhaps because, as Vice argues, they are able to process their own abusive experiences through the storylines. It might also be the characters, where Olivia Benson (Mariska Hargitay) and Elliot Stabler (Christopher Meloni) are among the most beloved of the franchise. Even after Meloni left "Law & Order: SVU," the ensemble remained strong with its other compelling characters, such as Detective Tutola (Ice-T) and Captain Cragen (Dann Florek).
And yet, through it all, Olivia Benson has remained the steady main character for 23 seasons. Hargitay has a clear devotion to not just the show but to sexual abuse survivors. And after so many seasons, Hargitay now has a role behind the scenes as well as executive producer.
Mariska Hargitay became an executive producer at the beginning of Season 18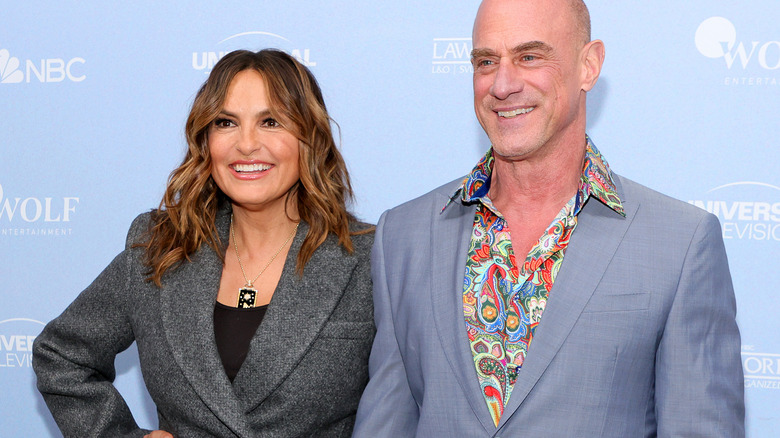 Dia Dipasupil/Getty Images
Mariska Hargitay became an executive producer on the show later than many might expect. According to IMDb, the Season 18 premiere marks the formal beginning of Hargitay's executive producer credit. Before this, Hargitay had been a producer since Season 16. While this signals that she has had significant involvement in the show's production, her jump to executive producer exhibits real commitment. Hargitay has directed several episodes as well.
"She quickly realized that telling these stories and depicting the journeys of survivors was more than a good part; it was also a great responsibility," the then-showrunner of "Law & Order: SVU," Warren Leight, told The Hollywood Reporter about Hargitay.
In the same article, Hargitay reflected on what the show has meant to her. Before she signed on, her agent explained how dark the show was. "But then I read it. And I went, 'Wait, this is what we're going to talk about every week?' I remember feeling so passionately about it and not scared of it, weirdly," Hargitay said. When the show started to air and victims began sharing their stories with her, Hargitay was even compelled to create her own foundation that supports survivors.
Hargitay is proud of the moment we're living in. "I look at the #MeToo moment as a complete and utter celebration. Twenty-one years ago, nobody wanted to talk about these issues," she remarked to the outlet.
If you or anyone you know has been a victim of sexual assault, help is available. Visit the Rape, Abuse & Incest National Network website or contact RAINN's National Helpline at 1-800-656-HOPE (4673).