Shameless Star Steve Howey Found Kevin's Nude Scenes To Be Oddly Liberating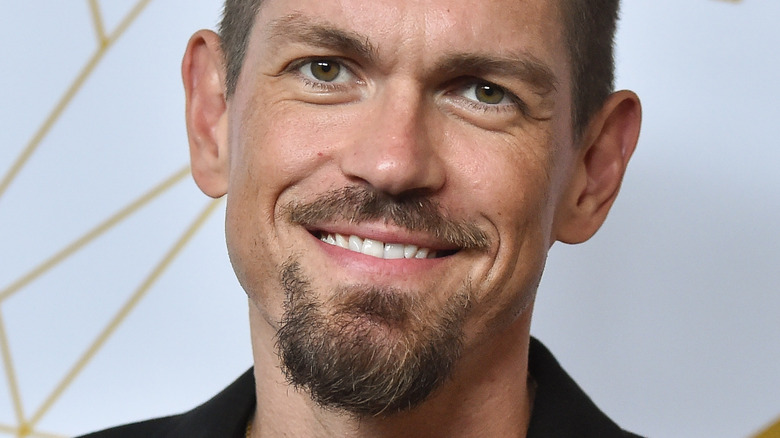 DFree/Shutterstock
When it comes to showing the struggles low-income families in America face, few shows have dared to go as far as Showtime's "Shameless" does. Based on the British comedy-drama of the same name, the series follows the Gallagher family as led by no-nonsense oldest sister Fiona (Emmy Rossum) and unfiltered patriarch Frank (William H. Macy).
There are several main and recurring characters throughout "Shameless" who aren't direct members of the Gallagher family. Two outsiders who appear in nearly every episode are the Gallaghers' neighbors, Veronica Fisher (Shanola Hampton) and Kevin Ball (Steve Howey). Throughout the series, this married couple gets up to all manner of sexual hijinks, some of which are not even fit to print. Still, that didn't stop Howey from doing a full-frontal nude scene in the first episode of "Shameless" or baring it all for several more nude scenes over the course of the 11 seasons of the series.
Howey thinks physical attributes aren't that important really
Steve Howey stopped by the r/IAmA subreddit to answer the questions of "Shameless" fans in the lead-up to the Season 5 premiere. Naturally, it didn't take long for a viewer to ask Howey about his full-frontal nudity in the long-running comedy-drama. r/freekobe0832 asked Howey, "Is it awkward showing your junk on camera?"
"I didn't like the fact that I had to show my junk because it's not that impressive," Howey said, "but after it was done, it felt very liberating, and I felt good about it. Hahaha! Cuz, like, I didn't get into acting to become a porn star, right? I became an actor to act and to express my humanity."
Howey's frankness about being nude in a series as popular as "Shameless" was no doubt really refreshing and eye-opening for fans. While a situation that would make many nervous, it also granted the actor a chance to explore his character's humanity in a new way.
"I didn't know I had to express that much humanity, but it was really cool to do," Howey said. "I was really nervous going into it, but afterward, it was like not that big a deal — who cares? We're only on this planet for a short time, and who gives a ***t what your outside is?"