Is Emily In Paris Actually Filmed In Paris?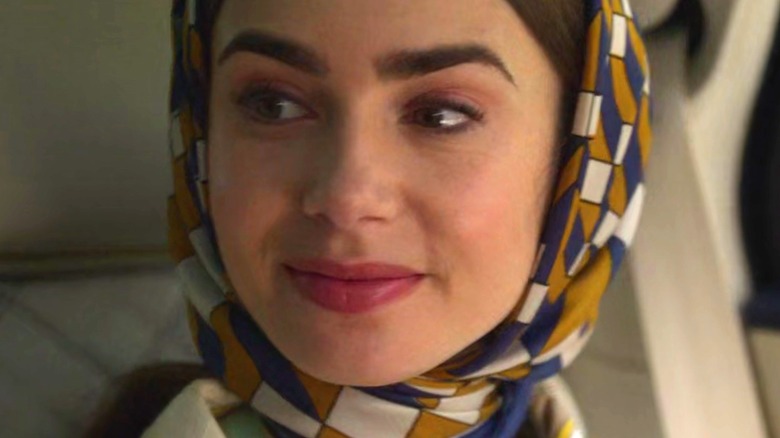 Netflix
Sometimes, all you need to make a highly successful TV show is one girl, one city, and complete freedom from writerly self-consciousness. In 2022, that maxim continued to be proved by the third season of Netflix's "Emily in Paris," the little sightseeing rom-com that could, which continued to bring joyful sessions of binge-watching to its devoted fanbase while introducing a host of new conflicts, both professional and personal for its uprooted protagonist. Starring Lily Collins as a Chicagoan college graduate who moves — naturally — to Paris after getting hired as a social media strategist at a French marketing firm, "Emily in Paris" has been proving its endurance as a Netflix fan favorite for three years now, with a fourth batch of half-hour episodes to come soon. There are many explanations for the show's success, from its light, gently comforting tone to the multitude of charming stars populating the ensemble cast. But one inestimable asset that "Emily in Paris" has had since episode one is its location.
Any devoted viewer of the transatlantic Netflix hit will tell you that half the fun of it lies in getting to know Paris alongside Emily Cooper as she transforms from essentially a wide-eyed tourist to a savvy, street-smart resident of the City of Light. There are stretches of "Emily in Paris" that register almost like a travelogue, allowing us to live vicariously through the titular heroine. This inevitably begs the question: Is the show's Paris actually Paris? Where, in fact, is "Emily in Paris" shot?
Emily in Paris is, indeed, shot in Paris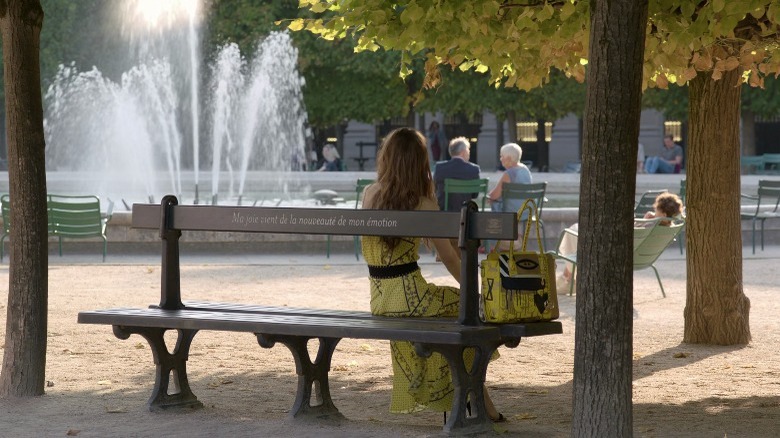 Netflix
It couldn't have been any other way: "Emily in Paris" has been filmed in Paris, France, since it began production (via Deadline). And we're not just talking about the obvious, self-evidently Parisian scenes either: While the show's outdoor scenes are, of course, largely shot on location in various places around the French capital, ranging from the world-famous to the lesser-known, indoor scenes are also shot in France. More specifically, the show constructs its sets at the notorious Cité du Cinéma film studio complex, located in Saint-Denis, a suburban commune just north of Paris, as reported by Le Figaro.
It only makes sense, seeing as this is perhaps the single show currently on air that thrives most on location, location, location. Beginning on Season 1, many of the show's most central settings, including the apartment complex where Emily lives, Gabriel's (Lucas Bravo) restaurant, and the Boulangerie Moderne bakery — the latter a real place, by the way! — were found in or around Place de l'Estrapade, a famous square in the 5th arrondissement of Paris (via Salut from Paris). The exterior of the Savoir office is shot at Place de Valois in downtown Paris, in a building that really does sit just a few meters away from the Palais-Royal and its iconic garden, where Emily often goes to eat lunch. Plus, virtually all of the many scenes that find Emily visiting cafés and restaurants around the city are shot in authentic Parisian establishments.
Newer seasons have been branching out to other areas of France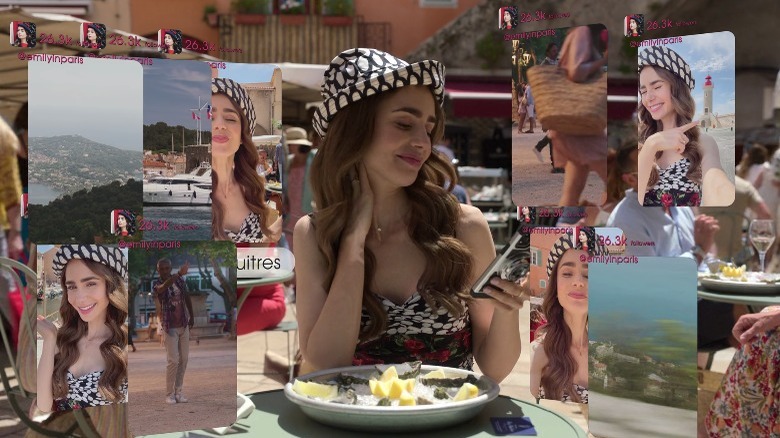 Netflix
"Emily in Paris" broadened its scope in Season 2, which saw Emily Cooper embark on a trip to Southern France and enjoy a weekend of divertissement in Saint-Tropez. The show's location scouting department rose to the occasion and found plenty of authentic vistas in the French Riviera to act as backdrops for the season. But the hotel we see Emily stay in is actually the Four Seasons' Grand-Hotel du Cap-Ferrat, which is located in Saint-Jean-Cap-Ferrat, a smaller, highly luxurious commune in the Riviera, rather than Saint-Tropez (via Newsweek).
Season 2 culminates in Grégory Elliott Duprée's (Jeremy O. Harris) fashion show in the Château de Versailles, and, to be sure, the show was not foolish enough to try and fake the world's most famous palace. We see the real thing, as shot in the Versailles commune, a few miles outside of Paris.
For Season 3, meanwhile, production designer Anne Seibel took it upon herself to explore more unique and lesser-known locations both in Paris and in France at large — give or take an Eiffel Tower lunch — as she revealed in an interview with Condé Nast Traveler. Those include Piscine Molitor, where Emily and Mindy (Ashley Park) go for a swim, and choice spots in the neighborhoods of Belleville, Saint-Germain-des-Prés, and Montmartre. The Champagne scenes, meanwhile, were actually shot at Le Château de Sonnay in the Loire valley rather than Champagne.