Emily In Paris' Ashley Park Details The Series' Unusual Writing Process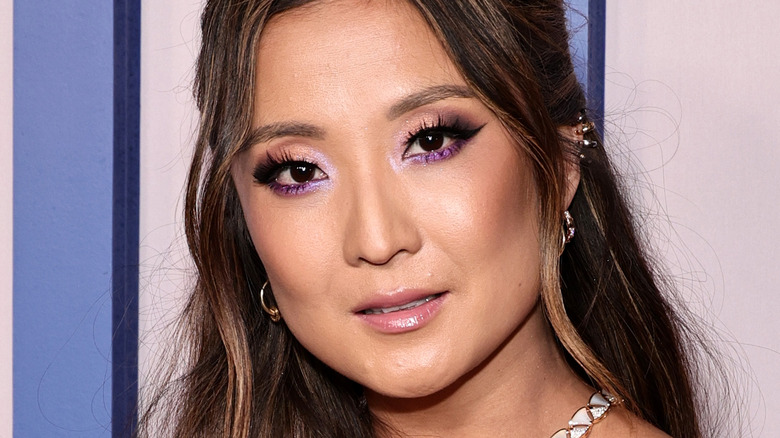 Jamie Mccarthy/Getty Images
"Emily in Paris," the popular Netflix romantic comedy series, has just released its third season. Created by Darren Star, the series follows 20-something Emily Cooper (Lily Collins), a Chicago-based aspiring marketing executive, who moves to Paris to work as a social media strategist for a French marketing firm called Savoir. While there, Emily struggles with the culture shock of living in a new country, as well as an unexpectedly harsh new boss, Sylvie (Philippine Leroy-Beaulieu). She also finds herself in the midst of a love triangle — after falling for her neighbor, a chef named Gabriel (Lucas Bravo), Emily finds out that he is in a relationship with one of the only friends she has made in Paris, Camille (Camille Razat).
Season 3 sees Emily having to choose between two bosses — Sylvie, who has asked Emily to join her new company, and Madeline (Kate Walsh), Emily's Chicago boss. At the same time, she's reeling from the fact that Gabriel (Lucas Bravo) has chosen to get back together with Camille right when Emily was ready to declare her feelings for him.
Each season has seen its own bout of twists and turns — and season finale cliffhangers. As it turns out, all of those plot points aren't exactly planned out super far in advance. Here's what Mindy-portrayer Ashley Park has to say about the writing process behind "Emily in Paris."
Park says the writers write the series as they go along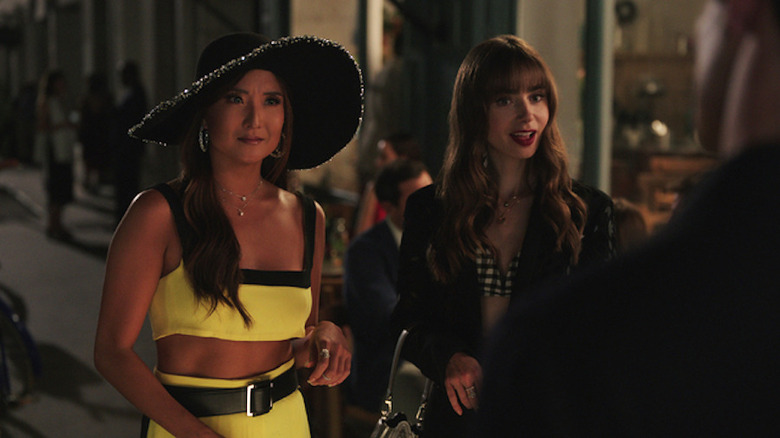 Netflix
In a December 2022 interview with Collider, "Emily in Paris" star Ashley Park, alongside her co-stars Lily Collins and Camille Razat, discussed the new third season of the show — including revealing a behind-the-scenes fact about how the writers work on the episodes. When asked what she thought of the Season 3 cliffhanger, Park took the time to talk about the unique way that the writers tackle each season.
She said, "One of the magical things about our process is that the writers write as we're filming, so they can really see where characters are going, and then really come up with it, in the moment." While this process leads to more organic-feeling plot lines, Park admitted that it also poses some challenges for the actors.
The actress continued, "Another tricky thing about that is we don't get the scripts until right before. I remember doing one of the scenes that was confrontational, in the last episode, way before I knew what was happening in the last episode. That, for me, was the first way in which I figured out what was going on, but I was still very much like, 'Wait, how is all of this happening? What's happened?'"
Creator Darren Star has also spoken about his desire for the plot to evolve along the way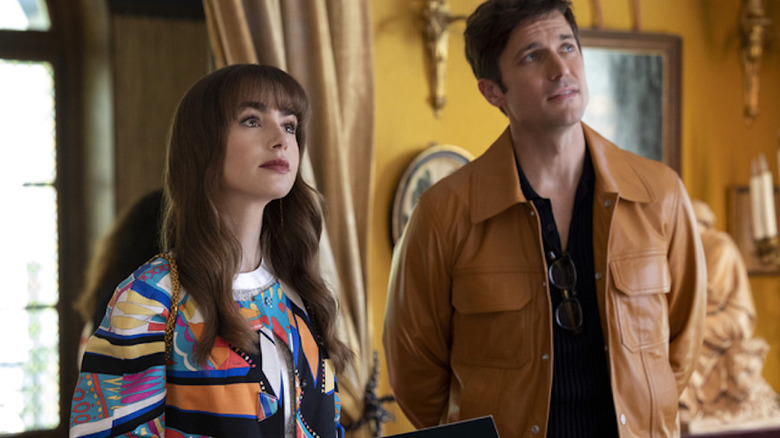 Netflix
"Emily in Paris" creator Darren Star has also spoken publicly about the way that he and the writing team write the series: evolving the plot as they go along. In a December 2022 interview with Glamour, Star was asked how much of the series he already has mapped out, to which he responded by detailing the way that he likes to follow the characters' leads.
"I have a couple ideas about the very end," Star said. "But here's the thing: As the show has evolved, so does your idea of where the characters are going. They create their own momentum when you introduce new characters. The characters take on lives of their own, as they take you in [an] unexpected direction." He continued by explaining that he opts not to set the storylines in stone so that there is room for growth, just as in real life.
Star also declared his belief that the show has strong assets that will allow for several seasons of evolving storylines. The creator concluded, "When you have an ensemble this strong and a lead like Lily Collins, it's not a show that I'm looking forward to [ending] ... I don't think the end is in sight anytime soon."