Love Island UK Implemented A Smoking Ban After Receiving Some Harsh Backlash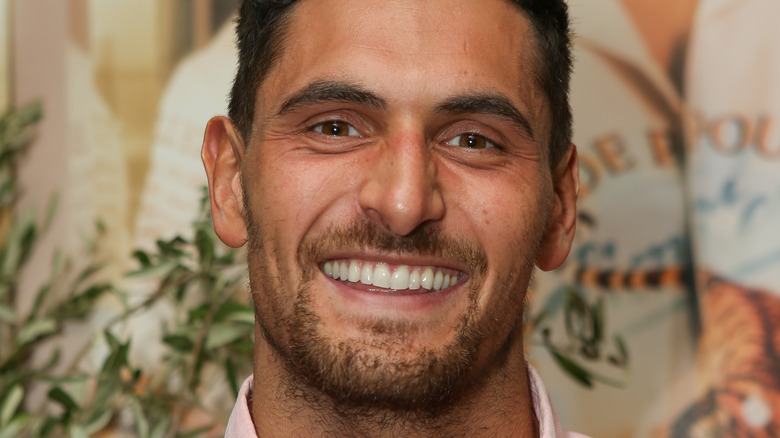 David M. Benett/Getty Images
While United States viewers have long been enamored with the reality series "The Bachelor," few reality shows have gripped the United Kingdom's fascination like "Love Island." Since 2015, the dating game show has been one of the most profitable and most-watched series on British television, quickly becoming a pop culture phenomenon and dropping some of the biggest bombshells that kept audiences hooked (per The Times). Bringing together a group of contestants — called Islanders — the show's premise is simple: Islanders must be coupled with another Islander for romance or friendship by the end of each episode to remain in the villa. Any contestant who is still single gets eliminated. Complicating matters, however, is that the public also has a say in who remains on the island, thanks to public voting via the Love Island app.
Despite its massive success, the popular show hasn't been without its own fair share of controversy. Mental health advocates have questioned the pressure placed on cast and crew following the suicides of multiple contestants after appearing on "Love Island" (per The Guardian). Mental health concerns aside, another frequent criticism of the show was finally addressed in 2018, and it might surprise you.
A restricted smoking rule was put in place on set
According to BBC News, viewers frequently made complaints about the amount of smoking depicted on "Love Island." Viewers even addressed their concerns directly to Ofcom, the regulatory authority for broadcasting in the United Kingdom. Viewers also took to social media to comment on how many smokers were on the island. One Twitter user wrote, "The amount of smoking on Love Island is actually shocking."
The complaints worked, and ITV banned contestants from smoking in the villa and its surrounding gardens (per HuffPost). However, Islanders are still allowed to sneak a smoke. They simply have to do it while alone in a designated smoking area and while nothing worthy of filming is occurring. Metro confirmed the same rules applied to vaping, too. However, some viewers feel the series began going downhill once the smoking restrictions were put in place. A Twitter user wrote, "Love Island fell off when they banned on-screen smoking." Meanwhile, another user wrote, "BRING BACK CHAIN SMOKING ON LOVE ISLAND!!!!!!!!!!!"
While fans were hotly debating the smoking change on "Love Island," it turns out that putting out the cigarettes is not the only production change that has come to the show as a result of viewer concerns.
More changes are coming this season
"Love Island" is undergoing big changes for its upcoming ninth season, including a requirement that contestants on the show will receive training for "mutually respectful behavior in relationships" (via Deadline). This change comes following thousands of viewer complaints to Ofcam regarding "alleged misogynistic and bullying behavior." In addition to this change, Deadline reports that the show will now require Islanders to stop posting on social media during their time on the show. Previously, Islanders could leave friends or family in charge of their accounts for posting on their behalf, but that has now been banned. Other aftercare measures have been in place, including therapy sessions offered to Islanders upon their return home, showing the production team's commitment to addressing mental health concerns. 
The ninth season is set in South Africa and will also feature a new host. The show lost a key talent with the departure of host Laura Whitmore, but Maya Jama has been selected to take the reins of the hosting gig. Episodes begin airing in the UK in January. Meanwhile, a U.S. version of "Love Island" aired for three seasons on CBS and Paramount+ before moving in its fourth season to the streaming service Peacock, according to Decider.