The Biggest Love Island Bombshells Of All Time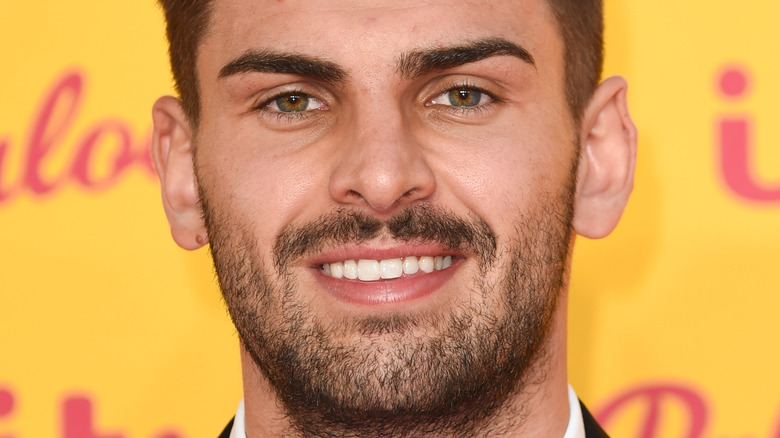 Featureflash Photo Agency/Shutterstock
As much as we enjoy seeing contestants get along and slobber all over each other on steamy reality shows like "Love Island" (U.K.), you can't have an entertaining story if there's no source of conflict. So as much as audiences might get invested in the relationships formed when a new set of contestants first arrives on the scene, some of the best "Love Island" contestants of all time have been later entries, aka "bombshells." As you can probably tell from their name, bombshells add a potentially explosive element of spontaneity, without which "Love Island" wouldn't be much of a show. From Adam Collard to Molly-Mae Hague, Looper has compiled a list of the 15 most explosive bombshells to ever appear in the original British television version of "Love Island." Whether they're creating sorely needed drama, becoming all-time fan favorites, or turning record numbers of heads, each bomb on this list made a long-lasting mark not only on their own year of "Love Island," but on the franchise as a whole.
Kady McDermott (Season 2)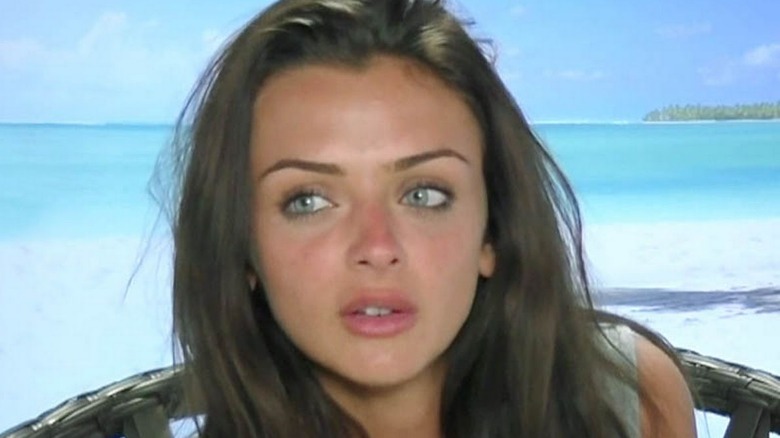 ITV2
Kady was one of the first bombshells introduced in Season 2. It's easy to forget that she wasn't an original Islander because she immediately became a staple in The Villa. Almost immediately, she turned into a ball of high-energy drama, drawing the attention of commitment-phobe Scott Thomas and later clashing with Sophie Gradon for meddling in relationships. At one point, Kady even got into a physical altercation with fellow Islander Malia Arkian. Kady and Scott were one of the two most argumentative and volatile couples "Love Island" has ever seen. Even though they broke up and got back together every other episode, they still made it to the finale and finished in third place. Kady and Scott didn't last long after they left The Villa, which is probably a good thing for both of their sakes considering how often they fought. Their dramatic spats continued right up until the very end of their time on the show.  
Terry Walsh (Season 2)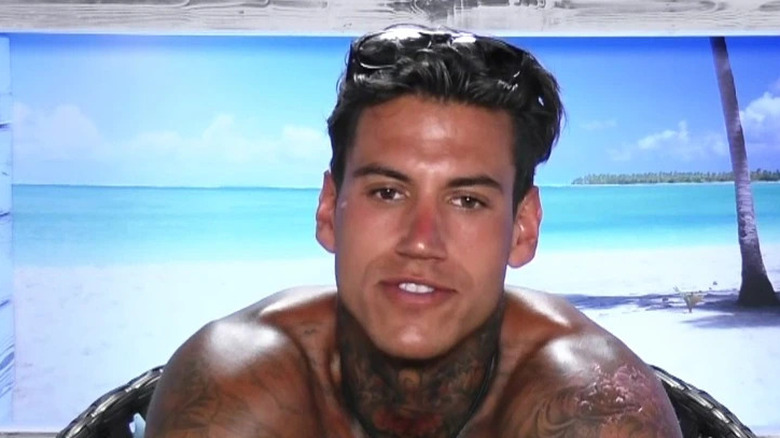 ITV2
With his intricate tattoos, muscles, and intense dark eyes, Terry Walsh was one of the most attractive bombs to set foot on "Love Island" in Season 2. He immediately caught the attention of fan-favorite Olivia Buckland, who had been waffling between several other men up until that point. The pair got lovey-dovey pretty quickly, sleeping together outside on the daybed because Olivia was coupled up with someone else, but trouble hit when he asked her best friend on the Island, Malin Andersson, on a date. Malin and Terry pretty quickly admitted their attraction to each other, which wrought havoc on Malin's friendship with Olivia as well as her potential romantic connection with her partner Rykard Jenkins. Eventually, the drama blew over and Terry and Malin became an established couple. Later, after Malin was evicted from the Island because of the results of a public vote, Terry cracked on with new entry Emma Jane Woodham just a day later, even after he promised to be with Malin after he left The Villa. Needless to say, Malin was pretty mad, and the producers even brought her back to The Villa for a knock-down-drag-out fight with Terry.
Jess Shears (Season 3)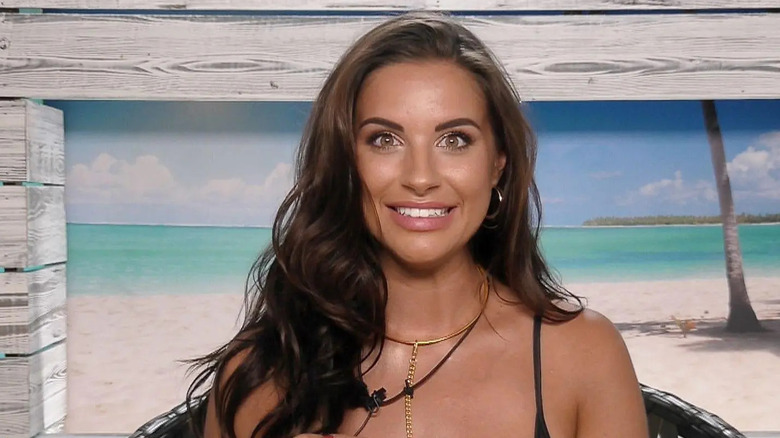 ITV2
Every season of "Love Island" (U.K.) since Season 2 has included ten original Islanders who take part in the initial coupling, but also at least one other bombshell on the first day to shake things up early on. Jess Shears was the first Season 3 bombshell, and in her sexy, shiny black bathing suit and gold metal accessories, she definitely made a big impression. After taking 24 hours to get to know the guys in The Villa, Jess had her pick of partners to steal from any of the other women, and she went with the only man who was ostensibly happy in his initial coupling: Dom Lever. In fact, Jess stole Dom from Montana Brown, and some said it was in retaliation for Montana's cheating with Jess' boyfriend before they both came onto "Love Island." Luckily for Jess, her bold move paid off and Dom quickly fell head over heels for her after their one-on-one date. He decided to stick with her even after she was sent home by a public-and-Islander-combination vote. He stayed on "Love Island" a few weeks longer, but steadfastly refused romantic connections with anyone else and went home single. While naysayers assumed Jess wouldn't stay faithful to Dom in return, they went on to start a family.
Chris Hughes (Season 3)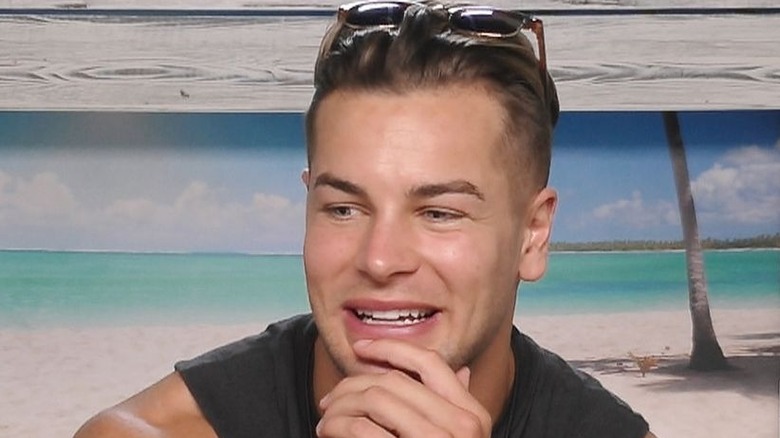 ITV2
Chris Hughes came into The Villa on the fourth day of Season 3, and he became one of the metaphorical hearts of the season. That's why it's easy to forget that he began his journey as one of the most explosive male bombshells the show has ever had. Chris made moves and flirted with Camilla Thurlow, Chloe Crowhurst, Montana, and Amber Davies before setting his sights on the fiery Olivia Attwood. Olivia soon pied off (Islander slang for dumping or embarrassing someone) her then-partner Sam Gowland to be with Chris, but it was just the beginning of their troubles in The Villa. Chris and Olivia are probably the most volatile, argumentative couple in "Love Island" history, having broken up and gotten back together almost more times than Scott and Kady from Season 2. They have certainly fought just as much as Scott and Kady, if not a little more. Chris was particularly popular for his epic bromance with fellow Islander Kem Cetinay, but it's his relationship with Olivia that makes him a memorable bombshell.
Jamie Jewitt (Season 3)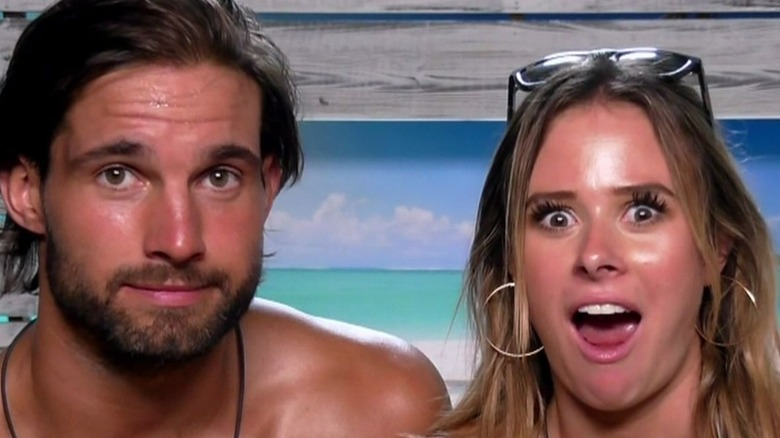 ITV2
Camilla Thurlow was one of the most adored contestants on "Love Island" Season 3 thanks to her kindness, intelligence, and struggle to overcome the insecurity she felt over her looks and ability to be sexy. She had a rough time finding an initial connection, and when she finally connected with Jonny Mitchell, he soon disappointed her (and most of the audience) by telling her that feminism was "pointless." They ended their brief connection but found their way back to each other again until Tyla Carr came in and turned Jonny's head. After her time in Casa De Amor, it seemed like Camilla might not find her connection until the arrival of Jamie Jewitt. Jamie is one of the later-arriving bombshells on this list, and he's different from the rest of the lot because he represents a deeply satisfying conclusion to a beloved Islander's emotional journey. Jamie, a former Calvin Klein model, was sensitive, handsome, mature, well-read ... basically Camilla's perfect man. He was everything the viewers wanted for her, and even though he came into The Villa more than 30 days after Camilla, he and Camilla came in second place in the season finale. Of course, the best reward for them was finding each other, as they stayed together well after their time on "Love Island."
Adam Collard (Season 4)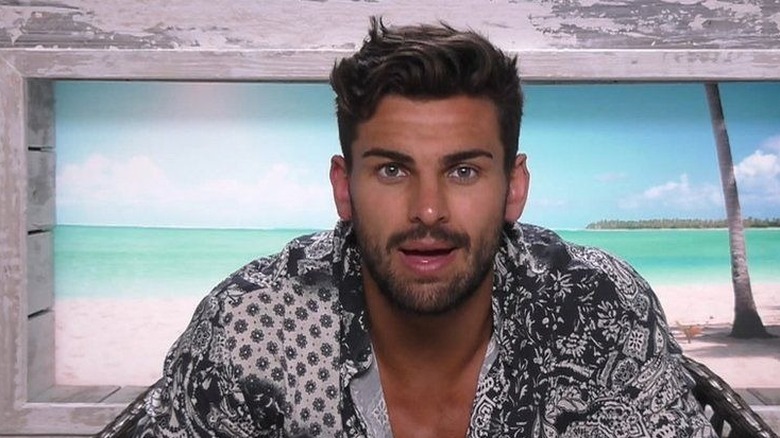 ITV2
A particularly relevant bombshell in the history of "Love Island" (U.K.), Adam Collard was the "villain" of Season 4 and a formidable first day bombshell. Standing tall (6 feet, 5 inches, to be exact), dark, and handsome with a lilting Geordie accent and an uncanny ability to tell people what they want to hear, Adam was attractive to basically all of Season 4's original Islander women. He chose to steal quiet beauty Kendall Rae-Knight from Niall Aslam, but soon slagged her off because of her (clearly justified) lack of immediate trust and confidence in him, and because he wanted to pursue a new entry, Rosie Williams. He earned his villain reputation with Rosie after laughing and smirking his way through a conversation where she tearfully tried to explain how he had hurt her feelings. Adam later focused his attention on Zara McDermott and dated her after he left The Villa, but audiences never forgot how he treated the women in his season. 
Georgia Steel (Season 4)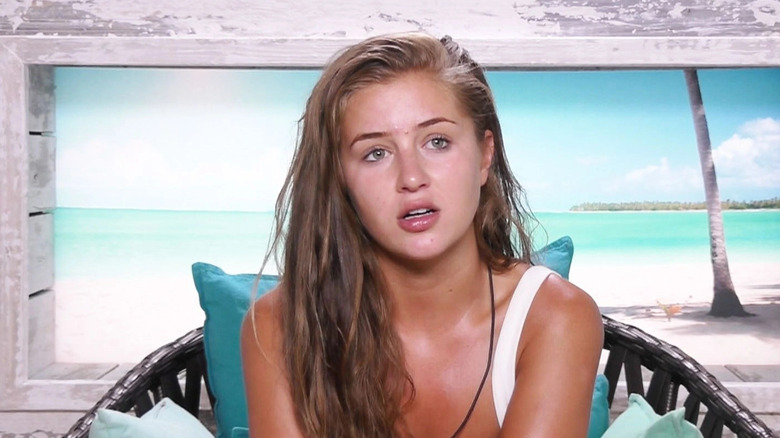 ITV2
If there's one thing a "Love Island" viewer can remember about Georgia Steel, it's that she was loyal – or at least she likes to tell people she is. The 20-year-old bombshell made a splash as soon as she arrived due to her chaotic energy, constant pranks, and opinionated takes. Though she initially coupled up with Niall, she was left single after he needed to leave The Villa for personal reasons. She made a strange match with Josh Denzel for a while, but after he met Kazimir Crossley in Casa De Amor, the two broke it off and Georgia explored the single life in The Villa. She described herself as loyal constantly, but she butted heads with many of the other Islanders, especially Ellie Brown, after making some seemingly un-loyal decisions, such as asking her BFF Laura's beau Jack Fowler on a date. When Georgia later coupled up with Sam Bird and was forced by the public to either remain single in The Villa or leave as a pair, she initially decided to stay, but they both changed their minds and left together a few days later. 
Megan Barton Hanson (Season 4)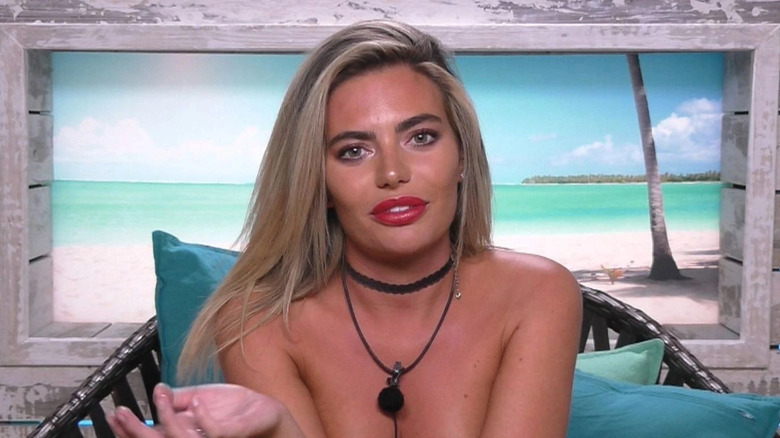 ITV2
Megan Barton Hanson came into The Villa early on in Season 4 but kept bringing the drama until long after. Initially, she caught the eyes of both underdog Alex George and the gorgeous but very serious Eyal Booker. Megan waffled between the two for a time before eventually choosing Eyal, but she didn't seem particularly pleased with either option. After becoming pretty certain she and Eyal were not compatible, Megan told Wes Nelson (who happily coupled with Laura Anderson at the time) that she thought they had a connection. Wes, despite having been with Laura from the first coupling, decided to pursue things with Megan, saying, "I'm happy, but I could be happier." They were only together for a few days before Megan brought Alex Miller back from Casa De Amor, but Wes only had eyes for her, and eventually the two of them re-coupled and finished fourth in the finale. Laura never really recovered her ability to trust in The Villa after Wes' 180, but Megan and Wes stayed together happily for a while before calling it quits a year after the season ended.
Tommy Fury (Season 5)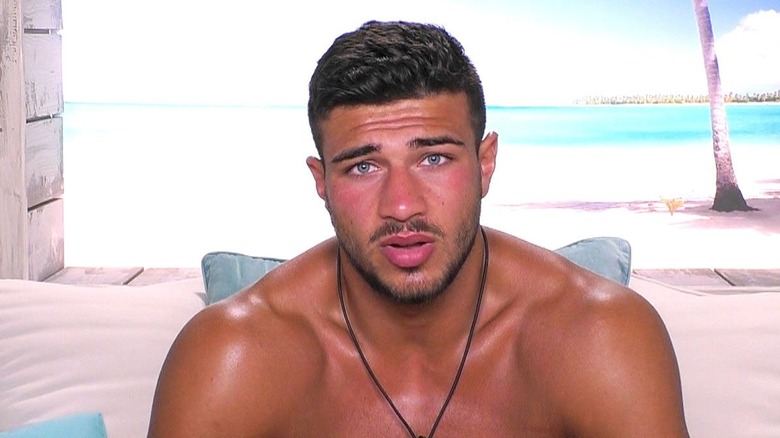 ITV2
Pro boxer Tommy Fury was a smokin' first day bombshell in Season 5, and despite the fact that he carried himself with integrity and played the game more honestly than any guy before or after him, he still made big waves in The Villa. Lucie Donlan immediately drew his interest despite her immediate, strong connection with fellow original Islander Joe Garratt. Tommy took a risk and chose to steal Lucie 24 hours after arriving, but while Lucie couldn't deny some interest in him, she ultimately chose to pursue her connection with Joe. Tommy and Lucie stayed good friends. After Tommy found a connection with another bomb, Molly-Mae Hague, and Joe had long left The Villa as a result of an Islander vote, Lucie admitted that she had romantic feelings for him. Tommy stuck with Molly-Mae despite Lucie's declaration, and his head wasn't turned by Maura Higgins, either. Tommy is probably the only bombshell who never took advantage of the many different people who were interested in him, and he and Molly-Mae went on to be adorable and happy living together in London years later. 
Molly-Mae Hague (Season 5)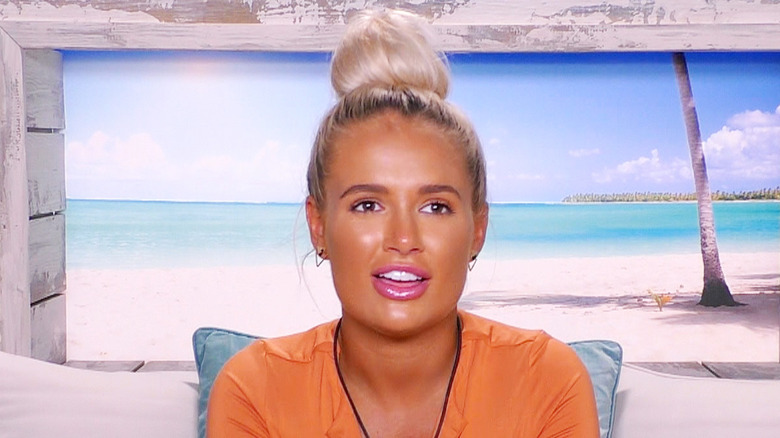 ITV2
No one has ever had a more electric slow-mo Villa entrance than Molly-Mae Hague. As soon as she stepped into the hideaway hot tub in her strappy black bathing suit, she was ready to find her match and make the most of her time on "Love Island." Little did she know that the first person she'd meet, Tommy Fury, would be her partner not only throughout the whole competition but for years afterward. Molly-Mae sparked Tommy's interest and flirted with Anton Danyluk and Curtis Pritchard, forcing Lucie to begin acknowledging her interest in Tommy. Molly-Mae held her cards close to her chest even after she chose to couple up with Tommy, and it wasn't until another bombshell, Maura Higgins, came into the villa and moved mad on Tommy that Molly-Mae decided she needed to be vulnerable and tell Tommy how she felt. Islanders like Anton, as well as the U.K. public, were constantly suspicious of Molly-Mae's motivations and her feelings for Tommy, but she proved them all wrong. 
Maura Higgins (Season 5)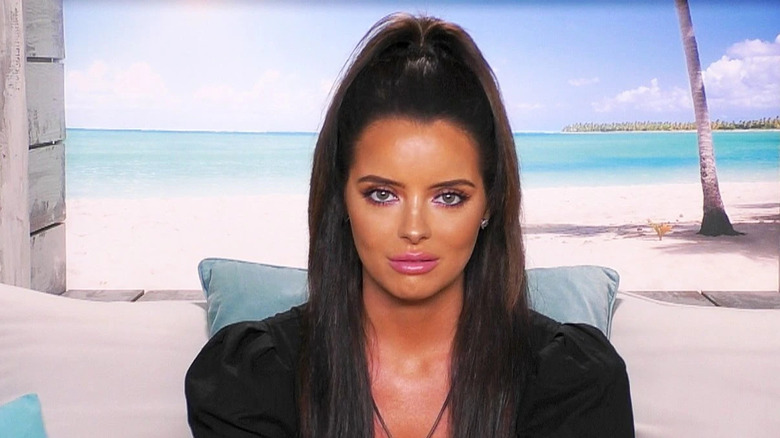 ITV2
Maura Higgins is probably one of the most fan-favored bombshells ever. She came into The Villa with her stunning eyes, charming Irish accent, and unparalleled sass and flipped everything upside down, immediately managing to pull the ladies' strings on her date with Michael Griffiths and forcing Molly-Mae to graft for Tommy. Despite her rocky start with the other girls in The Villa, Maura soon proved herself a passionately loyal friend, often defending her girlfriends from the inconsiderate antics of the boys. She cancelled her night in the hideaway with Tom Walker after hearing him say, "Let's see if she's actually all mouth," to the guys, and no one has ever called out another Islander so thoroughly. After Amy Hart and Curtis' painful breakup, Maura admitted her feelings for him and the two of them coupled until the end of the show. Despite her arguable betrayal of Amy, Maura still always prioritized her girlfriends. After Curtis told Maura in confidence about Jordan Hames' intention to express interest in India Reynolds without telling his newly official girlfriend Anna Vakili, he should not have been surprised to see her immediately storm over to Anna and facilitate one of the most vicious fights in "Love Island" history. 
Chloe Burrows (Season 7)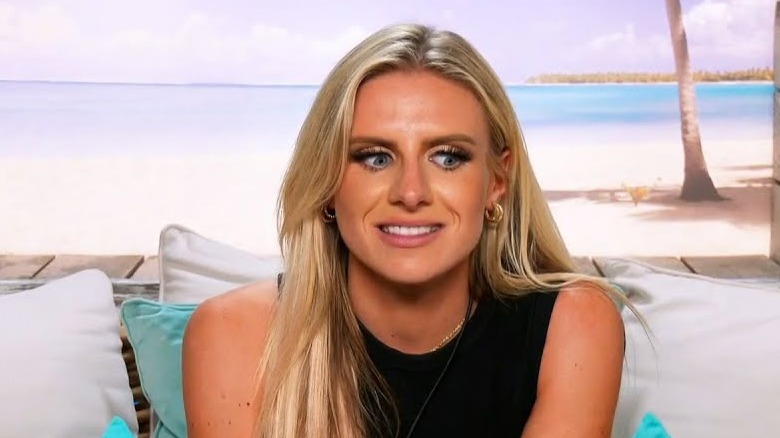 ITV2
Chloe Burrows was the first day bombshell of "Love Island" (U.K.) Season 7, and it only took a few days for every guy in The Villa to admit that if they weren't coupled with their own partner, they would couple with her. Chloe made waves when she inadvertently sent Shannon Singh home on the second night after stealing her partner, Aaron Francis. While that wasn't an intentional slight, Chloe later did flirt with and pursue Toby Aromolaran despite his connection with Kaz Kamwi. After the fallout she dubbed herself and her two friends and fellow bombshells — Millie Court and Lucinda Strafford — "The Naughty Trio." Chloe and Toby were together for a bit until he pied her to get to know Abigail Rawlings. Toby couldn't stay away from Chloe though, and the two were drawn back together like magnets after Casa De Amor, finishing the finale as a couple in second place. Toby and Chloe remained together after their stint on reality television, and Chloe's confidence and attitude have made her a lasting fan favorite even since leaving The Villa.
Liam Reardon (Season 7)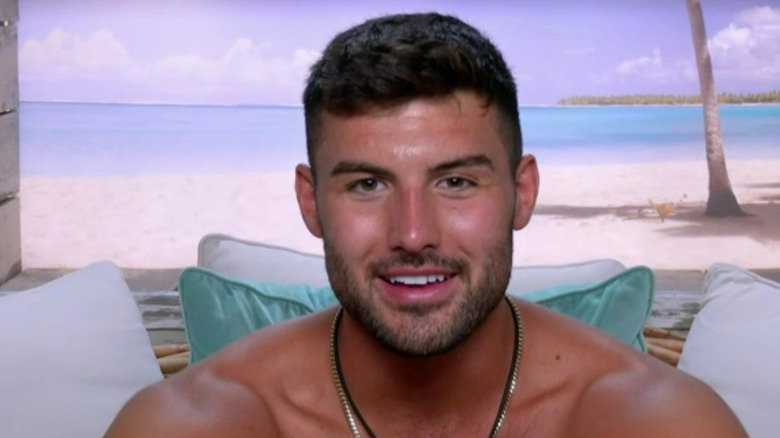 ITV2
Six feet, 5 inches tall and Welsh, Liam Reardon was a dreamy bombshell early in Season 7 who coupled up with Faye Winter for a while before moving on with Millie Court. The two were almost instantly a fan-favorite couple, and viewers found Liam's quiet but playful energy with Millie and the rest of the Islanders endearing. He seemed too good to be true, and he was. As soon as Liam entered Casa De Amor, he started cracking on with new bombshell Lillie Haynes, supposedly out of a desire to "test" his connection with Millie. Liam went on to get very cozy with Lillie and kiss her three times. Even though he ultimately decided to stick with Millie after Casa De Amor, Lillie had a chance to reveal her connection with Liam before leaving the show. Liam spent the rest of the season grafting Millie and trying to prove that he was trustworthy and deserved a second chance by writing her notes, making speeches, and through other grand gestures. Millie ultimately forgave Liam, and the two of them went on to become the first couple to win a season without either of them arriving on the first day. Liam and Millie stayed together for a while but eventually went their separate ways.
Teddy Soares (Season 7)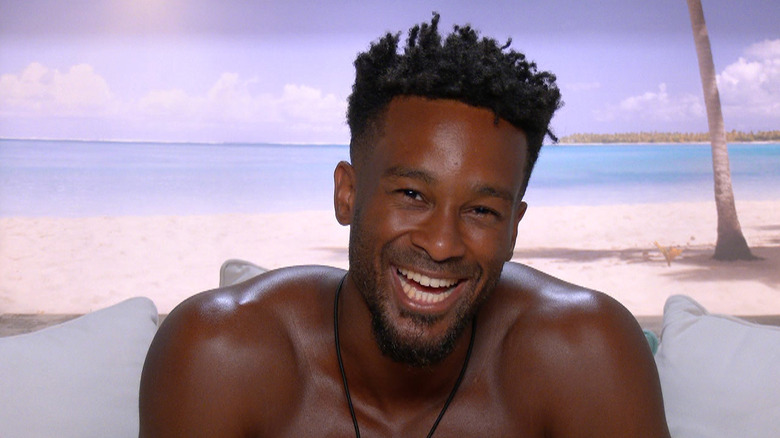 ITV2
Some bombshells are popular for their chaotic ways, and some bombshells are popular for being a perfect match for another Islander. Faye Winter was the "hothead" of the original Season 7 Islanders, and it wasn't until she coupled up with Teddy that she was able to open up and let someone in. Even though they had a setback as a couple after Faye saw a photo of Teddy kissing another girl in Casa De Amor, the two of them realized that they were too good of a match to ignore, despite (or, possibly because of) the difference in their energies. Teddy proved to Faye that he could be there for her when he didn't bring anyone back from Casa De Amor, and Faye became just as protective of Teddy and his feelings as she was of her own. Teddy and Faye finished third in the finale, and the couple moved in together after the show.