Criminal Minds' Matthew Gray Gubler Didn't Return To The Series For An Understandable Reason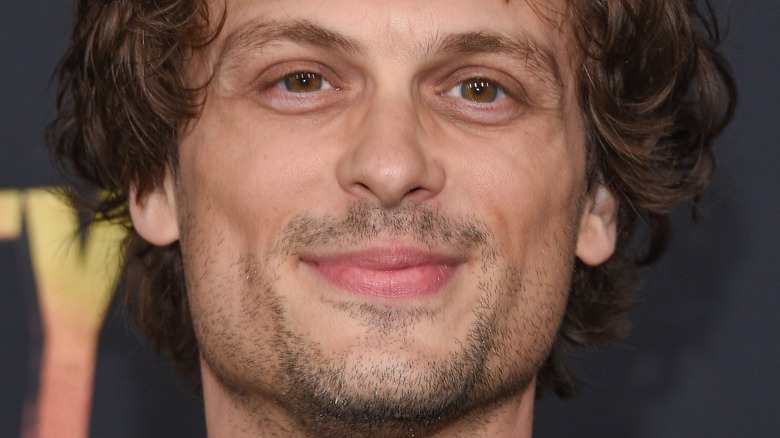 DFree/Shutterstock
Fans of the television series "Criminal Minds" reached a day they hoped would never come back at the end of the last decade when the long-running crime drama came to an end. The team at the FBI's Behavior Analysis Unit finished with 15 seasons spanning from 2005-2020 and battled against every possible form of killer the world could ever imagine. While fans of the show were left with a void where the CBS drama once was, it turned out they didn't have to wait very long to learn that the series was on its way back via the Paramount+ streaming service.
The revival, titled "Criminal Minds: Evolution," sees a handful of original cast members make triumphant returns to the BAU, which, fans have learned, is actually a division of NCAVC, the National Center for the Analysis of Violent Crime. 
This time, they're taking on a cabal of evil killers who've spent much of the pandemic forming a network of serial murderers. Kristen Vangsness, A.J. Cook, Joe Mantegna, Paget Brewster, Aisha Tyler, and Adam Rodriguez all reprised their roles to take on the group of killers, but there was one core actor whose absence became impossible to ignore.
Matthew Gray Gubler played Dr. Spencer Reid in 323 episodes spanning all 15 seasons of the original series. That was second only to Vangsness, with 327 episodes, for the most appearances on the show. Of course, when a series revival comes back without one of its main characters, there are questions as to why. Executive producer Erica Messer, in an interview with Deadline, explained his absence and let fans in on why the actor, who, in the past had addressed the show's incredibly demanding filming schedule, just couldn't make an appearance on the new series.
Matthew Gray Gubler was just too busy
Lynette Rice of Deadline, in her interview with Erica Messer about "Criminal Minds: Evolution," took just three questions to get to Matthew Gray Gubler's absence. In response to why the actor didn't join in on the action of facing down a team of unsubs, she had a very practical answer for fans. He was simply too busy to make it happen.
"He's been doing other projects, and a lot of those were lining up during our window," Messer said. "Our window of shooting was just August to December 2. It was the same with Daniel Henney, who was working on 'The Wheel of Time.' So I wasn't able to get them, but I could get the six other cast members. They've never been better. They're so happy. Their characters took the same time off that we had in real life, with the pandemic. The world has changed since we last saw the BAU. And because of that, the characters have changed. We needed to write to the reality of our everyone's existence."
The Gubler projects Messer was alluding to since the cancellation of "Criminal Minds" include the low-budget indie comedy, "King Knight," and a recurring role on the TV series, "Dollface." The film saw Gubler reunite with "Criminal Minds" alums Aubrey Plaza (who went head-to-head with Dr. Reid) and Angela Sarafyan (who appeared in the Season 6 finale, "Supply and Demand"). The series saw Gubler appear alongside Kat Dennings as an awkward love interest/catsitter for seven episodes in the short-lived, two-season run. But those weren't the only projects Gubler kept himself busy with. Yet another endeavor really surprised fans. 
He is having fun making people smile
In a 2019 interview with Parade, Gubler discussed writing his children's book, "Rumple Buttercup: A Story of Bananas, Belonging, and Being Yourself," and creating its main character. "Every morning, I wake up and try to think of new ways to make things," the actor said. "Rumple popped into my head a few years ago, and I, basically, wrote the book for anyone who's ever felt like they didn't quite fit in, just to make them know that they're not alone. I'm not sure where the idea came from, but I'm glad that he appeared in my brain. My hope in writing the book was to find a way to give the world a 136-page hug."
Gubler went on to reveal that he not only wrote the book but also illustrated it. And it didn't end with the typical illustrations. The actor told Parade that nothing was computerized, even down to the publisher's logo and the barcode on the back, both of which he drew. The book landed on the New York Times Bestseller list in April of 2019. And during the 2022 holiday season, Gubler hinted via Instagram that Rumple, the book's green monster, would be making a return.
"Criminal Minds" fans still hope that Gubler will drop in on "Evolution" at some point. In his 2019 interview with Parade, he addressed the cancellation of "Criminal Minds" by saying filming the end was like attending your grandfather's funeral after he'd lived 110 years. While it's sad, you are happy that he lasted so long, and you celebrate his life. He also talked about leaving the series behind and genuinely seemed happy doing other things. That doesn't close the door on Dr. Reid's potential return, but it's possible Gubler has simply moved on.