The Office's Ellie Kemper Enraged Zach Woods With Her Nasal Singing Between Takes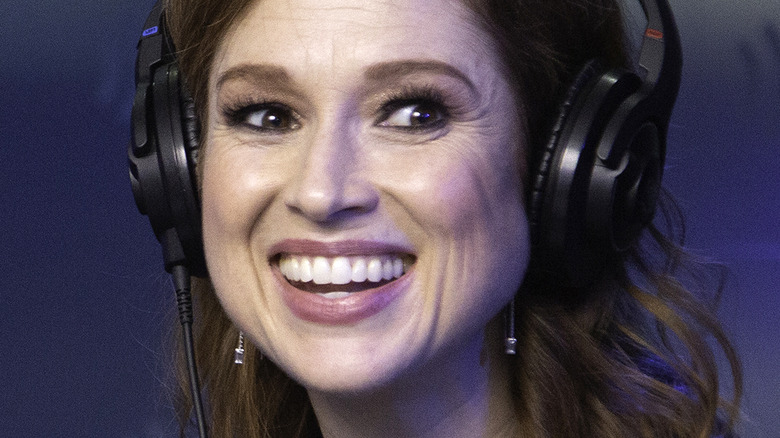 Santiago Felipe/Getty Images
Ellie Kemper really does love taking any opportunity she can to sing, whether or not anyone asked her to. In a 2017 appearance on "The Late Show with Stephen Colbert," the "Unbreakable Kimmy Schmidt" star performed a song based on the songs that one of her son's toys makes. In her final appearance on "Ellen," Kemper said goodbye to the talk show host with a rendition of Whitney Houston's "Greatest Love of All" with lyrics rewritten to be about Ellen DeGeneres and her years hosting the show.
Although there weren't a lot of opportunities for Kemper to sing in "The Office," she did get an opportunity in one of the many "Office" webisode series entitled "Subtle Sexuality." In the webisode series, Kelly (Mindy Kaling) and Erin (Kemper) record the music video for their girl group called Subtle Sexuality, and they recruit members of the staff for their video along the way. The webisodes conclude with the video itself, "Male Prima Dona," which features Kelly, Erin, Ryan (B.J. Novak), and Andy (Ed Helms) in a cheaply made and utterly ridiculous hip-hop pop video. Subtle Sexuality ended up putting out a second song called "The Girl Next Door," which was available as part of the Blu-ray/DVD release for Season 8.
But while Kemper didn't do a lot of singing on camera during the actual episodes of "The Office," she did a fair bit of singing between takes, much to the annoyance of Zach Woods.
Ellie Kemper just can't stop singing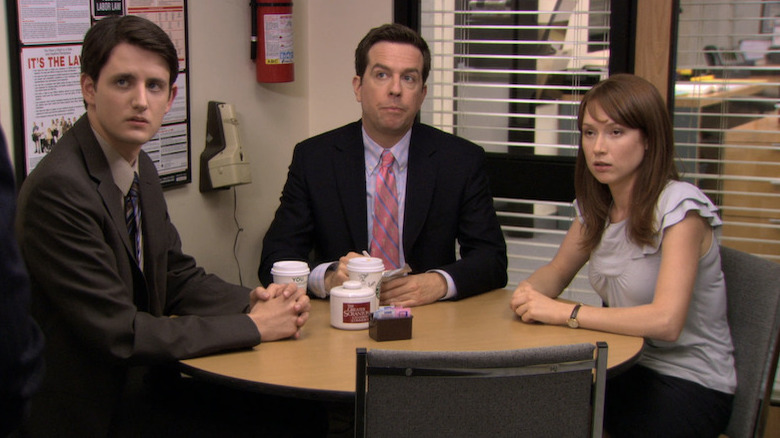 NBC
In an interview at the 2011 Emmy Awards with Pop Sugar Entertainment, Ellie Kemper was asked about the music videos she made with Mindy Kaling as part of Subtle Sexuality, which she admitted was her favorite part of doing the show. "It's my one chance to believe I am a good singer." Her co-star Zach Woods, who played Gabe, then shared his own story about Kemper's infuriating singing. "Ellie does this thing like in-between takes where she will sing in this nasal–what I describe as sort of a Lilith Fair voice, but you said that that's not accurate," he said. 
Kemper then demonstrated the voice for the interviewer, at which point she had to admit it did sound like a folk singer's voice. "I find it simultaneously soothing and like incredibly enraging," Woods joked with Kemper. "I look forward to and dread it at the same time." Kemper seemed to take the teasing in stride, demonstrating the rapport the two actors have with one another.
Woods doesn't have a lot of experience in terms of performing music himself, but in an appearance on "The Late Late Show with James Corden," he did reluctantly admit that he was taking dancing lessons. "I wanted to get more comfortable in my body so I signed up for private dance classes with this woman ... and she tried to get me to start to dance and she saw what I was capable of and then she said 'Let's start with walking,'" the actor explained.