Andrew Tate's Arrest Has The Sopranos' Fans Digging Up The 'Crime Scene Pizza' Clip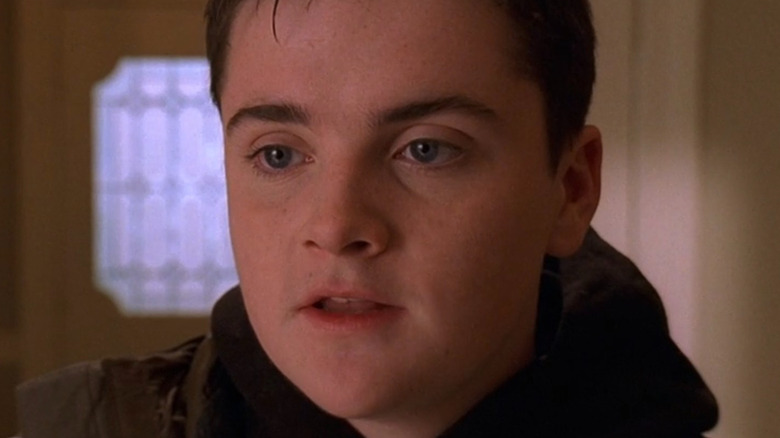 The arrest of divisive social media influencer Andrew Tate has sparked waves of online posts from "The Sopranos" fans, who are pointing out the hilarious similarities between Tate's situation and what happened to A.J. Soprano in Season 3 — when he was busted for vandalism thanks to his very specific pizza order being left at the scene of the crime.
"That's a custom job," a pizza shop worker tells the cops in the famous "Sopranos" scene, which was featured in Episode 35, "The Telltale Moozadell," back in April 2001 (via IMDb). "Double meatball, pepperoni, sausage, peppers, onions, extra mozzarell'...Only one [customer] I know."
For those who aren't aware, Tate was detained in Romania on Thursday, December 30, as part of a human trafficking and rape investigation, along with his brother Tristan Tate (via BBC). Initially, it was reported that authorities were able to track Tate down and take him into custody at his house in Bucharest after spotting some pizza he was eating in an online video, which came from a Romanian pizza chain (via BuzzFeed News). However, local officials have since downplayed the 'za influence, saying it actually played no role in the arrests whatsoever. But that didn't matter to social media users — Pandora's pizza box had already been flung wide open.
If you or anyone you know has been a victim of sexual assault, help is available. Visit the Rape, Abuse & Incest National Network website or contact RAINN's National Helpline at 1-800-656-HOPE (4673).
A telltale pizza box was linked to both perpetrators
The entire Andrew Tate pizza scandal first started on Twitter this week during an online dust-up between him and climate activist Greta Thunberg over gas emissions. Tate tweeted at Thunberg about all the gas-powered cars he owns — 33 to be exact — before Thunberg decided to fire off a message of her own, which has since been liked and retweeted over 4 million times. "Yes, please do enlighten me," Thunberg said. "Email me at smalld**kenergy@getalife.com." In response, Tate posted a video on his Twitter page calling out Thunberg and featuring the aforementioned pizza boxes. After the inaccurate reports emerged about the pizza leading to Tate's arrest, Thunberg decided to send out another tweet, concluding: "This is what happens when you don't recycle your pizza boxes."
After the news broke about Tate's arrest and theory about the pizza connection, social media users didn't take long to start drawing up their A.J. Soprano (Robert Iler) comparisons — with people sarcastically declaring things like "genius minds" and "life imitates art." Twitter user @nahiyansays said: "No way Andrew Tate did a AJ Soprano." User @DrPizzaStone wrote: "It's so cool that Andrew Tate got busted the same way as AJ Soprano did breaking into his school. Genius minds."
Previously, the scene featuring A.J. Soprano vandalizing his school after-hours with his friends was probably best remembered for featuring a young, pre-fame Stefani Germanotta — aka Lady Gaga — as an extra. Now thanks to current events, the scene is likely to get a chuckle upon rewatch for different reasons, even if the pizza box didn't actually bring down Tate.