George RR Martin Reveals What The Lannisters' Home Really Looks Like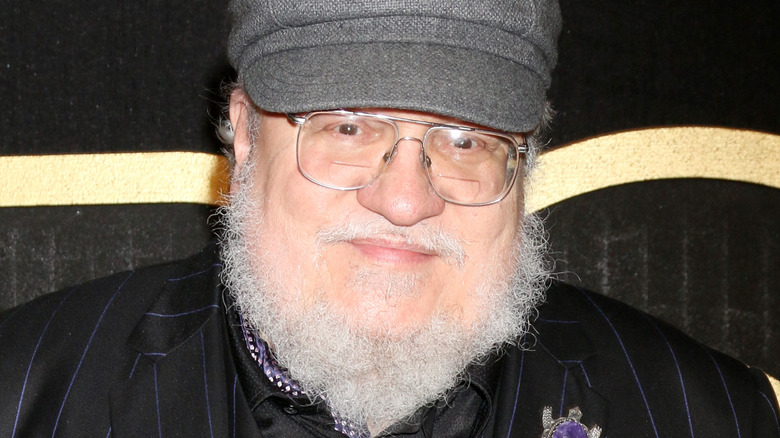 Kathy Hutchins/Shutterstock
Fans of "Game of Thrones" are fascinated by the recent artwork shared by George RR Martin on his blog of Casterly Rock, the ancestral seat of House Lannister. The author, who wrote the "Song of Ice and Fire" novels on which "Game of Thrones" is based, shared a portrait of Casterly Rock painted by Ted Nasmith for the 2011 Ice and Fire calendar, confirming the official appearance of the Lannisters' seat of power for the first time.
House Lannister members were prominent players throughout HBO's "Game of Thrones." Key characters included Tyrion Lannister (Peter Dinklage), who served as Hand to three monarchs in the series, as well as Lord Tywin (Charles Dance), and the incestuous twins Cersei (Lena Headey) and Jaime (Nikolaj Coster-Waldau). Seasons 1-4 saw the Lannisters fight the Starks after Joffrey (Jack Gleeson) beheaded Ned Stark (Sean Bean). Later seasons featured the surviving Lannisters' struggle to hold King's Landing as Daenerys Targaryen (Emilia Clarke) finally arrived in Westeros to claim the Iron Throne.
Casterly Rock appears briefly in the HBO series and not at all in the books (so far). Although mentioned often by the characters, House Lannister's official home has remained a mystery to "Game of Thrones" fans – until now.
The Lannisters' home is built into giant rock
The Lannisters' home is aptly named; Casterly Rock is, quite literally, built atop a giant rock next to the city of Lannisport. Sharing the image on his blog and Twitter, George RR Martin confirmed the official appearance of House Lannisters' ancestral seat. According to the books, the Rock has belonged to the Lannisters since the Age of Heroes, with their ancestor, Lann the Clever, tricking House Casterly into giving him their castle thousands of years before the events of "Game of Thrones."
There seems to have been a certain amount of confusion about what Casterly Rock looks like. Let me put that to rest... https://t.co/SEY7khUW2Z pic.twitter.com/p3RuK0gDlL

— George RR Martin (@GRRMspeaking) December 28, 2022
"The seat of House Lannister has been mentioned hundreds of times in the five published novels of 'A Song of Ice and Fire,' but the story has never actually gone there... yet," teased Martin on his blog. "This seems to have led to a certain amount of confusion as to what Casterly Rock looks like. Let me put that to rest."
The author went on to say that, while not all of Ted Nasmith's designs are what Martin had in mind, the artist's rendition of Casterly Rock is spot-on. Martin also hinted at a potential trip to the Rock in the future — as well as whether the mountainous castle could survive an attack from dragons.
Daenerys Targaryen laid siege to Casterly Rock in Season 7
Season 7 of "Game of Thrones" saw Daenerys Targaryen arrive in Westeros with Tyrion Lannister as her Hand, both of them ready to go up against Tyrion's sister Queen Cersei. Tyrion coaches Daenerys against a direct attack on King's Landing. Instead, Daenerys sends her Unsullied soldiers to take Casterly Rock on Tyrion's advice, trusting his knowledge of the castle's secret passageways.
Tyrion's advice turns out to be detrimental to Daenerys. When the Unsullied reach Casterly Rock in Episode 3, "The Queen's Justice," they find the castle mostly deserted, leaving them stranded and vulnerable to an attack by Euron Greyjoy's (Pilou Asbæk) Iron Fleet, while Cersei's forces ambush the Tyrells at Highgarden.
Casterly Rock isn't seen again in "Game of Thrones," though a future trip to the Rock in the prequel series "House of the Dragon," set nearly 200 years before "Game of Thrones," could still happen. George RR Martin recently confirmed on his blog that some other successor shows to the main series in development have been shelved due to upheaval at HBO.