House Of The Dragon Episode 3 Managed To Introduce The Most Punchable Lannister Yet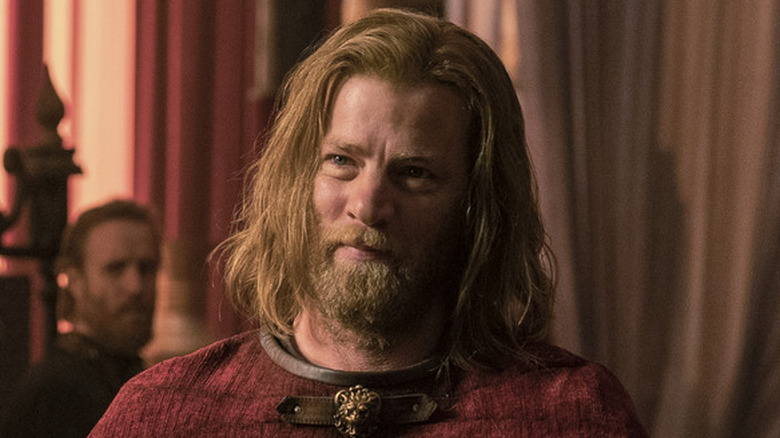 Ollie Upton/HBO
Love the Lannisters? Hate the Lannisters? Either way, this new one is pretty terrible!
Following in the footsteps of other terrible Jasons — Mraz, DeRulo, Priestley, and so on — "House of the Dragon," the spin-off and prequel for HBO's fantasy behemoth "Game of Thrones," has introduced a brand new member of the (second) blondest, baddest family from the original series. In "Game of Thrones," the ultra-powerful Lannisters opened the series with Cersei (Lena Headey) as the queen of the Seven Kingdoms, thanks to her father Tywin's (Charles Dance) machinations. Unbeknownst to most people, however, her children with King Robert Baratheon (Mark Addy) aren't actually Robert's; rather, they're the product of the incestuous affair between Cersei and her twin brother Jaime (Nikolaj Coster-Waldau). Beyond all of those people, you've also got Tyrion Lannister (Peter Dinklage), a flawed yet essentially good man trapped in the most conniving family of all time.
Most fans really loved Tyrion — and ultimately, Tywin has emerged as a fan favorite thanks to his cleverness and sheer cunning — but the Lannisters could definitely be easy to hate. Now, in "House of the Dragon," there's a new Lannister in town. His name? Jason Lannister. His whole deal? He's awful.
Jason Lannister is definitely the most punchable Lannister around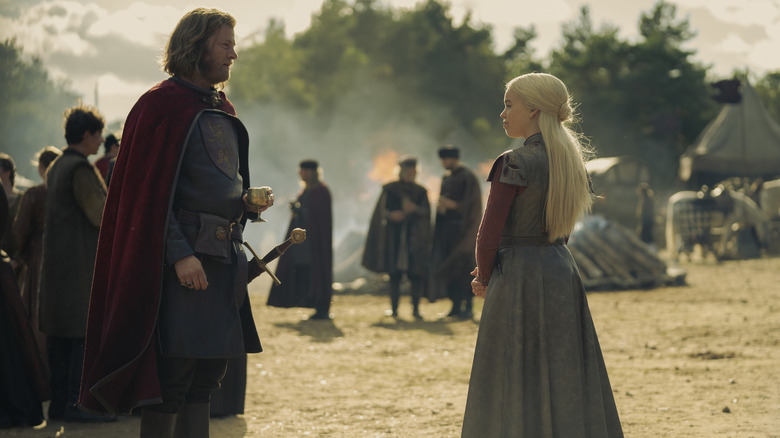 Ollie Upton/HBO
Introduced in the show's third episode, "Second of His Name," Jason Lannister — played by Jefferson Hall — is pretty slimy, and he doesn't really pretend otherwise. Upon meeting Princess Rhaenyra Targaryen (currently played by Milly Alcock), he immediately tells her that he's the Lord of Casterly Rock, that it's huge and he's very rich, and he could definitely build a dragon pit for her when they're married. (Talk about jumping the gun.) Sure, a wealthy lord could be a smart match for Rhaenyra, the current heir to the Iron Throne, but... not this guy. Also, as previously mentioned, his name is Jason, and it's not even spelled in a cool Westerosi way.
Later in the episode, he sucks up pretty hard to King Viserys I (Paddy Considine), giving him a spear for his hunt and later handing it to him in perhaps the most sycophantic way possible. He's also the one, not for nothing, who sends Viserys into a total spiral by saying everyone knows he'll disinherit Rhaenyra in favor of his young son Aegon II.
The worst part about Jason, however, is that there's technically two of him. As of this writing, his twin brother — also played by Hall — Ser Tyland Lannister has only briefly appeared in the series as a part of Viserys' Small Council, so only time will tell regarding whether or not Ser Tyland is as gross as his brother. "House of the Dragon" airs on Sunday nights at 9PM EST on both HBO and HBO Max.