Avengers: Infinity War TV Spot Features Sassy Teen Groot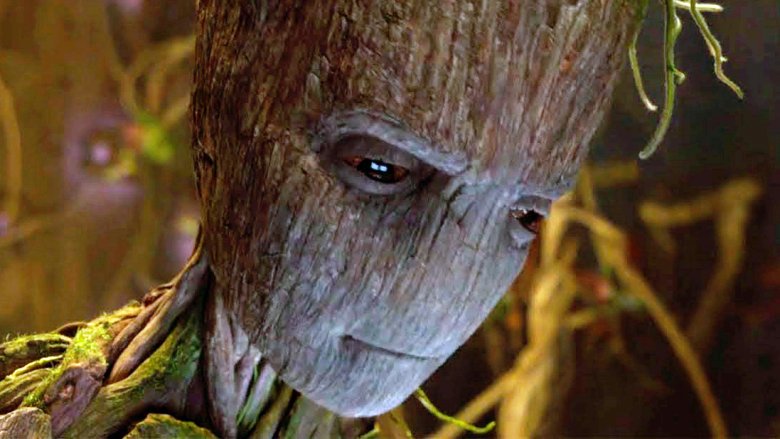 Where Baby Groot was all kinds of adorable, teenage Groot is full of attitude. A new television spot for Avengers: Infinity War proves just how foul-mouthed the tree-like hero can get.
Marvel dropped the new Infinity War spot on Twitter, teasing that "the end is near." The minute-long clip mostly includes footage we've already seen in the first trailer, but it's also sprinkled with cheeky one-liners and a few new moments. Toward the end of the spot, we witness an angsty back-and-forth between teenage Groot (voiced by Vin Diesel) and Star-Lord (Chris Pratt). 
"Groot, put that thing away," Star-Lord tells his fellow Guardian of the Galaxy, who's too busy playing a handheld game to focus on the mission at hand. "Now! I don't want to tell you again." An unamused smirk spreads across Groot's face, and he shoots back, "I am Groot." While those three words are the only ones he says (with the exception of "we are Groot," of course), his moody tone here speaks volumes. Star-Lord exclaims in response, "Whoa! Language!" Clearly, Groot has picked up some colorful secret vocabulary in his teen years.
Take a look at the clip, which also spotlights a rousing speech by Black Panther (Chadwick Boseman), below.
Captain America: Civil War filmmakers Anthony and Joe Russo direct Avengers: Infinity War, which touts a cast list nearly a mile long. Most of the Marvel characters you know and love will make an appearance, like Spider-Man (Tom Holland), Thor (Chris Hemsworth), Hulk (Mark Ruffalo), Black Widow (Scarlett Johansson), Captain America (Chris Evans), Iron Man (Robert Downey Jr.), Scarlet Witch (Elizabeth Olsen), Vision (Paul Bettany), Ant-Man (Paul Rudd), Bucky Barnes (Sebastian Stan), and Doctor Strange (Benedict Cumberbatch). Even Hawkeye (Jeremy Renner) has a hand in the action, despite what the movie's Hawkeye-less promotional materials may have you believe. 
Here's the official synopsis for the film: "As the Avengers and their allies have continued to protect the world from threats too large for any one hero to handle, a new danger has emerged from the cosmic shadows: Thanos. A despot of intergalactic infamy, his goal is to collect all six Infinity Stones, artifacts of unimaginable power, and use them to inflict his twisted will on all of reality. Everything the Avengers have fought for has led up to this moment. The fate of Earth and existence itself has never been more uncertain."
Avengers: Infinity War is set for release on April 27.
"The end is near." One month until Marvel Studios' "Avengers: #InfinityWar." Get tickets now: https://t.co/kctg8VCi1V pic.twitter.com/DqArVgy5GV

— The Avengers (@Avengers) March 27, 2018