Lauren Graham Would Be Up For A Gilmore Girls Movie Under One Condition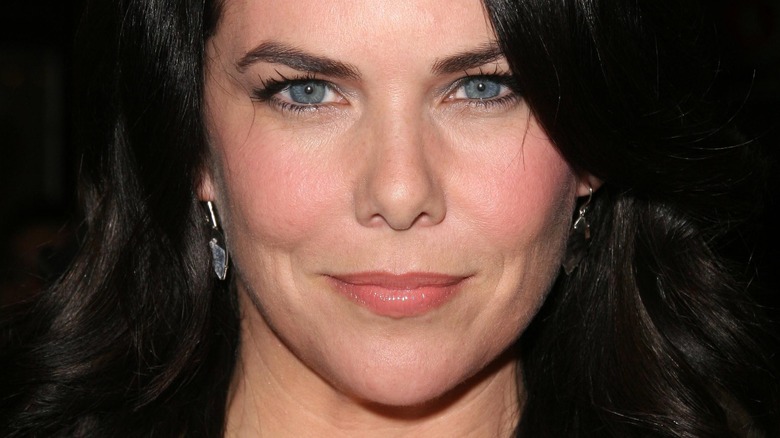 s_bukley/Shutterstock
It's been over 20 years since audiences tuned in to The WB to meet the colorful residents of Connecticut's quaint, fictional town of Stars Hollow. The show was "Gilmore Girls," and viewers were introduced to Lorelai Gilmore (Lauren Graham), her academically-talented teen daughter Rory (Alexis Bledel), cranky coffee shop owner Luke Danes (Scott Patterson), and more.
While "Gilmore Girls" wasn't unsuccessful per se (it did run for seven seasons, after all), it wasn't the most successful series on the air. According to Graham in an interview on "Jimmy Kimmel Live," the show aired opposite "Friends," which was in its seventh season at the time. The majority of audiences wanted to see the engagement of Monica Geller (Courteney Cox) and Chandler Bing (Matthew Perry), not Rory's woes at Chilton. Graham said, "It was a miracle every year we got picked up."
Still, it did, with the core and supporting cast returning each time. Then, in 2016, something special happened — the series saw new life thanks to the four-part Netflix mini-series "Gilmore Girls: A Year in the Life," which picks up with Lorelai, Rory, and the rest of Stars Hollow about a decade after the original show's conclusion in 2007. Despite the rather controversial ending (who's the father of Rory's child?), the mini-series reminded original fans why they loved "Gilmore Girls" so much while also introducing it to the next generation. 
With this resurgence came a strong demand for fresh "Gilmore Girls" content. Fans want answers regarding Rory's baby, whether in the form of a new "Year in the Life" season or the first-ever "Gilmore Girls" movie. Lucky for them, Graham is up for a film, but only on one condition.
Lauren Graham would reprise Lorelai in a film if it met her standards
Sometimes, when franchises continue after a lengthy break, not all of the original cast members are willing to return, much to the heartbreak of fans. For example, Julie Andrews doesn't see herself reprising her iconic role of Queen Clarisse Renaldi in the forthcoming "Princess Diaries 3."
Regarding Lauren Graham as Lorelai Gilmore, she's not opposed to returning to Stars Hollow in film format. In response to a Reddit AMA question asking the actress if she'd want to portray Lorelai in a film, she answered, "Yes, IF a movie version could be as good as we'd all want it to be, I'd love to play that character again."
Though a "Gilmore Girls" movie probably isn't happening anytime soon, fans were thrilled over her response. U/backtodecember said, "This made me so happy. Time to go watch Gilmore Girls all day!" U/Photogal26 added, "Yay! You just made millions of fans very happy. Thank you!"
If a "Gilmore Girls" movie or "Year in the Life" Season 2 was to happen, Graham's schedule will be wide open, even if she's in the midst of another project. She revealed to SiriusXM's Jessica Shaw that creator Amy Sherman-Palladino convinced her to include a special clause in her contracts, allowing her to be available should fresh "Gilmore Girls" content need to be filmed.
"I put that window into all my new jobs just in case," said Graham. "And it's not — I don't want to start any new rumors — it's not for any concrete reason except that I have a loyalty and an openness to working with her [Sherman-Palladino], first of all. And because we could never have predicted that [a revival] in the past. So that door is open."