Jenna Ortega Nixed One Out-Of-Character Line On Wednesday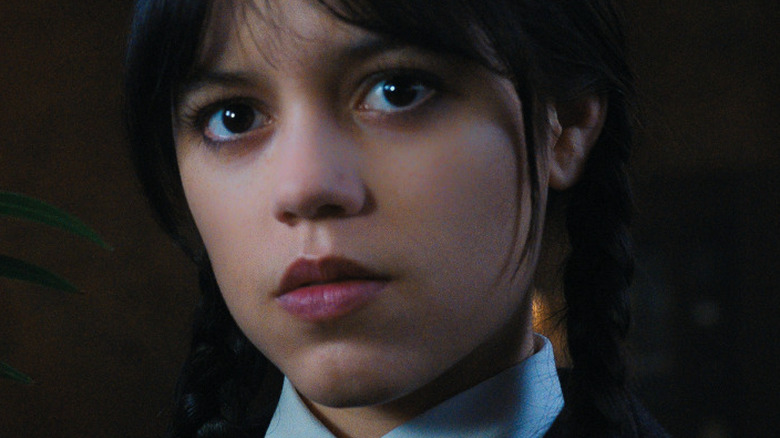 Netflix
Netflix managed to close the year with another massive streaming hit in its "Wednesday" series. Directed by Tim Burton and based on "The Addams Family" outsider teenager Wednesday Addams, played by Jenna Ortega, the humorous series got off to a record-breaking start before continuing to shatter another Netflix record a mere week after its debut. The show is equal parts teen-comedy, and TV mystery as Wednesday navigates life at Nevermore Academy, her family's alma mater. It's a show full of supernatural hijinks, neat callbacks to Wednesday's spooky family, and of course, a memorable dance scene that has spawned numerous social media copycats. But one of the series' real shining points is Ortega's performance as the titular Wednesday.
Ortega's portrayal of the young goth student has earned erupting applause from many viewers. Many fans believe Ortega tried to embody the character that fans grew up knowing while providing her own spin. And ultimately, her portrayal is a unique balance that offers a character full of natural charisma, despite her often grim and sardonic interactions. Ortega put in so much work to get the character right. Yet her attempts to be the best possible version of Wednesday also included saying no to one out-of-character line.
Ortega avoided dialogue that didn't fit her character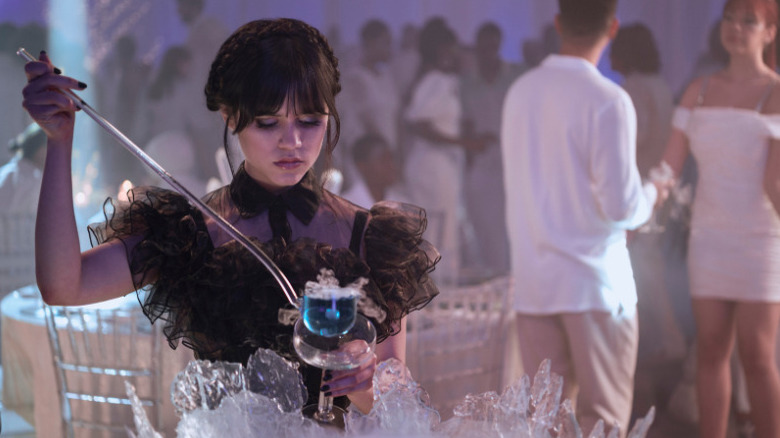 Vlad CiopleaNetflix
In a TikTok clip of a Netflix Q&A with Jenna Ortega, the actor noted a particular time when she felt she had to take out a line that might have felt out-of-character. The line concerns the black prom dress that Thing ultimately steals for her. According to Ortega, there was supposed to be some dialogue concerning the dress, but she nixed it, feeling that it may not have fit. "I remember there's a line where, like, I'm talking about a dress, and initially she was supposed to say, 'Oh, my God, I'm freaking out over a dress, I literally hate myself,'" Ortega said in the clip. "And I was blown away because that sounded like — it was just a bunch of little things like that. I felt like we were able to avoid a lot of dialogue in an attempt to make her sound human."
Fans may recall that Wednesday's reaction to the dress in the series is more of a subtle smile, which seems more fitting than the proposed dialogue. And where Wednesday's outsider vibes come off as authentic, the dialogue would have felt more like the character trying too hard. Clearly, Ortega's understanding of her character is proof of her dedication to getting the part right. 
Jenna Ortega is protective of Wednesday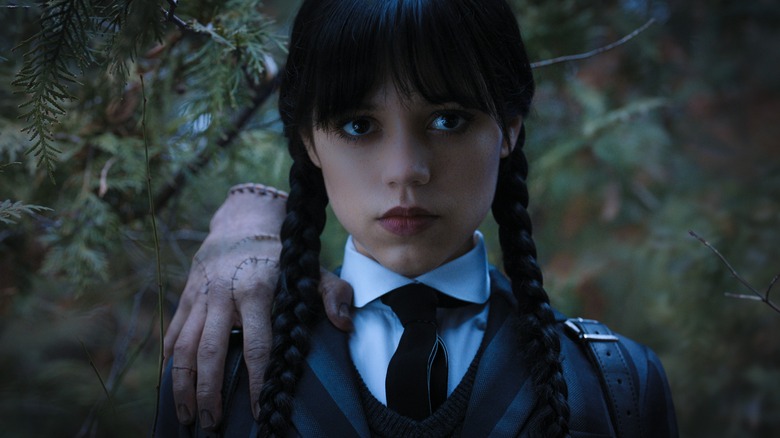 Netflix
The overwhelming success of "Wednesday" can largely be attributed to Jenna Ortega's infectious and authentic performance, which doesn't seek to replicate previous iterations of the Addams Family character. In an interview with Complex, Ortega made it very clear that it would be moot to replicate Christina Ricci's take on the character, which was first seen on the big screen in 1991. "You want to do something different. You don't want to be ripping off anybody else's performance," Ortega told the outlet, before adding that "Wednesday" is the first time audiences are getting such an intimate look into the character's life, making it important to add dimension to her. 
For Ortega, playing the Addams Family character is a balancing act as she has to both respect where the character has come from but also offer something new, especially for younger audiences who may not be familiar with Wednesday. "I was very protective and I never wanted to give too much or too little," she added. The "Wednesday" actress clearly cares for the character and has made it a point to make her take on the goth superstar as authentic (and modern) as possible. 
However, not all her attempts to work on the series have been met with positive reactions. Recently some fans took issue with her dance scene after she revealed that she filmed it while with COVID-19.