CSI's Jorja Fox Didn't Take A Single Class In Gun Safety For Her Role As Sara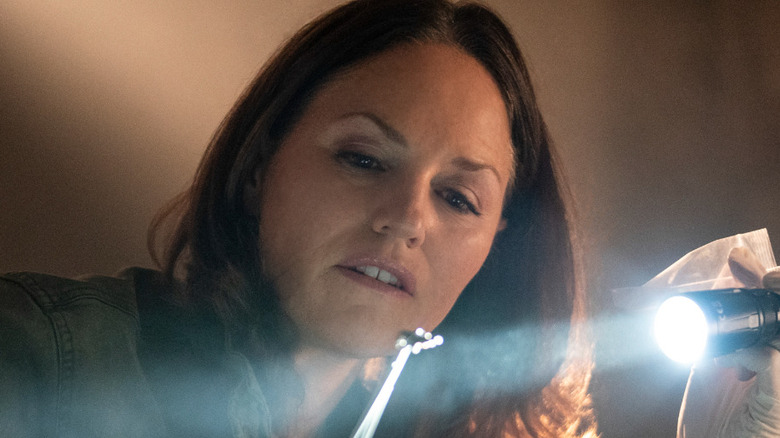 Erik Voake/CBS
"CSI" is known for its gruesome crimes and dastardly serial killers, which help produce some of the show's most entertaining moments. And the series setting of Las Vegas also affords it plenty of opportunities for celebrity appearances that would otherwise seem too unreal for other procedural crime dramas of its ilk. Yet, "CSI" is a series that, in many ways, attempts to ground itself in realism. Admittedly, it doesn't always hit the mark in that regard. While "CSI" has had an immense influence on actual criminal investigations, there are several items it manages to get wrong about forensics.
However, "CSI" features an impressive amount of technical jargon, gadgets, and laws pulled from the world of real criminal science investigators. Some of the series' stars, like Jorja Fox, have had to practice with the ever-changing scientific terminology of the show. Despite at times feeling like a newbie, Fox's portrayal of the character Sara Sidle is convincing all the way to her time in the lab. Yet, while studying the techniques and language of a crime scene investigator seems necessary, performing some homework on how to safely brandish a firearm doesn't seem to be a requirement. Surprisingly, Fox didn't take any gun safety classes for her role.
The show's tech advisor taught Fox how to hold her weapon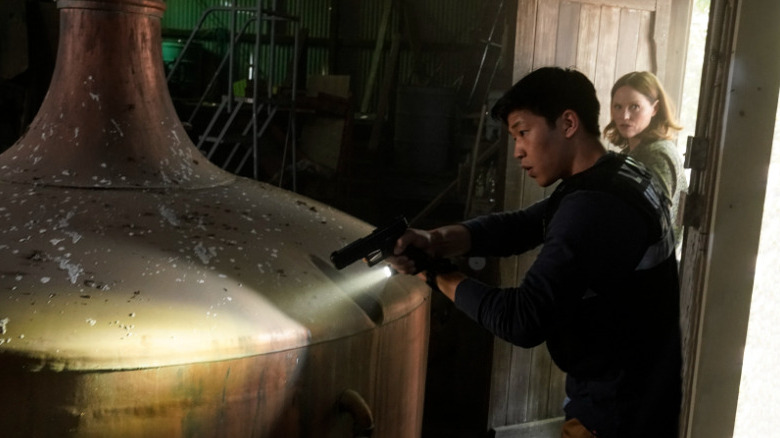 Sara Cliff Lipson/CBS
Despite portraying a character on "CSI" that carries a firearm, Jorja Fox revealed in an interview with Pop Gurls that she didn't take a gun safety class before taking the role. In the interview, she added that there are no requirements for carrying a gun on television. It's easy to see how Fox didn't take a safety course beforehand, considering some rules, or lack of, surrounding actors and firearms on set. According to The Associated Press, there are no federal or state regulations on gun safety on set, as any rules on the subject are left to labor unions and studios. However, the responsibility of adequately training an actor on gun safety usually falls on a production's armory or weapon expert (via BBC).
In the case of Fox learning how to hold her weapon correctly, that training happened on-set. Fox continued to note in the Pop Gurls interview that she always got on-set training from the show's tech advisor on accurately holding her gun whenever an upcoming scene required it. "What's funny is that it's probably been two years since I've drawn my gun on "CSI," and every time I draw it, I have to learn over again exactly the proper way to hold it, so it looks professional," Fox told the outlet. I learn what I have to for the day, and then I delete it all so I can get ready for the next day – it's all in the short-term memory."
Gun safety requirements on set could change in the future
Jorja Fox may not have been required to take a gun safety course before her role in "CSI," but that could significantly change for other actors in the future. There's currently a push for changes to gun safety requirements. And it's coming from some within the Hollywood industry as well as outside of it. Much of the spotlight on firearm safety comes in the wake of horrific on-set incidents, such as the death of cinematographer Halyna Hutchins during the production of "Rust." According to the Los Angeles Times, the Industry-Wide Labor-Management Safety Committee for Film and Television is proposing to make some revisions related to on-set firearm safety. The possible updates would be the first changes made since 2003.
On the lawmaker side of the coin, New Mexico state Sen. Cliff Pirtle introduced a gun safety bill earlier this year. Known as Senate Bill 188, the law would require anyone working on a film in New Mexico to complete a hunter safety course that's usually meant for beginner hunters in New Mexico. The bill notes that any production that violates its rules would not be eligible for any of the state's tax credits. While speaking to Variety, Pirtle gave some insight into his reasoning for using the training class in his bill, saying, "It's a course that is really all about beginners. The main focus is how to safely handle a firearm in multiple instances."