Why Jorja Fox Felt Like A Newbie On CSI: Vegas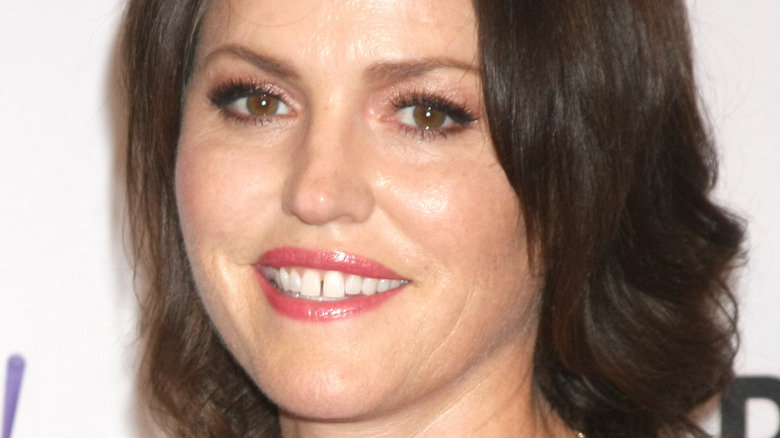 Kathy Hutchins/Shutterstock
If there's any performer who shouldn't feel like an amateur, it's "CSI" actress Jorja Fox. Even before her role on the crime procedural as forensic scientist Sara Sidle, Fox's breakthrough was in a recurring role on "E.R." as blunt emergency intern Dr. Maggie Doyle.
Fox also appeared on other popular shows like "Ellen" and "The West Wing," as well as in films like "Memento" and "Velocity Trap," before joining "CSI" in 2000. However, the performer also had a stormy relationship with CBS over salary raises, which led to her being fired, then re-hired in 2004 (via Today). Fox later left at the start of Season 8 before eventually becoming a regular cast member again, starting with Season 12 (via TV Line).
Fox would return to Sara Sidle for the recent reboot, "CSI: Vegas." However, despite being a longtime screen veteran, Fox acknowledged that she struggled on the set of the new series at first. 
Jorja Fox and William Petersen had trouble with new forensic lingo
The 2021 premiere of "CSI: Vegas" was the first time Jorja Fox and William Petersen returned to their iconic roles as Sara Sidle and Gus Grissom since the original series ended in 2015. When Fox was asked by TV Insider about the experience, she admitted, "We were really rusty." 
The actress explained how at first, she and Petersen enjoyed watching new cast members struggle with the scientific lingo in the dialogue. But the actors later felt intimidated because, as she put it, "There are so many new techniques and toys and gadgets that have come out in the last five years. It was a real learning process for William and myself as well." Although both actors were experienced "CSI" cast members, they found themselves practicing diction just like everybody else.
Fox praised the new version of "CSI" and its showrunner Jason Tracey. "He continues to come up with original, fresh stories that are just really fascinating" (via TV Insider). However, after Petersen decided not to come back for a second season, Fox and co-star Mel Rodriguez also departed the show (via Deadline). The upcoming new episodes of "CSI: Vegas" will just have to come up with new, exciting adventures for the forensic team without these three core cast members.