Avengers: Infinity War Character Posters Unite The Marvel Cinematic Universe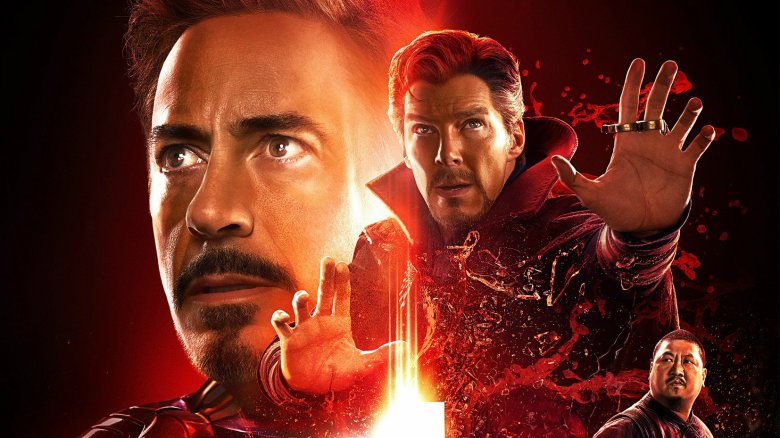 Marvel Studios
The cast of Avengers: Infinity War is so big, it takes five posters to display some of the main characters.
Marvel unveiled a series of new character posters for Avengers: Infinity War that bring together the heroes of the Marvel Cinematic Universe. The movie's star-studded roster is split into smaller teams across the images, which show Earth's Mightiest Heroes, the smart-mouthed Guardians of the Galaxy, and a handful of other Marvel stars striking stoic and determined poses next to the Avengers logo. Each poster is colored to represent five of the six total Infinity Stones the tyrannical Thanos (Josh Brolin) is searching for.
First up are Iron Man (Robert Downey Jr.), Doctor Strange (Benedict Cumberbatch), Spider-Man (Tom Holland), and Wong (Benedict Wong) in the red poster that represents the Reality Stone, otherwise known as the Aether. The yellow Mind Stone poster features Vision (Paul Bettany), who has the gem embedded in his forehead, as well as Scarlet Witch (Elizabeth Olsen), Falcon (Anthony Mackie), and War Machine (Don Cheadle). 
For the green Time Stone, Black Widow (Scarlett Johansson), the Hulk (Mark Ruffalo), Black Panther (Chadwick Boseman), and Okoye (Danai Gurira) take the spotlight. And it's only fitting that Captain America (Chris Evans) and Bucky Barnes (Sebastian Stan) grace the poster for the blue Space Stone (a.k.a the Tesseract), since the gem first appeared in Captain America: The First Avenger. (It was shown in a post-credits scene in Thor prior to its official debut.) Shuri (Letitia Wright), Nebula (Karen Gillan), and Mantis (Pom Klementieff) join the duo. 
Lastly, the amethyst-hued Power Stone poster features Thor (Chris Hemsworth), who lost one of his eyes at the end of Thor: Ragnarok, Star-Lord (Chris Pratt) Gamora (Zoe Saldana), Groot (Vin Diesel), Rocket Raccoon (Bradley Cooper), and Drax the Destroyer (Dave Bautista).
Take a look at all five posters below.
One color that missing (just like Jeremy Renner's Hawkeye from all the film's marketing) is orange, the shade of the elusive Soul Stone. Fans haven't yet seen the Soul Stone appear in the MCU, so its absence is understandable (far more than Hawkeye's). A popular fan theory speculated that the orange-toned stone would appear in Black Panther, but sadly, it didn't. There's a good chance the cosmic artifact will finally turn up in Avengers: Infinity War, and if not, it will surely make itself present in the untitled Avengers 4. 
Directed by Captain America filmmakers Anthony and Joe Russo, Avengers: Infinity War will arrive in theaters on April 27.