Riverdale Showrunner Confirms The Black Hood Will Be Back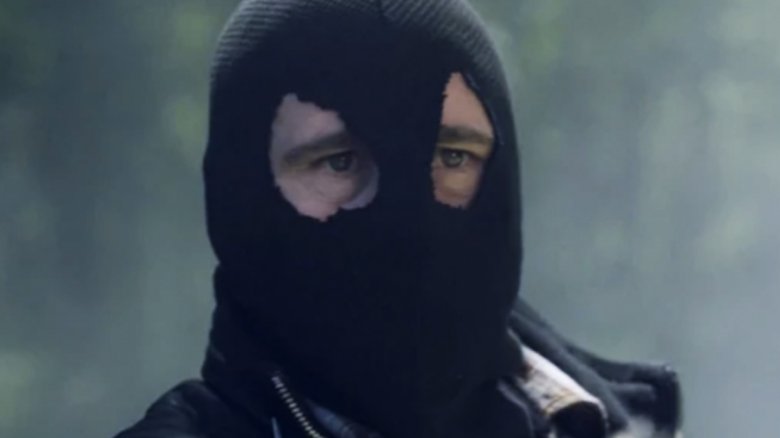 Contains spoilers for Riverdale
Riverdale is bringing back one of its most mysterious villains. 
During the Riverdale panel at this year's PaleyFest, moderated by Entertainment Weekly's Tim Stack, series showrunner Roberto Aguirre-Sacasa revealed that the CW series plans to revisit the Black Hood plot in upcoming episodes of season 2. He also mentioned the show has been hinting at a Black Hood return for quite a while now, having shifted focus toward larger overarching narratives. 
"When we started, we had three likely suspects, so for the first half of the season, we were always dropping red herrings so we could pick [one of the three]," Aguirre-Sacasa said when discussing the Black Hood's identity. "As we moved into the second half, and we get back to the Black Hood for the last few episodes, we always knew it wasn't Svenson, [the janitor], but for the last 10 episodes or so, we've had a pretty clear idea and have been writing toward that."
The Black Hood first appeared in the shocking season 1 finale, when he shot Fred Andrews (Luke Perry) in Pop's Chock'Lit Shoppe. Since then, he's attacked Moose (Cody Kearsley) and Midge (Emilija Baranac), and been responsible for the deaths of the serial student-dater Geraldine Grundy (Sarah Habel) and the drug-dealing Southside High English teacher Robert Phillips (Robert Baker), otherwise known as the Sugarman. Riverdale High janitor Joseph Svenson (Cameron McDonald) was revealed as the Black Hood after Betty Cooper (Lili Reinhart) and Archie Andrews (KJ Apa) uncovered some serious dirt on him and his past. Sheriff Keller (Martin Cummins) ultimately shot and killed Svenson, though Archienever fully believed they caught the right person. 
Riverdale fans have theorized that Betty's long-lost brother Chic (Hart Denton) could be the Black Hood, as Betty recently learned that he isn't the son of her father, Hal Cooper (Lochlyn Munro), like she had believed. There's a chance he's still the child of Alice Cooper (Mädchen Amick) as he claims, but he could also be a complete stranger fooling the Cooper clan and the entire Riverdale community.
Other viewers have offered up a different (and perhaps more plausible) theory: Chic is the son of F.P. Jones (Skeet Ulrich). Fans have hoped F.P. and Alice, a former Southside Serpent, would remember the passion they had in their younger days and finally get together. Aguirre-Sacasa stated that the next episode of Riverdale will address their connection. "This is a big episode for Alice, the Serpents, and F.P." he said. "If people are interested in seeing more of F.P. and Alice, I think you should watch this week's episode." 
Jughead Jones actor Cole Sprouse also teased that the upcoming episode features a huge scene involving Chic. "My favorite moment is coming up in an episode. It's a scene between Jughead, Betty, and Chic, which is probably my favorite moment," said Sprouse. 
Whether this scene will see Chic be revealed as the Black Hood remains to be seen. After all, anything can happen in Riverdale. The show returns to The CW on Wednesday, March 28 with "Chapter Thirty: The Noose Tightens."