Why Sheriff Haskell From Yellowstone Looks So Familiar
"Yellowstone" Season 5 is underway and it continues to be a ratings hit for Paramount Network despite some harsh fan reception (per The Hollywood Reporter). The neo-Western drama series follows the Dutton family as they struggle to maintain ownership of their ranch due to land developers, nasty neighbors, and all sorts of antagonists seeking to cause trouble. The end of the 4th season was pretty explosive, with a few deaths and some betrayals, so audiences were understandably excited to find out what happened next. 
One unfortunate reality audiences have to contend with is the fact Sheriff Donnie Haskell won't be coming back. The character met a sad fate in Season 4, Episode 8 when the sheriff was meeting John (Kevin Costner) and Rip (Cole Hauser) at the diner. Haskell was then shot dead during a hold-up. Without Haskell, "Yellowstone" is without a loyal, dependable sheriff and now actor Hugh Dillon has room to pursue other projects, adding to his very large filmography. 
While you might enjoy his duty as the comedic relief and his status as John's one true friend amid the twists and turns on "Yellowstone," these are the other roles Dillon has that audiences are bound to enjoy. 
Before he was Yellowstone's sheriff, he was part of the elite team on Flashpoint
CTV
Long before Hugh Dillon became Sheriff Haskell on Paramount's "Yellowstone," he first belonged to an elite police force on "Flashpoint" as Ed Lane. Together with a team including Sergeant Greg Parker (Enrico Colantoni), Sam Braddock (David Paetkau), Michelangelo "Spike" Scarlatti (Sergio Di Zio), Kevin "Wordy" Wordsworth (Michael Cram) and Lewis Lou Young (Mark Taylor), Dillon's character Ed Lane helped deescalate tough and violent situations that regular police officers are unequipped to handle. 
For 75 episodes, Ed was the top leader of the unit and was applauded for his special sniper abilities, at least by fellow officers. His family, wife Sophie (Janaya Stephens) and son Clark (Tyler Stentiford), on the other hand, are often frustrated with how much more time he spends on the job rather than with his family. In the very first episode titled "Scorpio," audiences watch Ed leave his wife and son to celebrate the retirement of another officer instead of attending a celebration for his in-law's wedding anniversary. Insisting that it's just part of the job. Ed and Kevin sing a little song, with the line "A policeman's job is not a happy one."  
As the series went on, Ed and Sophie had further difficulties, especially when Sophie became pregnant. After separating from Ed for a time, they reconcile when Ed resolves to maintain an equal balance between his duties on the Flashpoint team, and his duties as a husband and father. 
Dillon was an angered death row prison guard in The Killing
Back in the 3rd season of AMC's "The Killing", Hugh Dillon joined the cast as Francis Becker, one of the prison guards for inmates on death row. The third season of "The Killing" follows detectives Sarah Linden (Mireille Enos) and Stephen Holder (Joel Kinnaman) investigating another missing girl case. The show had many twists and turns in the season and wouldn't have the same amount of foreboding and sadness without Dillon's character. Due to his many personal issues, Becker takes out his frustrations on his prisoners.
One of the other plot points occurring involved death row inmate Ray Seward (Peter Sarsgaard). Convicted for the murder of his wife, there is the belief that he's still innocent and Linden tries her hardest to get his execution pushed back to no avail. One of the cruelest moments was when Seward's son Adrian, came to the prison, to visit his father hours before his execution. Becker denies Adrian's request, and the father and son don't have the opportunity to reconcile before Seward's death.
In an interview with The Hollywood Reporter, Dillon discussed his character, describing Becker as being a product of his environment. "He's emotionally bankrupt. He's struggling to keep some semblance of humanity." Dillon went on to talk about what he appreciated about "The Killing": "I look for parts and roles on film and shows I'm interested in that are exciting to be a part of, and this was that." 
He is a colonel in the spy thriller X Company
It seems that Hugh Dillon is a veteran of playing roles that teeter in crime and mystery drama. While he was a sheriff in "Yellowstone" and a harsh prison guard in "The Killing," he portrayed a well-decorated war veteran on the spy thriller "X Company." The show reunited Dillon with show creators Mark Ellis and Stephanie Morgenstern, who earlier created "Flashpoint." 
"X Company" follows a group of five recruits coming together during World War II for secret agent training at a classified Canadian training boot camp. Dillon portrayed Colonel Duncan Sinclair, a character who struggles to balance family life and his war officer duties. With his two sons off fighting, one dead and the other missing and presumed dead, it's difficult to always set his grief aside. Additionally, Sinclair and his family befriended a German family during the time between World War I and World War II, which weighs on his conscience as they're locked in a deadly, explosive war with Germany as the main foe.
"X Company" ran from 2015 to 2017, bringing three seasons of espionage, uncertainty, tension, and adventure. By the series' end, Sinclair seemed to have abandoned his hardened approach of sticking to his job due to grief and loss. He was presumed dead near the final season's end, which was disappointing since he never got to enjoy life without the shackles of conflict. At least audiences can rest assured that he had a hero's death. 
He was Kyle McLusky's partner on Mayor of Kingstown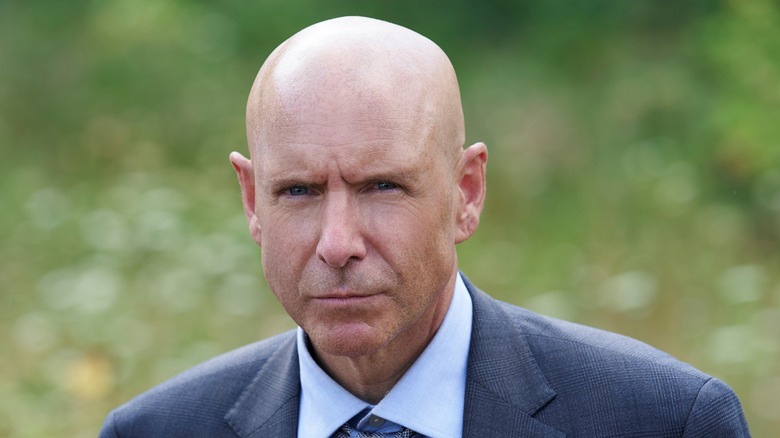 Marni Grossman/ViacomCBS
Hugh Dillon lent his talent to the crime drama "Mayor of Kingstown" as police officer Ian Ferguson, the partner of Kyle McLusky (Taylor Handley), who is one of the three brothers of the show's main family who are left in turmoil after Mike, portrayed by "Hawkeye" alum Jeremy Renner, has to take Mitch's place (Kyle Chandler) as mayor of Kingstown following Mitch's murder. Dillon is also a co-creator and executive producer of the show along with Taylor Sheridan, who is also the creator of "Yellowstone".
"Mayor of Kingstown" is yet another dark thriller crime drama, where Dillon takes on a role similar to his previous ones. Officer Ian Ferguson is partners with Kyle McLusky, the youngest brother in the family. Kyle struggles with being involved in his older brothers' schemes and likewise has a distaste for the behaviors of fellow officers while dealing with inmates and suspects. 
Audiences saw Ferguson break up a fight between Sam (Mandela Van Peebles) and prisoner Darryl (Horace Dodd). Sam falsely tells his superiors that he acted in self-defense, though audiences see that he had started it. Ferguson also breaks the news to Mike that his brother has been killed and tries his best to keep him from seeing the body, as he knows it won't help him. 
Fans of the show can enjoy more of Hugh Dillon in the upcoming season of "Mayor of Kingstown" when it arrives in 2023.