Whatever Happened To Plated After Shark Tank?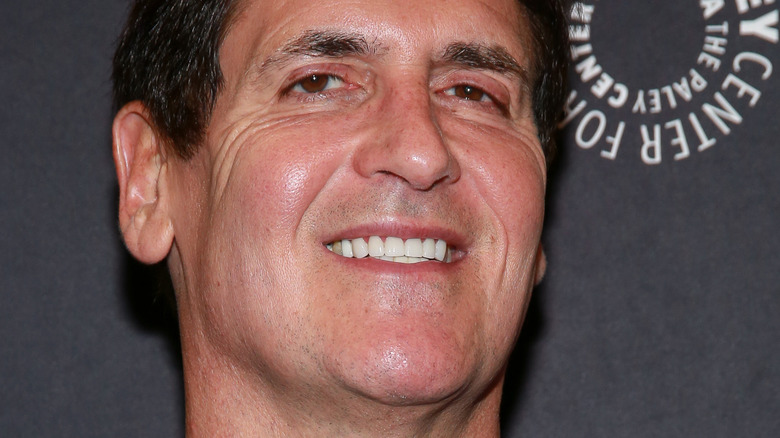 Jason Mendez/Getty Images
Plated may have identified an emerging industry, but were they able to actually capitalize on it? 
In 2022, meal kit delivery services are far from extraordinary. From Blue Apron to HelloFresh, there are numerous options for consumers to choose from if they want ingredients and recipes shipped to their doors. However, back in 2014, when entrepreneurs Nick Taranto and Josh Hix brought their company, Plated, to "Shark Tank," the concept was a novel one. Their product resembled most of its peers at the time, consisting of pre-portioned ingredients and a recipe card to turn them into restaurant-quality meals in the kitchen of any customer. They asked the panel of celebrity investors (Mark Cuban, Barbara Corcoran, Kevin O'Leary, Lori Greiner, and Robert Herjavec) for $500,000 in exchange for 4% of their company, valuing Plated at a lofty $12.5 million after just seven months of business.
Due to either the pitch or the lack of precedence, most of the sharks had a very difficult time visualizing anyone using the service as opposed to simply buying ingredients from a grocery store (or having them delivered by a grocery delivery service). Herjavec, Greiner, and O'Leary all quickly bowed out for this reason. After a few tough questions, Cuban offered the pair $500,000 at Plated's post-money valuation of $9 million — though he specified that his approximate 6% of Plated would be in advisory shares. Large post-money valuations often plague otherwise promising pitches, such as Wild Earth.  Though Taranto and Hix were clearly uncomfortable with the deal and Cuban's insistence that they accept it without private discussion, they ultimately agreed ... in the room.
Plated quickly fell into rocky waters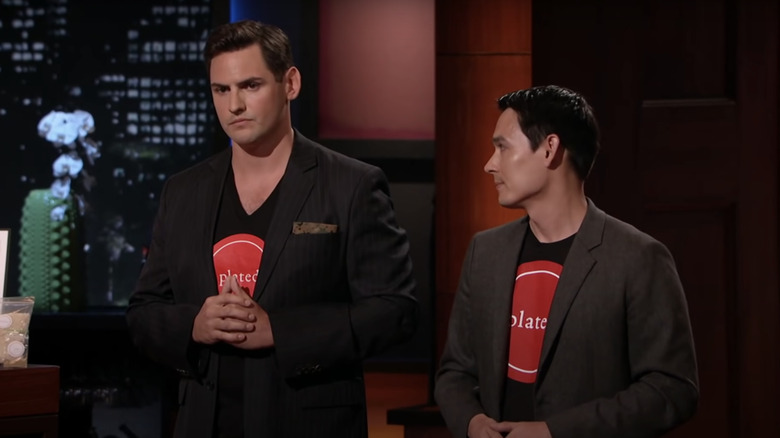 ABC/YouTube
As any avid "Shark Tank" fan knows, trepidation in the tank can have entrepreneurs gasping for air before any official deal is signed. For Nick Taranto and Josh Hix, that seems to be exactly what happened. Per CNBC, Taranto and Hix ultimately failed to close their deal with Mark Cuban. Inc. Magazine noted that the pair attempted to renegotiate their deal after the show by leveraging a recent bump in Plated's growth. Apparently, that didn't sit right with Cuban, causing him to walk away entirely.
As luck would have it, this very growth inspired Kevin O'Leary to take another look at the company, which he then invested in. As of 2015, they failed to turn a profit and were struggling to see eye to eye with O'Leary's opinions on growth management and business investments. Per Inc., tensions were high over the buying and selling of company real estate, which O'Leary called a "costly" error.
In 2017, they sold Plated to the Albertsons grocery store chain for $300 million. Though both Taranto and Hix remained involved with the company after its sale, they had both officially departed by early 2019 (per Grocery Dive). Reuters reported in 2021 that former Plated shareholders were attempting to sue Albertsons for allegedly altering the business model of Plated to avoid making $125 million in milestone payments to investors, per the merger agreement. According to the plaintiffs, Albertsons allegedly failed to support the subscription service aspect of Plated, instead focusing on selling the meal kits at their physical locations.