Whatever Happened To Wild Earth After Shark Tank?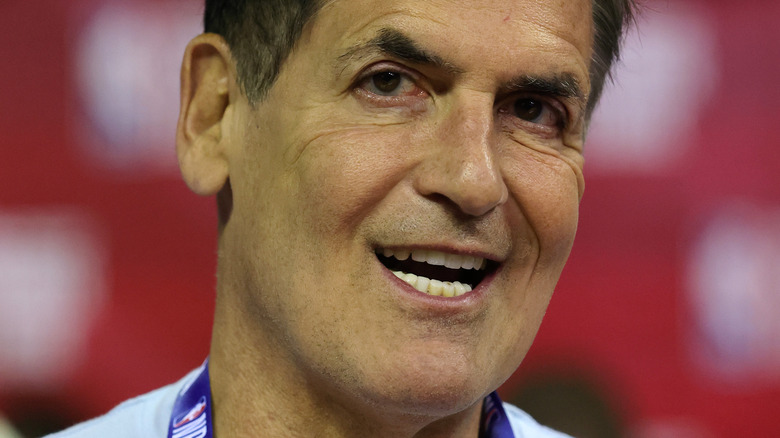 Ethan Miller/Getty Images
When Ryan Bethencourt brought his vegan, protein-rich pet food to "Shark Tank" investors Mark Cuban, Lori Greiner, Kevin O'Leary, Daymond John, and Mike Higgins, he likely thought he had a slam dunk on his hands. After all, he had impressive credentials, a credible business partner, and had already secured millions of dollars from well-known investor Peter Thiel. Yes, that Peter Theil — the PayPal founder whose visage is often cropped out of this viral image of Elon Musk, and who made headlines for allegedly wanting to inject himself with young people's blood (per Vanity Fair). For what it's worth, the mention of his name seemingly perked several Sharks' ears.
Bethencourt's product used synthesized koji protein to create dog food that was both nutritious and tasty — even the Sharks themselves had a taste. Despite offering an $11 million valuation, Bethencourt's statement that Wild Earth had yet to sell a single package caused the mood of the Sharks to quickly sour (via Shark Tank Recap). While an inflated valuation can normally be solved on "Shark Tank" by an entrepreneur simply agreeing to a lower number, Bethencourt's hands were essentially tied by the amount of money he had taken from investors outside the tank. According to Gazette Review, Bethencourt owned just 20% of the company at the time of the episode's filming. If Bethencourt couldn't get an investor to agree to invest $550,000 for less than 6% of the company, he'd risk diluting his investors' shares or his own.
Did Wild Earth get a deal?
Kevin O'Leary couldn't shake his own negative attitude toward veganism and was the first to bow out. Lori Greiner was next. Despite believing in both the product and the company's mission, Greiner felt the valuation was simply too inflated. Mike Higgins concurred with Greiner, painting Wild Earth as a cautionary tale for entrepreneurs seeking to constantly raise their valuation, only to be trapped at an uninvestable figure. Daymond John felt similarly, while also acknowledging his investment in competitor TurboPUP, which was featured on a record-breaking episode of "Shark Tank" a few years prior.
This left Mark Cuban, who admitted he wasn't as bothered by the valuation — even so, he wouldn't bend to it. He made Ryan Bethencourt a take-it-or-leave-it offer for $550,000 for 10% of Wild Earth, slashing the company's valuation to lower than its first investment round. Bethencourt hesitantly agreed, though an awkward interaction between himself and Cuban on his way out betrayed lingering anxieties. After stumbling over each other's words, Bethencourt said with a cautious tone, "It may have to ... " Before he could finish the thought, Cuban cut him off, saying, "I understand." It was a bizarrely ominous way to end a "Shark Tank" pitch, especially compared to other exits. As such, it's almost impossible not to wonder what Cuban and Bethencourt's quick interchange meant for the company's future.
Did Mark Cuban and Ryan Bethencourt close their deal?
On Mark Cuban's website, Wild Earth is listed as one of his Shark Tank brands. Though this essentially confirms that Cuban and Ryan Bethencourt closed their "Shark Tank" deal, multiple sources allege that the final terms were different than those discussed on the show. Shark Tank Recap claims that the pair eventually closed a "varied" version of their deal, though it does so without citation or elaboration. The fact that Wild Earth's YouTube channel edited out Cuban's offer entirely could indicate that the deal was significantly altered off-air.
Gazette Review independently corroborates this assertion, claiming that rather than invest himself, Cuban's firm, Radical Investments, joined forces with other groups to invest in the company at a valuation of $11 million. If that's true, something must've convinced Cuban of the company's higher valuation after Bethencourt left the tank. Then again, it's possible Cuban always intended to reformat the deal post-show.
No one but Cuban himself can know for sure what his intentions or mindset were in regard to the Wild Earth deal. What can be stated factually is that Cuban's website lists a slew of other investors as partners in the Wild Earth project. While this seemingly confirms Gazette Review's statement about a large, joint investment in Wild Earth, it does not necessarily confirm the valuation. According to both Gazette Review and VegNews, the team of investors helped secure an additional $23 million for Wild Earth. Their products are currently for sale on their website.