Black Panther Is Now The Top-Grossing Superhero Movie Of All Time In The U.S.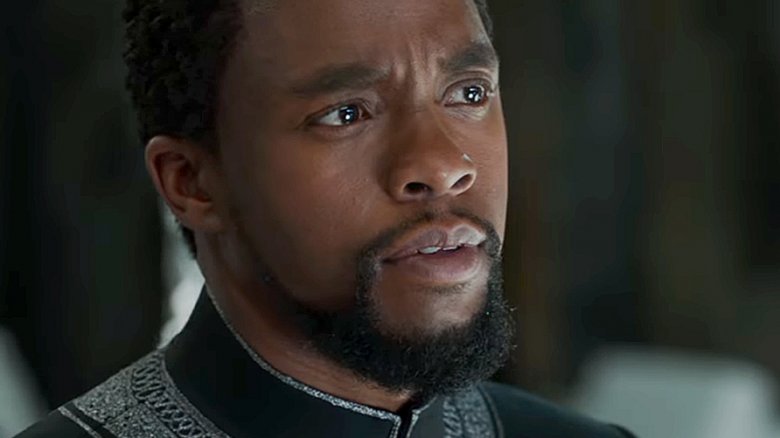 Black Panther has added yet another accolade to its growing collection of titles. On Saturday (March 23), the Chadwick Boseman-starring Marvel film became the top-grossing superhero movie of all time in the U.S., according to The Hollywood Reporter. 
The highest-earning honor doesn't account for inflation, but it's still an incredible accomplishment. To achieve the milestone, Black Panther clawed its way past fellow Marvel Studios blockbuster The Avengers, which pulled in $623.4 million in the U.S. when it was released in 2012. Black Panther will finish the weekend at the domestic box office with roughly $630 million. 
The Ryan Coogler-directed triumph is only one of seven films in history to earn $600 million or more domestically. After this weekend, Black Panther will sit in fifth place on the list, behind Star Wars: The Force Awakens ($936.6 million), Avatar ($760.5 million), Titanic ($659.4 million), and Jurassic World ($652.3 million). 
Since debuting in theaters on February 16, Black Panther has smashed numerous records, including having the second-biggest opening weekend ever for a Marvel Studios movie (after The Avengers) and becoming the fourth film in history to top $100 million in both its first and second weekends out.
The film has continued to reign supreme at the box office, but it just might hand over the crown to Pacific Rim Uprising, which opened on March 23. Industry reports suggest that Pacific Rim Uprising, the Steven S. DeKnight-helmed sequel to Guillermo del Toro's original Pacific Rim, is poised to earn as much as $25 million domestically this weekend. Such a take-home will crush Black Panther, set to gross between $17 million and $18 million in the U.S. 
Black Panther has earned more than $1.2 billion worldwide to date, only the 14th movie in history to do so. By the end of day on Sunday, Black Panther will also pass Iron Man 3 ($1.214 billion) to become the third-biggest comic book adaptation ever. The Avengers ($1.5 billion) and Avengers: Age of Ultron ($1.4 billion) sit in the number one and number two spots.
Alongside Chadwick Boseman as the title hero, Black Panther also stars Michael B. Jordan, Danai Gurira, Lupita Nyong'o, Daniel Kaluuya, Letitia Wright, Angela Bassett, Forest Whitaker, Winston Duke, Andy Serkis, and Martin Freeman.