Black Panther Scores Record-Breaking $192 Million Opening Weekend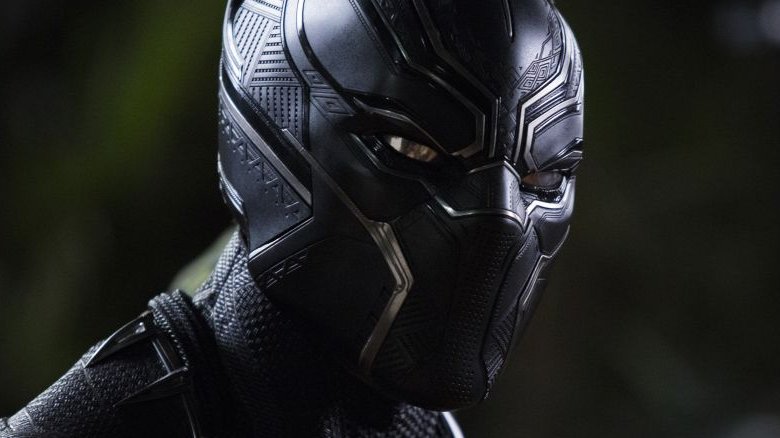 Black Panther is officially king of the box office. The latest Marvel film opened to a record-breaking $192 million three-day domestic total, with four-day estimates putting it at $218 million for the entirety of its opening President's day weekend.
The movie's opening weekend haul narrowly beats out Avengers: Age of Ultron to earn the second biggest opening weekend for a Marvel movie ever, after only 2012's The Avengers, which debuted to $207.4 million. The movie holds the title for the fifth-biggest opening of all time, after Star Wars: The Force Awakens, Star Wars: The Last Jedi, Jurassic World, and The Avengers. Black Panther's opening easily became the biggest February opening weekend of all time, topping Deadpool's $152.2 million.
Black Panther follows Chadwick Boseman's T'Challa as he heads home to the technologically advanced African nation of Wakanda to take his place as king. His mettle is tested when the dissident Erik Killmonger (Michael B. Jordan) begins to threaten his rule. He also has to deal with Ulysses Klaue (Andy Serkis), who presents a threat to the Wakandan way of life, and Winston Duke's M'Baku, who is part of a mountain tribe that opposes T'Challa's power.
Initial estimates had Black Panther tracking in the $100 to $120 million range, but the film has managed to double that thanks to stellar word-of-mouth, spurred by its almost entirely African American cast and its incredible reviews. The movie earned a rare A+ CinemaScore from audiences, becoming only the second Marvel movie to do so, after The Avengers. According to comScore data, 37 percent of ticket buyers were African-American.
"This is proof that the big screen experience may arguably be the most powerful platform of change in our society," said Paul Dergarabedian, comScore's senior media analyst. (via Variety) "The emotional, communal, immersive and bigger than life theatrical experience has an impact that virtually no other medium can match." This weekend's other new releases, the animated movie Early Man and the epic Samson, did not fare as well, opening softly to $3.1 million and $1.9 million, respectively.
The rest of Black Panther's cast includes Letitia Wright as T'Challa's tech genius sister Shuri; Lupita Nyong'o as Nakia, a Wakandan spy and T'Challa's ex; Angela Bassett as T'Challa's regal mother and advisor Ramonda; Danai Gurira as Okoye, the head of T'Challa's all-female secret service the Dora Milaje; Forest Whitaker as the shaman Zuri; Daniel Kaluuya as T'Challa's best friend W'Kabi; and Martin Freeman as CIA operative Everett K. Ross. Sterling K. Brown and Florence Kasumba also star.
Ryan Coogler directs Black Panther based on a script he co-wrote with Joe Robert Cole. The film is in theaters now. You can view this weekend's full box office results (via Box Office Mojo) below. 
Top 10 Weekend Box Office Gross
1. Black Panther: $192,023,000 (– percent), $192,023,000 Total Domestic Gross   
2. Peter Rabbit: $17,250,000 (-31.0 percent), $48,222,542 Total Domestic Gross  
3. Fifty Shades Freed: $16,940,000 (-56.1 percent), $76,134,455 Total Domestic Gross   
4. Jumanji: Welcome to the Jungle: $7,945,000 (-20.7 percent), $377,623,565 Total Domestic Gross 
5. The 15:17 to Paris: $7,685,000 (-38.8 percent), $25,432,717 Total Domestic Gross
6. The Greatest Showman: $5,100,000 (-20.8 percent), $154,478,356 Total Domestic Gross   
7. Early Man: $3,150,000 (– percent), $3,150,000 Total Domestic Gross   
8. Maze Runner: The Death Cure: $2,525,000 (-59.4 percent), $54,005,126 Total Domestic Gross   
9. Winchester: $2,230,000 (-57.2 percent), $21,860,179 Total Domestic Gross   
10. Samson: $1,972,000 (– percent), $1,972,000 Total Domestic Gross