Black Panther Buries Tomb Raider At The Weekend Box Office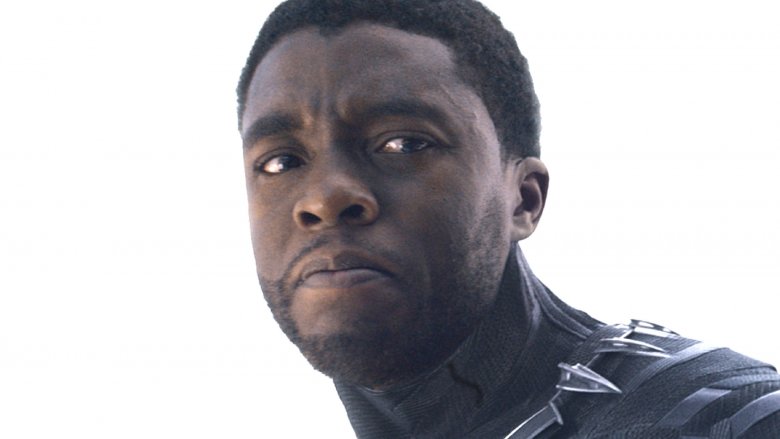 It was another weekend at number one for Marvel's Black Panther. The Chadwick Boseman-starring superhero flick once again topped the weekend box office with $27 million, beating out Alicia Vikander's Tomb Raider reboot, which took second place with a $23.5 million debut.
Black Panther's fifth weekend at number one put the film over $600 million domestic, making it just the seventh film to reach that milestone. The movie is closing in on The Avengers for the title of the top domestic grossing superhero film of all time, with $605.4 million compared to The Avengers' $623.3 million. It is also the first time a movie has held on to the number one spot for five weekends in a row since 2009's Avatar.
Danai Gurira, Lupita Nyong'o, Letitia Wright, Angela Bassett, Forest Whitaker, Andy Serkis, Martin Freeman, and Michael B. Jordan also star in Black Panther, which was directed by Ryan Coogler based on a script he co-wrote with Joe Robert Cole. The movie, which received a rare A+ CinemaScore from audiences and holds a 97 percent on Rotten Tomatoes, currently sits at $1.18 billion worldwide. It is the fourteenth highest grossing film worldwide of all time.
Tomb Raider features the Oscar-wining Vikander as Lara Croft, who is inspired to go on a dangerous quest across the world while trying to solve the mystery of her father's disappearance. The quest leads her to a mysterious tomb on a mythical island off the coast of Japan where he was last seen. Lara has to use her smarts, her faith, and her spirit to help her on her venture into the unknown. The movie's $23.5 million opening was right within $23 to $25 million expectations.
Tomb Raider has received mixed reviews from critics and currently sits at a 49 percent on Rotten Tomatoes. It earned a B CinemaScore. Dominic West, Walton Goggins, Daniel Wu, Kristin Scott Thomas, Hannah John-Kamen, Nick Frost, Antonio Aakeel, and Derek Jacobi also star in the film, which was directed by Roar Uthaug (The Wave) based on a script from Geneva Robertson-Dworet (Captain Marvel) and Alastair Siddons (Trespass Against Us). The film, which carries a $94 million budget, brought in an additional $45.6 million in its foreign debut.
Third place went to the religious drama I Can Only Imagine, which impressed with a $17 million debut. The movie, which is based on the MercyMe song of the same name, stars J. Michael Finley as the lead singer of the band, who penned the song about his relationship with his father. The movie, which was directed by Woodlawn's Andrew and Jon Erwin, received mixed reviews from critics with a 58 percent on Rotten Tomatoes, but got an A+ CinemaScore from audiences.
This weekend's other new wide release, Love, Simon, took in $11.5 million after receiving positive reviews from critics and another A+ CinemaScore. The movie, which was directed by Arrow-verse producer Greg Berlanti, stars Nick Robinson as Simon, a teen who struggles with coming out to his family and friends. The film, which also stars Katherine Langford, Jennifer Garner, Josh Duhamel, Jorge Lendeborg Jr., and Alexandra Shipp, took in a solid $11.5 million, on the upper end of initial $10 to $12 million expectations.
You can view this weekend's full box office results (via Box Office Mojo) below. 
Top 10 Weekend Box Office Gross
1. Black Panther: $27,024,000 (-33.8 percent), $605,400,528 Total Domestic Gross   
2. Tomb Raider: $23,525,000 (– percent), $23,525,000 Total Domestic Gross  
3. I Can Only Imagine: $17,064,640 (– percent), $17,064,640 Total Domestic Gross   
4. A Wrinkle In Time: $16,565,000 (-50.0 percent), $61,059,654 Total Domestic Gross 
5. Love, Simon: $11,500,000 (– percent), $11,500,000 Total Domestic Gross
6. Game Night: $5,570,000 (-29.2 percent), $54,174,184 Total Domestic Gross   
7. Peter Rabbit: $5,200,000 (-23.3 percent), $102,440,268 Total Domestic Gross   
8. Strangers: Prey at Night: $4,810,000 (-53.8 percent), $18,612,052 Total Domestic Gross   
9. Red Sparrow: $4,450,000 (-47.7 percent), $39,583,642  Total Domestic Gross   
10. Death Wish: $3,368,000 (-48.8 percent), $29,949,685 Total Domestic Gross