It's Not Historically Accurate, But Fans Think Abraham Lincoln: Vampire Hunter Is A Fun Ride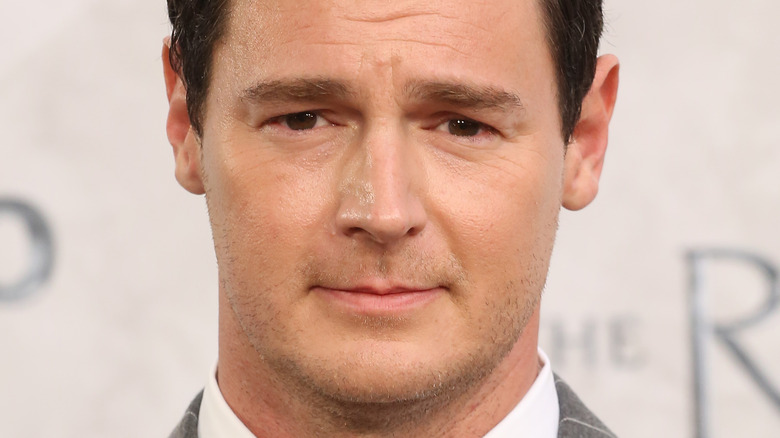 Lia Toby/Getty Images
"Abraham Lincoln: Vampire Hunter" celebrated the 10-year anniversary of its release in 2022 with some re-evaluation by movie fans. The 2012 action/horror/comedy debuted in theaters in 3D in the summer to a worldwide box office take of over $116 million on a budget of $69 million (mostly likely before print and advertising costs were figured in). While the film was, for the most part, a modest financial success, critics weren't kind in their appraisals, and its 33 percent rating on the aggregator Rotten Tomatoes represents a "rotten" score.
Based on a 2010 novel of the same name, "Abraham Lincoln: Vampire Hunter" follows the 16th president of the United States, who moonlights secretly as a trained vampire hunter. Stage actor Benjamin Walker stepped into the shoes of the former president and disappeared into the role. The film came from "Wanted" director Timur Bekmambetov, and his trademark visual style was largely praised by critics even though they weren't totally in love with the finished product. Another visionary, Tim Burton, produced it. 
While movies like this — which receive poor to mixed reviews and don't exactly light the box office on fire — tend to disappear from the moviegoing public's radars, "Abraham Lincoln: Vampire Hunter" is benefitting a decade later from its reassessment on social media and comment boards. 
Redditors call the film a good movie and some think it's based in fact
In a Reddit thread that asked Redditors what their favorite "bad" movie was, users came to the defense of "Abraham Lincoln: Vampire Hunter." User AMagicalPotato wrote, "One of my favourite movies of all time. Bonus points for the Linkin Park track." Linkin Park's 2012 song "Powerless" played over the end credits of the film. Fightthemonster1 said, "I watched it in 3D and thought it was amazing." The film even caught some viewers by surprise. "I did not expect to enjoy this one as much as I did," said mochi_chan.
Besides expressing some surprise that audiences didn't appreciate the film at the time of its release, another common sentiment among Redditors in the thread is the joke that the film — which also starred Dominic Cooper, Anthony Mackie, Mary Elizabeth Winstead, and Rufus Sewell — is based on true events. Nothing could be further from the truth, but as Hellsnake08 joked, "The swinging of that horse by Lincoln is rooted in fact. I enjoyed every minute of it." Scoob1978 deadpanned, "Historical documentaries are often overlooked."
Real or not, Redditors think the film strikes the right tone
A comment about "Abraham Lincoln: Vampire Hunter" in a YouTube clip perfectly epitomized why some fans think the movie is based in fact. This person said, "Yes, that's why vampires aren't a thing anymore," suggesting that Lincoln had killed every last one and erased the creatures from history.
The movie seemed to have stuck the right tone for fans of movies like this. The general consensus expressed throughout the boards is that "Abraham Lincoln: Vampire Hunter" is a fun ride of a movie, and if you don't take it too seriously, you'll have a really good time with it.
Fans in the Reddit thread even suggested some similar movies for fans to check out. TussockyCoyote9, for example, wrote, "In this same vein, 'Pride and Prejudice and Zombies.'" Originally released in 2016, the Lily James horror comedy flop has been getting a second chance on Amazon.