Taylor Russell Details Her Favorite Days Of Filming And Working With Timothée Chalamet On Bones And All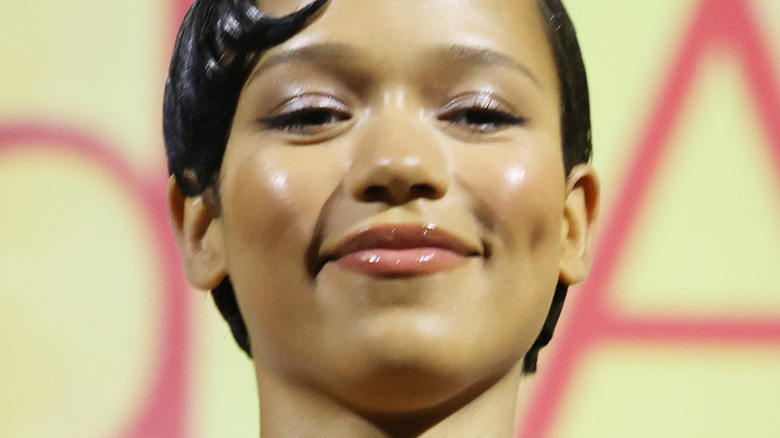 Stefania D'alessandro/Getty Images
Starring in the emotionally charged horror romance "Bones and All," actors Taylor Russell and Timothée Chalamet share a road trip movie with a difference: the love-struck romantic leads have a mysterious and irresistible urge to dine on human flesh.
Based on Camille DeAngeles' 2015 young adult novel, the film sees director Luca Guadagnino once again teaming up with Chalamet, as the two also worked together on the 2017 coming-of-age romantic drama, "Call Me by Your Name." Leading off with the backstory of how teenager Maren Yearly (Taylor Russell) became a compulsive "eater" of other people at an early age, the film follows Maren as first she's abandoned by her father and then embarks on a search for her long-absent mom. Eventually meeting up with Chalamet's Lee, a young man who shares her dietary affinity, the two head off on a cross-country hunt for Maren's mother and an exploration of the meaning behind their grisly cravings and the consequences that evolve from two cannibals falling in love. As it turns out, the tender romance at the heart of a basically shocking narrative turns out to be a favorite memory of Russell's time filming "Bones and All."
Taylor Russell had a great time acting with Bones and All co-star Timothée Chalamet
As noted during an interview on the Variety Awards Circuit podcast, one of Taylor Russell's favorite moments during the making of "Bones and All" occurred while shooting on the remote Nebraska prairies with co-star Chalamet. 
Discussing the pivotal scene where the two cannibals express their growing feelings for one another, Russell said at around 49:30 of the episode, "We shot it over a few days and that was a beautiful scene because the setting was so spectacular and it really felt like we were kids at a camp." The actress went on to note that with no motels in the area, the cast and crew lived on-site in trailers and, due to the dawn and dusk shooting schedule, noting that "We didn't sleep a lot." 
In addition to the close-knit familial feel the cast and crew developed on location, Russell said she especially enjoyed observing Timothée Chalamet's acting and recalled that the two stars truly got to know each other well during the production, concluding, "I think that was my favorite filming period during our months of shooting." And while the shoot itself was a comforting memory, Russell separately admitted to Vanity Fair that in the aftermath of seeing the completed film at a private screening in Rome. "I was raw," she said. "Like, you just cut yourself and you're open, and then you can't really touch it. That's what I felt."