Why Sarah Atwood From Yellowstone Looks So Familiar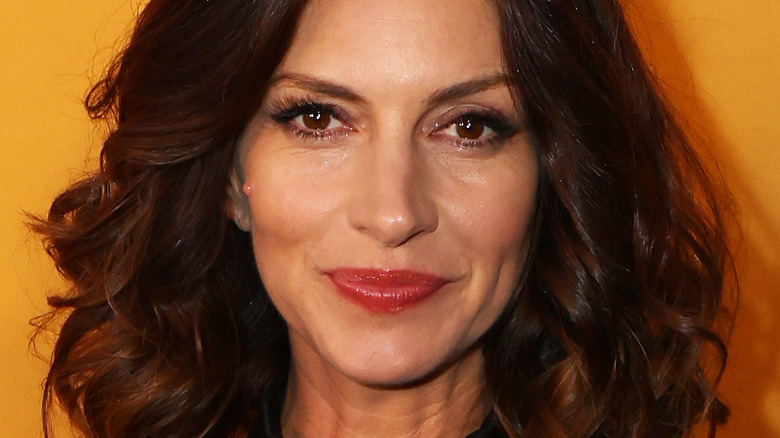 Richard Rodriguez/Getty Images
In September of 2022, "Yellowstone" fans got their first extended look at the show's fifth season when Paramount Network premiered its first full-length "Yellowstone" Season 5 trailer. This preview notably opens on footage of John Dutton (Kevin Costner) swearing in to the office of Governor of Montana, which is perhaps the most notable shakeup to a longtime character's storyline to occur around the time of Season 5's start.
Beyond this and some other new directions for old series mainstays, Season 5 introduces its fair share of impactful new characters to the fold as well. Among the numerous cast changes in "Yellowstone" Season 5 is the debut of a character named Sarah Atwood, a lawyer whose expertise powerful businessperson Caroline Warner (Jacki Weaver) employs specifically to complicate John's life in service of her attempts to purchase his ranch. Soon Sarah begins dating Jamie Dutton (Wes Bentley), strategically positioning herself within John's orbit.
There's a good chance some viewers may have recognized Sarah upon her first appearance due to the predominantly TV-focused filmography of actor Dawn Olivieri that proceeded her "Yellowstone" role, encompassing various hit shows across the past few decades, and even an appearance in a popular streaming service original movie shortly before she joined the "Yellowstone" universe.
Dawn Olivieri is Lydia in the landmark superhero drama Heroes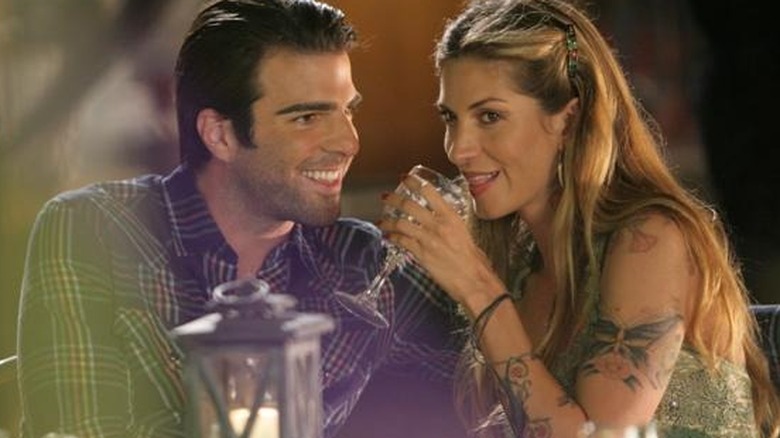 NBC
For the first few years of her acting career, Dawn Olivieri largely appeared in one or two episodes of major TV shows like "CSI: Crime Scene Investigation," "Veronica Mars," "How I Met Your Mother," and "Entourage," among others. Olivieri's first proper recurring role was in "Heroes," the mega popular superhero drama that premiered on NBC in 2006. Olivieri joined its cast in 2009 during its fourth season, playing a character named Lydia.
Of course, most major characters in "Heroes" are defined by their comic book superhero-like powers. Lydia's power, notably, isn't necessarily super, but an intensified sense of empathy that compels her to obey requests made to her by others, while likewise allowing her to sometimes understand people better than they may understand themselves. Lydia's arc is fully contained within "Heroes" Season 4, meaning that Olivieri's role in the series ended in 2010 upon that season's conclusion.
Olivieri was a part of the vampire boom in the early 2010s
After zombies dominated the cultural conversation in the years prior, vampires became a big part of pop culture in the late 2000s and early 2010s, from teen smash hit "Twilight" to "Oldboy" director Park Chan-wook's cerebral take on a classic vampire narrative "Thirst." Around that time, Dawn Olivieri appeared in two of the major TV shows that helped drive this vampire explosion.
First, Olivieri portrayed a hairdresser named Janice Herveaux in an episode of HBO's edgy vampire drama "True Blood" during its third season in 2010. Janice, notably, is the older sibling of hunky werewolf Alcide Herveaux (Joe Manganiello), who plays a major role in the show's later seasons.
Then, the following year, Olivieri appeared in a five-episode long story arc on "Vampire Diaries," the teen-oriented cousin to the decidedly adult "True Blood." On this series, Olivieri is Andie Star, who shows up in Season 2 as a new love interest for protagonist Damon Salvatore (Ian Somerhalder). While in "True Blood" Olivieri's character is presumably a werewolf, in "Vampire Diaries" she simply plays a human newscaster whose involvement in the world of vampires ends with her death in the Season 3 premiere.
She's a major character in the Showtime dramedy House of Lies
After establishing herself as a fixture of TV between numerous one-off appearances and her longer arcs on shows like "Heroes" and "Vampire Diaries," Dawn Olivieri secured what remains her lengthiest role to date when she joined the cast of Showtime dramedy "House of Lies" upon its premiere in 2012.
"House of Lies" is a classic example of a prestige TV series that mines bad peoples' bad behavior for entertainment, revolving around business consultant power player Marty Kaan (Don Cheadle). Olivieri portrays a rival of Marty's named Monica Talbot. Complicating matters is the fact that Monica was once married to Marty, and though they're firmly divorced by the time of the series' present, their hate for one another tends to bleed over into begrudigng desire from time to time. Fittingly, Monica is just as ruthless as the boundary-pushing Marty, making her both his natural foil and perfect match.
She plays Will Smith's character's wife in Netflix's notorious fantasy film Bright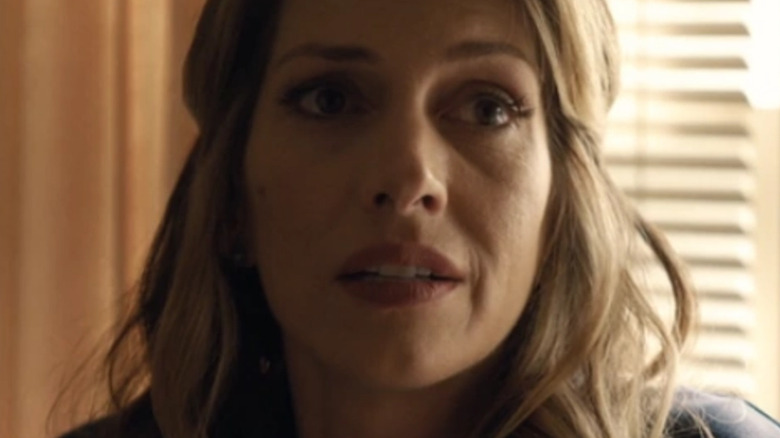 Netflix
While Dawn Olivieri has alternated between TV and film appearances over the course of her career, the majority of roles of hers with which viewers are presumably most familiar are on TV shows. That said, the film appearance watched by the most number of people from throughout Olivieri's filmography is most likely "Bright," Netflix's supposedly widely-viewed critical flop — according to early viewership data, approximately 11 million people watched "Bright" in its first three weeks of availability in spite of a decidedly poor reception among reviewers (via Rotten Tomatoes).
In "Bright," Olivieri portrays Sherri Ward, wife to Will Smith's human cop protagonist Daryl Ward and mother to Sophia (Scarlet Spencer). Throughout the film, Sherri and Sophia are largely accessories in Daryl's story, rather than subject to their own personal dramas. Nevertheless, being the wife of one of its major characters, Sherri is plenty visible in "Bright" as a member of its core cast.
She debuted in the Yellowstone universe on 1883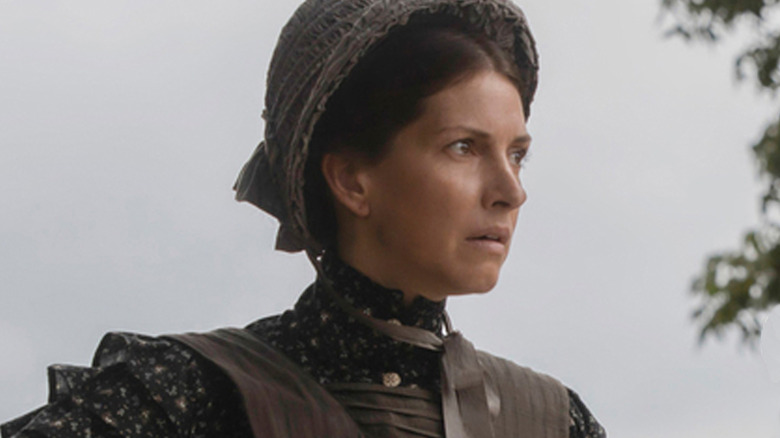 Emerson Miller/Paramount+
The majority of those that recognized Dawn Olivieri as Sarah Atwood in Season 5 of "Yellowstone" are most likely to remember her for her role in the "Yellowstone" spinoff prequel "1883" that aired in its entirety between the end of 2021 and start of 2022.
The events of "1883" take place more than 100 years before the start of "Yellowstone," in the year that serves as its title, at which point the Dutton family's ancestors decide to migrate from Texas to Montana. Olivieri plays Claire Dutton, John Dutton's great-great-grandfather James Dutton (Tim McGraw)'s sister-in-law. Claire joins James' traveling party because her husband and James' brother is dead by the time the show opens. However, Claire doesn't last long on their journey, as her story comes to a grim end in Episode 2 after the murder of her daughter Mary Abel (Emma Malouff).
While her "1883" arc may have only lasted for a couple of episodes, Olivieri evidently impressed showrunner Taylor Sheridan, hence his decision to bring her back for a lengthier role on the mainline "Yellowstone" series.