Why Carol Burnett Sued Family Guy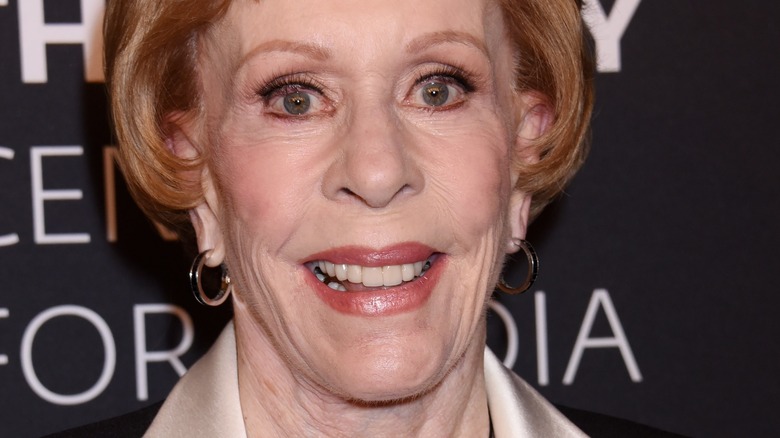 Ga Fullner/Shutterstock
Carol Burnett exemplifies television success thanks in large part to the enormous accomplishments of her sketch-comedy series, "The Carol Burnett Show," which aired for 11 seasons from 1967 until 1978. Along with the program's linchpin cast of Harvey Corman, Vicki Lawrence, and, eventually, Tim Conway, Burnett's TV troupe won a total of 25 awards (per the Emmys), but "The Carol Burnett Show" also seeped its way into the popular culture with a slew of memorable characters. One of those was the mop-wielding Charwoman, and the cleaning lady was portrayed brilliantly by Burnett herself.
The Charwoman quite literally has a place in television history as the costume Burnett sported in the TV series resides in the National Museum of American History, according to the Smithsonian. The inspiration behind Burnett's Charwoman character came to her years prior to "The Carol Burnett Show." She just happened to hear the 1962 song "The Stripper" by David Rose and his orchestra, which was a No. 1 hit on the Billboard Hot 100.
"I was listening to it on the radio this one afternoon, and the disc jockey who was going to play it said, 'This is the housewives' favorite song.' So, I pictured a housewife, quote-unquote, ironing or sweeping or vacuuming, but doing The Stripper's walk like she was Gypsy Rose Lee or somebody," Burnett said in an interview with Smithsonian Magazine. But did you know Burnett herself attempted to sue "Family Guy" when FOX's animated series used the Charwoman character without her permission?
Burnett fires back at Family Guy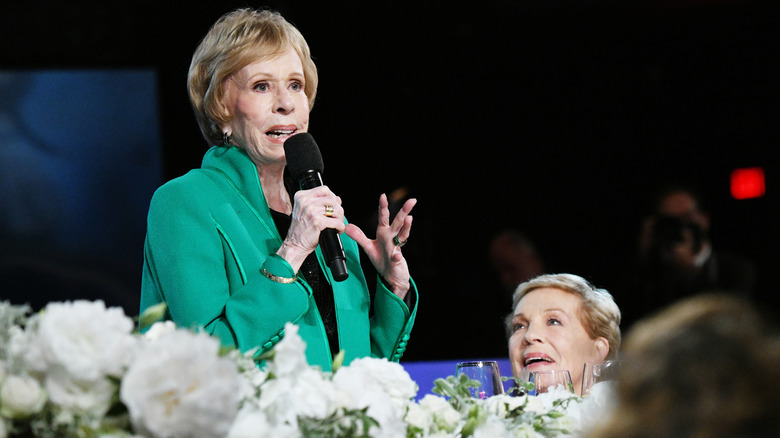 Michael Kovac/Getty Images
In 2006, the "Family Guy" Season 4 episode titled "Peterotica" begins with Peter (Seth MacFarlane) and his buddies visiting the Pornoslavia XXX video and bookstore, which was "formerly a Kenny Rogers' Roasters." Peter expects the shop to be dirty since it's a pornographic store, but then Quagmire (MacFarlane) assures him that it isn't. "Carol Burnett works part-time as a janitor," he says. The camera then reveals Burnett mopping the floors as her Charwoman character. And even though the Charwoman is only on screen for a grand total of five seconds, the real-life Carol Burnett was not pleased at all. It turned out that "Family Guy" executives didn't get Burnett's permission to use her character's likeness.
As a result, Burnett filed a lawsuit against 20th Century Fox — the studio behind "Family Guy" — for over $2 million citing copyright infringement (per Today). However, in June of 2007, U.S. District Judge Dean D. Pregerson ruled that the act of creating parodies is constitutionally protected by the Bill of Rights First Amendment, so Burnett's attempt to sue "Family Guy" failed.
"In the new media, any self-imposed restraint essentially has been eliminated," Pregerson said (via BuddyTV). "Public figures, such as Ms. Burnett, are frequent targets of parodies and crude innuendo. As Ms. Burnett well knows, it takes far more creative talent to create a character such as the 'Charwoman' than to use such characters in crude parody. Perhaps Ms. Burnett can take some solace in that fact."