Whitney Houston: I Wanna Dance With Somebody Review: A Mere Highlight Reel Of Success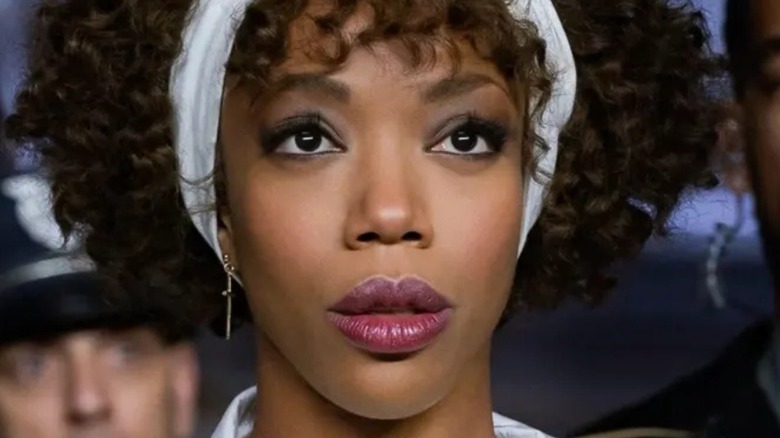 Sony Pictures Entertainment
Biopics about popular music artists tend to be more fraught with cliche and repetition than any other films with non-fiction beginnings. Because the trajectory of a famous musician's life can often be broken down with the same reliable arc and structure nearly every episode of "Behind The Music" utilized, it becomes difficult to tell a story that feels like more than a dramatic reading of a Wikipedia entry. In "Whitney Houston: I Wanna Dance with Somebody," a cradle-to-the-grave musical biopic penned by Anthony McCarten, the same man who wrote "Bohemian Rhapsody," director Kasi Lemmons does her damnedest to breathe life and love into a staid paradigm only to fall short. But maybe it's not a failing on the part of her or her collaborators, but rather than executives who insist on repeatedly drawing water from this same well, no matter how rarely the liquid runs clean.
"Master of None" vet Naomi Ackie steps into the lead role as Whitney Houston. Though she isn't exactly a likeness ringer for the legendary songstress, Ackie did her homework and does a great job of capturing a lot of Houston's aura, which is always more important than being a real-life doppelgänger. But the film erected around her impressive performance is such a letdown. In 2015, Angela Bassett directed a Lifetime Original Movie about Houston's life, and here in 2022, with nearly double the runtime, four times the budget, and covering a wider span of the singer's life, "Somebody" looks and feels like a diminishing return on investment.
When a major studio release that previously garnered some measure of awards season buzz is barely an improvement over its made-for-television antecedent, it's more than cause for concern. It is incontrovertible evidence that the Musical Biopic Industrial Complex must be shut down and stopped until development executives, screenwriters and directors can figure out how to not keep copying/pasting the same tired narrative ad nauseam, with only the protagonist and the songs swapped out. 
The princess diaries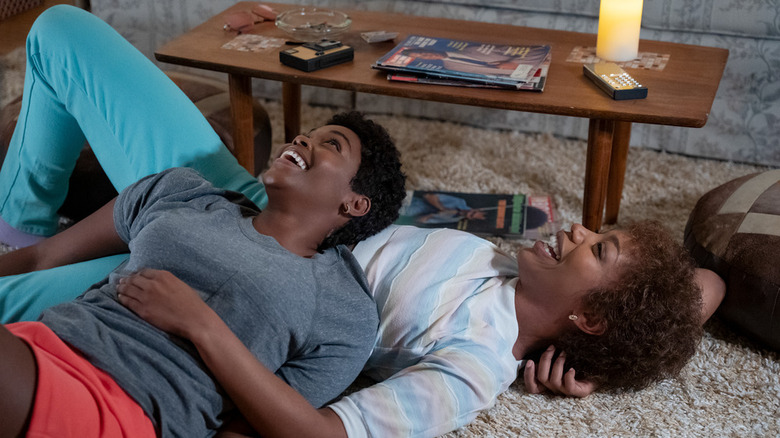 Sony Pictures Entertainment
For her considerable range and immense vocal power, Whitney Houston earned the moniker "The Voice," in any discussion about her artistic talents. Her gift for breathing energy and character into songs of all genres would have made her an important and respected artist off merit alone. But the reason she was Whitney Houston, the icon, was because of the way she was presented to the public, and the shaping of that persona proved to be the core tragedy of her entire life. 
"Somebody" seems to work best when it focuses on this depressing kernel at the center of Houston's existence. To Whitney's parents, Cissy (Tamara Tunie) and John (Clarke Peters), she was their princess, an individual shaped both by the dogmatic pressure her mother placed on her to be a technically well-rounded vocalist, and the social pressure her father weaponized to make her a respectability politics safe figure in the pop cultural landscape. Mama made sure when she opened her mouth, what came out would stop strangers in their tracks. But Daddy insisted that when they stopped, they saw a safe, demure and innocent young girl, one whose Blackness and individuality would be an afterthought.
In the film's first act, Ackie does a remarkable job of presenting the pre-public Whitney, a short-haired, tomboyish young Black woman who wears what she wants and has little interest in performing a specific brand of femininity for anyone, let alone people she doesn't even know. We see her shrink under the thumb of her folks, but come alive in her friendship turned romance with Robyn Crawford (Nafessa Williams), a lesbian she moves out with and later wants to hire as her personal assistant/creative director. At that point, her father demands they both commit to publicly dating men to keep up appearances. The way Peters plays the scene, there's a sense he could care less about the nature of their relationship so long as it's kept secret and doesn't mess with the money, which tracks with his own approach to the rampant infidelity he causes in his own marriage.
But that maxim of not mucking with the money pervades everywhere. At first glance, it feels like the doomed Whitney/Robyn romance would prove to be this singular tragedy at the heart of her life story, but the real tragedy is seeing how willing Whitney is to go along with her father's plan. To be the "princess," she has been indoctrinated and trained to sublimate her own desires in order to effectively please everyone, and the best parts of the movie explore that idea, showing every bad decision, questionable practice, and unfortunate indulgence to be an extrapolation of this conflict.
Early in the film, Houston's mother tells her that every song is a story, and throughout the film, her biggest hits and most enduring performances are placed at conveniently appropriate dramatic markers along the timeline, so that their majesty and emotional heft can communicate these ideas to the audience better than McCarten's script is able to. These set pieces, often montages summing up less important background bits, function like big numbers in a musical, with Ackie's lip-synching of original Houston recordings only intermittently slipping into the realm of the uncanny valley. When it all works, it works tremendously well.
In perpetuity, throughout the universe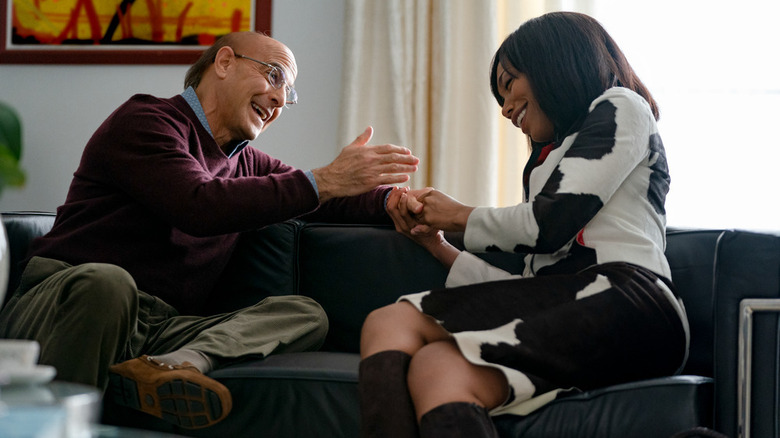 Sony Pictures Entertainment
It doesn't always work, though; in fact, it seldom does. The strengths highlighted in that last slide may paint a picture of a shrewd and affecting biopic in the vein of Danny Boyle's underrated "Steve Jobs" film, a movie that broke out of the limited strictures of most biographical cinema to tell a strong story that was more than the sum of its sources cited. 
The film's structure is messy and leaves a lot to be desired in terms of pacing and dramatic momentum because it relies so heavily on stitching important moments in the protagonist's history together using well-loved songs as twine. Director Kasi Lemmons employs bravura camera movement to match the boundless scope of Houston's voice in those performance segments but falls short. Though her perspective on the film's more intimate moments is welcome, it never feels sufficiently big or impactful enough. 
Also, the film often looks remarkably cheap, with its plasticine recreations of iconic music videos and looks from the singer's career showcasing some shoddy costume and production design. Anachronisms and false visual notes make everything feel otherworldly rather than capturing the eras depicted. While most of the cast is game, "Moonlight" star Ashton Sanders is the biggest disappointment as Bobby Brown, and not just because the story gives his place in her life short shrift, but because he seems to have come to set with enough charm and knowledge to provide an excellent cameo (as he appears in the scene for their first meeting) that is worn thin on subsequent, more dramatically demanding sequences. 
That aforementioned shoddy structure is also the culprit for Brown and Houston's daughter Bobby Kristina being treated like an afterthought in the film's final act, as too many other moments and conflicts are given time and space to breathe that there's none left to explore the relationship between mother and daughter or to juxtapose it with the exploitative way Houston herself was raised.
Lastly, as with the Dr. Dre and Ice Cube produced "Straight Outta Compton" and its focus on smoothing out the rough edges of history, with the victors holding the pen, legendary record executive Clive Davis being so prominent in the credits explains why Stanley Tucci's turn in the film is so warm and comedic. No matter how much the film insinuates the exploitative and ruinous nature of the record industry to be a chief culprit in Houston's tragic downfall, he seems to come out decidedly squeaky clean in the endeavor. He must just be a really swell guy.
Luckily, most of these serious foibles temporarily melt away in the film's uproarious finale. As an unfortunate relapse presages Houston's untimely death, she reminisces her classic performance at the 1994 American Music Awards, a triumphant moment positioned here the same way Live Aid was for Queen at the end of "Bohemian Rhapsody." Send audiences home thinking about why Whitney Houston was "The Voice" and they may briefly forget every other way your film failed to honor her legacy. But after the credits close and they get to the parking lot, they may begin to remember the rest.
We can most accurately judge whether or not a biopic possesses the necessary artistic value to exist if we, in our own imaginations, cannot replace its bloated runtime by throwing a specific artist-themed karaoke party instead to greater effect. In that regard, "Somebody" comes close to surpassing those meager expectations, but only in the way the best karaoke or cosplay ever does. At its best, it's a particularly ambitious segment of RuPaul's "lip sync for your life" that happens to possess some mild dramatic boon borne of its subject's myth within the larger pop cultural consciousness. Maybe we can all finally agree to leave these to Lifetime.
"I Wanna Dance with Somebody" hits theaters on Friday, December 23.