The New Gang Is All Alright In The Latest Trailer For That '90s Show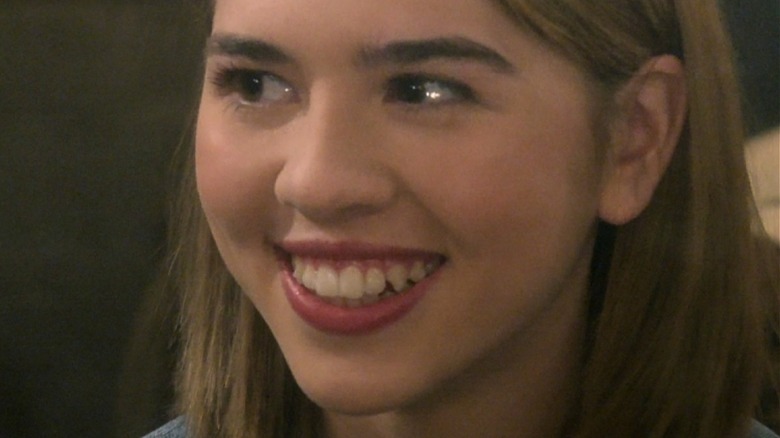 Netflix
Though the iconic shag carpets will be phased out in the updated version of "That '70s Show," viewers will be introduced to a new kind of nostalgia when The Red and Kitty Show (sorry, "That '90s Show") premieres. Everyone's favorite '70s parents Red (Kurtwood Smith) and Kitty Forman (Debra Jo Rupp) are returning a decade and a half after the final episode of "That '70s Show." And as fans find themselves in a whole different decade, so will the characters. The show will depict a new side to the well-known characters as well as introducing fans — and The Formans — to a new cast of characters.
Paneled wagons and the water tower will still be featured, but so will Riot Grrrl, walkmen, and desktop computers. When Eric (Topher Grace) and Donna's (Laura Prepon) daughter Leia (Callie Haverda) visits Point Place during summer vacation, she meets a band of misfits who will bring a tear to many nostalgic eyes. Set to premiere in January 2023, a new trailer has dropped promising plenty of familiar elements, like Red's exasperation and Kitty's nurturing. But also included are new scenes, fresh faces, and — of course — time in The Circle. Hello, Wisconsin!
The instruments may change, but the song stays the same
With news that "In the Street" would return as the theme song for "That '90s Show," it was anyone's guess what an updated version would sound like. James Iha of Smashing Pumpkins fame and Brett Anderson of The Donnas recorded the new cover for fans' listening pleasure. Now we can hear the updated track while also get more acquainted with Leia's group of rebels. During what should have been a quick visit to Grandma and Grandpa Forman, Leia meets Gwen (Ashley Aufderheide), the neighborhood misfit. They talk, bond, and find illicit substances that are almost two decades old.
There's also something for the fans of the original incarnation. We get glimpses of hairdresser Fez (Wilmer Valderrama), married couple Kelso (Ashton Kutcher) and Jackie (Mila Kunis), and even a pop-in from Bob (Don Stark). But it wouldn't be a sequel to "That '70s Show" without real emotional stakes in addition to laughs. Eric and Donna return on the hood of the Vista Cruiser and not everything is peachy. It seems that Eric is having trouble connecting with Leia just as he had trouble connecting with his father, despite the obvious snarky similarities between father and daughter. "That '90s Show" appears to be just as full of heart as the first show — the element that made the original just so special.