Daniel Craig Discovered A Fatal Flaw In The Glass Onion Script That Rian Johnson Had To Quickly Repair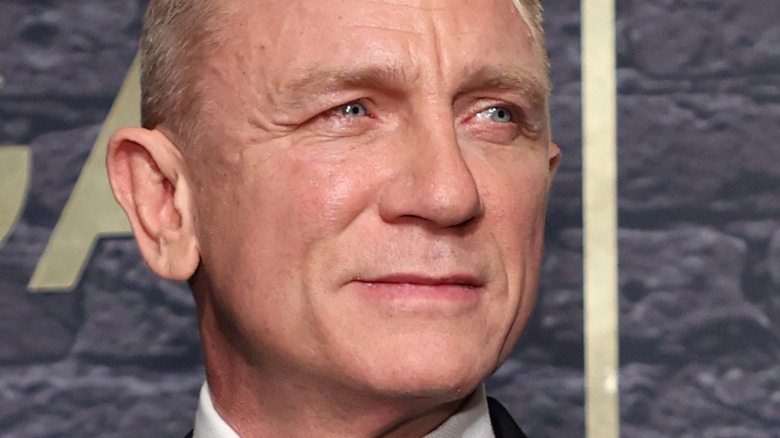 Mike Marsland/Getty Images
Apparently playing both a super-spy in five James Bond films and reprising his ultra-perceptive detective Benoit Blanc from "Knives Out" helped Daniel Craig ferret out a faulty scene in writer-director Rian Johnson's new murder mystery movie "Glass Onion: A Knives Out Mystery."
"Knives Out," of course, became a huge box office hit in 2019, earning more than $312 million in ticket sales worldwide against a $40 million budget. "Knives Out" is a twisty tale surrounding the murder of mega-successful mystery author Harlan Thrombey (Christopher Plummer) and how all of his family members — played by Chris Evans, Jamie Lee Curtis, Michael Shannon, and Toni Collette — are investigated by Blanc in connection with the murder. The success of "Knives Out" helped spawn a lucrative deal between Johnson and Netflix to produce more Blanc-led murder mysteries.
The second of Johnson's Agatha Christie-inspired murder mysteries (via Nerdist) takes place on a private island in Greece. It's there where a massively wealthy tech entrepreneur, Miles Bron (Edward Norton), invites an old circle of friends — as well as Blanc in an odd twist of fate — to participate in a murder mystery game. When the game turns deadly for real, however, Blanc springs into action to figure out who did the dirty deed, or in murder mystery vernacular, "whodunit."
Johnson says he fears actors will point out inconsistencies in his scripts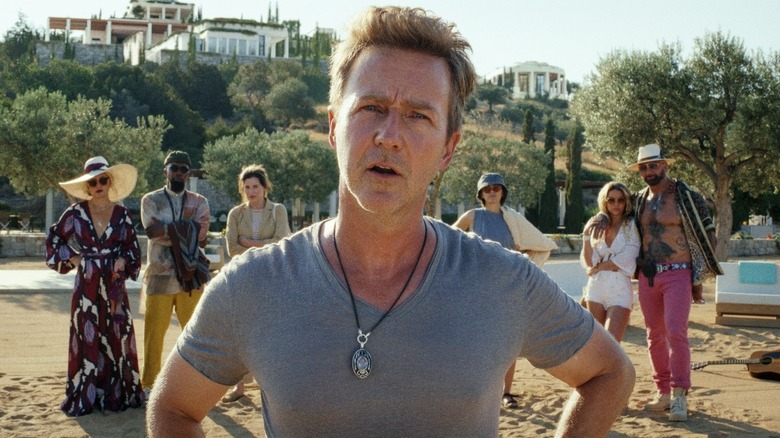 Netflix
Like "Knives Out," which earned Rian Johnson an Oscar nomination for Best Original Screenplay, the filmmaker also directed and penned the script for "Glass Onion." Naturally, with the complex nature of murder mysteries, screenwriters have to be very careful to make sure whatever story they are intricately weaving within their script comes together in a neat and tidy manner before the big whodunit is revealed at the conclusion of the film. One particular cast member, fortunately, had his thinking cap on during the production of "Glass Onion," and pointed out a major inconsistency to the scribe-slash-director.
During a "Directors on Directors" conversation for Variety between Johnson and Joseph Kosinski, the "Top Gun: Maverick" helmer asked his counterpart if any of his actors discovered a major flaw in one of his screenplays.
Johnson confessed one of his fears, telling Kosinski, "100 times a day you'll see an actor coming towards you and you'll see in their eye that they have a question on a 'whodunit' every single time that happens. It's the scariest five seconds because you think they're going to ask me the question that reveals the inconsistency where this whole thing [film] unravels."
Enter Craig's detective skills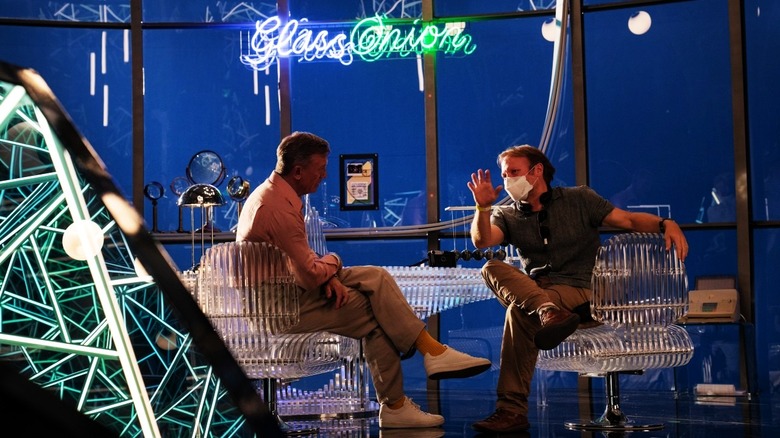 Netflix
As to how his fears about script inconsistency pertained to "Glass Onion," Rian Johnson said it was Daniel Craig, appropriately, who pointed out to him a leap of logic that could have potentially doomed his film. "Part of the way through shooting 'Glass Onion' there was one thing. I think Daniel caught it, actually. It was something that I had to fix," Johnson told Joseph Kosinski in the Variety conversation. "It was something where it's like, 'We can't let that slide; we're trying to make things line up.' And so, I had to come up with on the fly — luckily I could. But it was absolutely terrifying for a couple of minutes because you live in fear of that moment."
Asking for details about the flaw in the script — which wasn't revealed in the Variety conversation, obviously, for spoiler-ish reasons — Kosinski asked Johnson if the flaw involved something going "backwards, or was it something that flowed forward?"
"It was literally just a sequence of things that happened in the course of the crime, and one of them in one version happened at a different time than one in another version," Johnson explained to Kosinski, adding with a laugh, "[It was] mostly terrifying because of the idea — I knew I could fix this, but it was like, 'Oh s***, did I miss something else?'"
Also starring Janelle Monáe, Dave Bautista, Kathryn Hahn, Leslie Odom Jr., Kate Hudson, and Jessica Henwick, "Glass Onion: A Knives Out Mystery" begins streaming exclusively on Netflix Friday, December 23, following its limited theatrical run.