James Cameron Claims Avatar's Performance Capture Prevents On-Set Distractions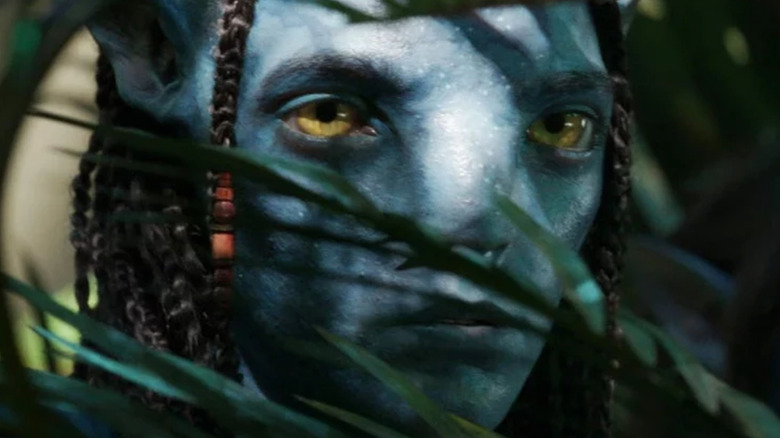 20th Century Studios
"Avatar 2: The Way of Water" has already made waves, so to speak, for its technological advances. The film takes place almost entirely in the CGI landscapes and seascapes of Pandora, with internationally beloved actors like Zoe Saldaña, Sigourney Weaver, and Kate Winslet rendered unrecognizable by digital effects; yet the film never fails to showcase its actors' performances. "Avatar 2" is already considered to be a sure thing for the Best Visual Effects Oscar at this year's Academy Awards. After all, the movie's first iteration, "Avatar," already nabbed the Visual Effects Oscar — as well as two other Academy Awards — in 2010.
"Avatar 2" has had to take its visual effects even further than its predecessor in order to bring its characters to life, with stars going to extremes like holding their breath underwater during filming just to ensure their CGI-rendered performances would register on-screen. Naturally, one might think that such sophisticated technology would distract from an actor's ability to emote; however, director James Cameron recently claimed that the opposite is true.
Cameron really wanted to showcase his actors' performances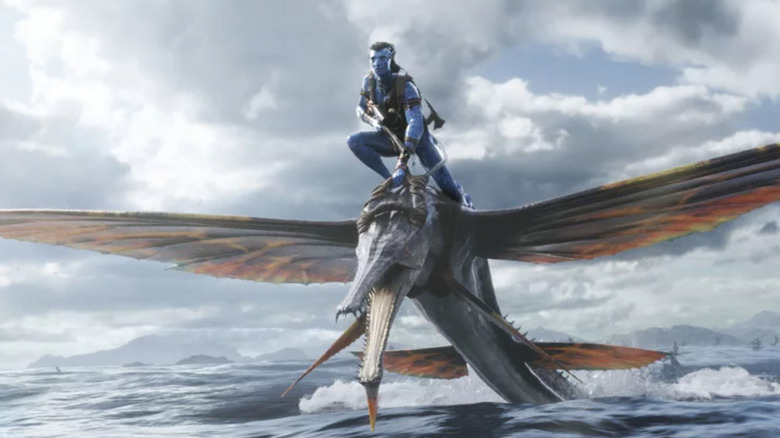 20th Century Studios
James Cameron has developed somewhat of a reputation for directing films with stunning effects. Each one of his films since "Aliens," save for "True Lies," has won an Oscar for Best Visual Effects. But Cameron managed to one-up even himself with "The Way of Water," even going so far as to build actual flying, swimming machines for his film so that its scenes with flying animals could seem more real. "We made a four-jet version of a skim-wing, and the skim-wing could go 20 miles an hour underwater, pop out of the water, fly around and then dive back in," he explained to BBC Radio.
Cameron has also stated in the past that it's crucial for his films to portray every nuance of his actors' performances (via Variety), and he certainly ensured that "Avatar 2" would do just that. For the film, he gave actors intricate two-piece bodysuits with motion sensors, as well as specially-equipped helmets, so that every one of their movements would be picked up by cameras. This included facial movements. Additionally, as a new featurette has shown, the actors frequently had to act on set with minimal props, costumes, background actors, or even scenery (via 20th Century Studios UK).
As Cameron himself suggested in the featurette, the lack of extras on set actually allowed him to work closely with his actors and ensure no one would be distracted by a stray camera or grip.
The Avatar 2 cast appreciated the technology as well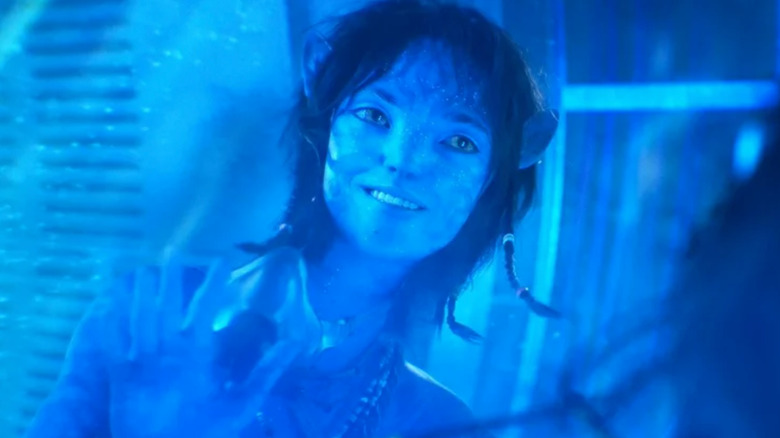 20th Century Studios
James Cameron recently complained to Variety that real-life film sets can often have less-than-magical scenery — including grips with their cracks hanging out — so it's safe to say that he's a man who appreciates minimalistic sets. Considering this, it makes sense that he would appear in a featurette applauding his own decision to cut extras from "Avatar 2."
"I find as a director I'm much more attuned to the actors because that's all I have to worry about. I'm not distracted by the camera move or the extras in the background," he said. "I'm just for them, that's all I care about. It's also the only way to do it, it's the only way to make this film."
Several actors from "Avatar 2," such as Sigourney Weaver, also appeared in the featurette to heap additional praise on the movie's technology. Weaver in particular felt that the motion capture technology helped her feel less self-conscious in the role of a teenager. And even Kate Winslet, who's had her own problems with Cameron in the past, managed to marvel at the technology that Cameron used to capture her performance. So perhaps Cameron really did have more quality time with her on set.