Babylon Director Damien Chazelle Explains Why The Movie Took 15 Years To Come Together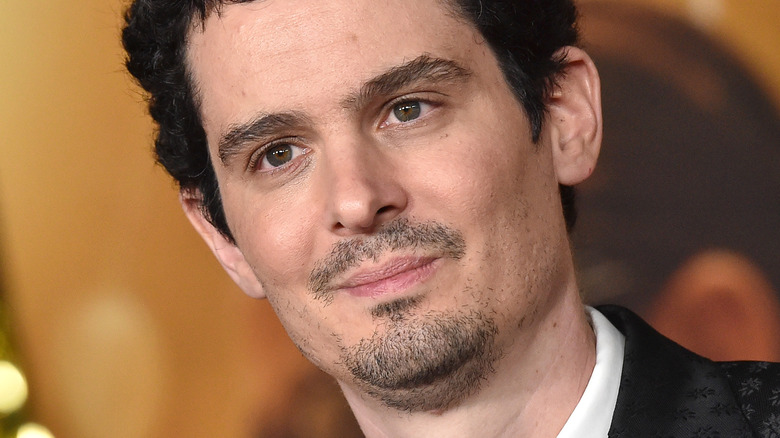 Axelle/bauer-griffin/Getty Images
Damien Chazelle is nothing if not ambitious. Perhaps that's why so many of his films are about all-consuming ambition, whether it's a nascent jazz legend's climb to the top in "Whiplash," two star-crossed artists' yearning for Hollywood success in "La La Land," or an astronaut's otherworldly aspirations in "First Man." "I ... naturally find myself drawn for whatever reason towards stories of people living in their dreams, for better or worse," the filmmaker told Screen Rant. "This idea of always reaching towards something that obviously can inspire achievements and progress and whatnot, but can also come with so much collateral damage."
With a three-hour run time and a sprawling ensemble cast, "Babylon" is Chazelle's most ambitious film to date. The upcoming epic, which takes place largely in the decadent Hollywood of the 1920s, stars Margot Robbie, Brad Pitt, and breakout star Diego Calva as three figures in the midst of the film industry's transition to sound films. Here's why the long-gestating project took over a decade to come to fruition.
Chazelle put Babylon on the backburner while he pursued other projects
In an AMA for Reddit, Damien Chazelle explained that he had been working on "Babylon" for 15 years, but not because the film had been languishing in development hell. "It was just a matter of letting it marinate," the director wrote. "When I first came up with the idea I wanted to write it right away. But I couldn't get past 'FADE IN.' I was like Nicolas Cage in 'Adaptation,'" Chazelle said, comparing his process to Spike Jonze and Charlie Kaufman's writer's block-inspired freakout.
Chazelle let "Babylon" sit on the backburner while he worked on other projects. Slowly but surely, the film came together in his head, then as a confident pitch. "I think, in retrospect, what I was missing at that time was just the confidence of feeling like I knew the material in my gut," Chazelle told Screen Rant. "I wound up reading a lot, researching, watching films, looking at things, and sort of piecing together what kind of became the DNA of the movie over the course of all those years."
If the rip-roaring trailer for "Babylon" is any indication, it was worth the wait. The film looks to be a lavish spectacle, full of detailed set pieces and highly choreographed sequences. "Babylon" hits theaters on December 23.