Tessa Thompson Cast Alongside Chris Hemsworth In Men In Black Spinoff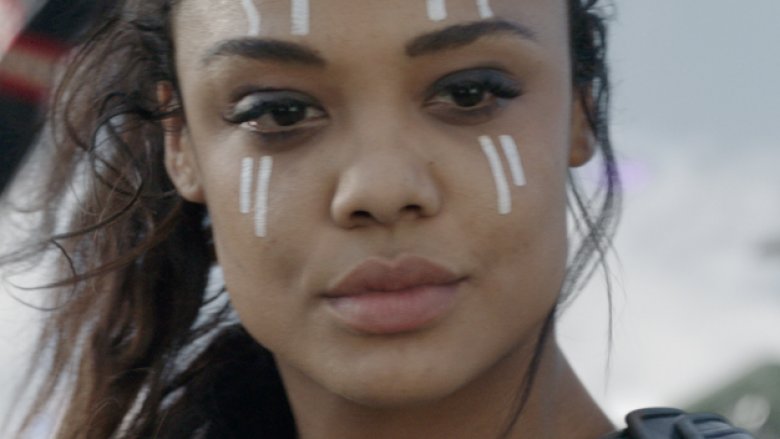 Marvel Studios/Walt Disney Studios Motion Pictures
Tessa Thompson will reunite with her Thor: Ragnarok co-star Chris Hemsworth for Sony's Men in Black spinoff, The Hollywood Reporter has confirmed. 
Thompson, who played the legendary warrior turned hard-drinking scrapper Valkyrie in director Taika Waititi's Thor: Ragnarok, will lead alongside Hemsworth in the Men in Black spinoff movie. The pair will reportedly play new Men in Black agents, replacing franchise stars Tommy Lee Jones and Will Smith, who portrayed Kevin Brown/Agent K and James Darrell Edwards III/Agent J, respectively. Details on Thompson and Hemsworth's characters are being kept secret for now. 
Fate of the Furious filmmaker Gary Gray will direct the new Men in Black, working from a script whipped up by Iron Man screenwriters Matt Holloway and Art Marcum. The film takes place in the same universe as the original Men in Black films, and is said to expand upon the existing sci-fi world in which Agents K and J operated. Sources also note that the movie is "more of an ensemble piece than a two-hander," so fans should expect to meet plenty more characters beyond Thompson and Hemsworth's agents. Additionally, the refreshed Men in Black will "be more global in scope." 
Some have compared Sony's approach to reviving the Men in Black series to the way in which Universal Pictures brought the Jurassic Park film franchise back to life with Jurassic World.
Walter F. Parkes and Laurie MacDonald, who produced the OG Men in Black films, are attached to produce the spinoff. The franchise's original executive producer Steven Spielberg also returns to his previous responsibilities. Producer Parkes once said of the new Men in Black movie, "It's so rare to get to the end of the script and know you're holding a movie in your hands, but Art and Matt have written a spinoff that somehow is true to the core of the MIB world, and yet expands the franchise to a fresh new place." 
Both Tessa Thompson and Chris Hemsworth can next be seen in Marvel's Avengers: Infinity War, out in theaters on April 27. 
Sony has the Men in Black spinoff slated for release on June 14, 2019.