Whatever Happened To Pan's Mushroom Jerky After Shark Tank?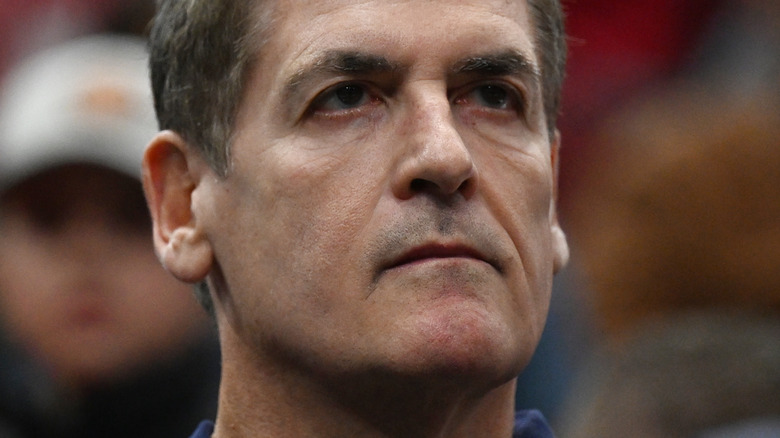 Quinn Harris/Getty Images
When Portland's Michael Pan entered the "Shark Tank" asking for $300,000 in exchange for 10% of his jerky company, it was hard to discern what exactly the hook of his product was. To the panel of Sharks — consisting of celebrity investors Mark Cuban, Lori Greiner, Daymond John, Kevin O'Leary, and special guest Black Mycoskie (of TOMS footwear) — all Pan had to offer was delicious beef jerky. As they devoured the product, Pan revealed that what they were eating wasn't actually meat at all, but shiitake mushroom.
The panel marveled at the taste and texture, as well as the idea itself — Pan was inspired by a dish he shared with his family in Malaysia. Though there seemed to be some tension surrounding Pan's outstanding loans and the ongoing coronavirus pandemic, the general mood in the tank seemed to be positive. In fact, it barely fazed the entrepreneur when the first Shark went out, as he could already see numerous others hungry for a piece of his business.
A Shark Tank feeding frenzy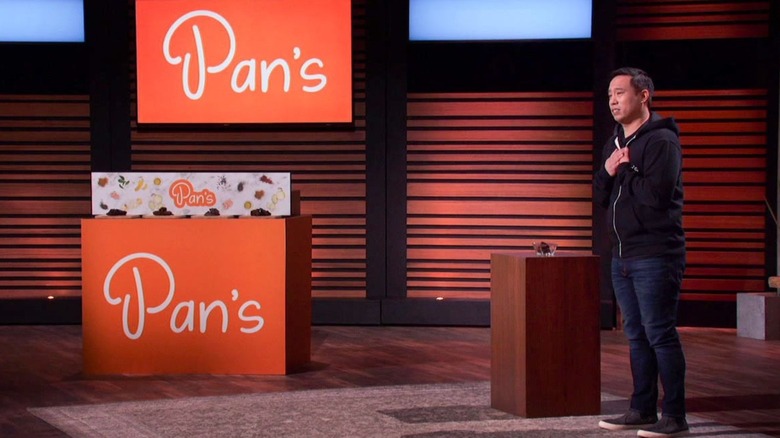 ABC
Though Daymond John kicked off the Sharks' response by explaining that it would take too long for him to receive profit from Pan's company, Lori Greiner and Blake Mycoskie had already quietly stepped aside to discuss a joint offer. When they returned, Greiner gave Pan one of the hardest sells ever, just before she gave the floor to Mycoskie so he could present their offer.
Promising to get the entrepreneurs product in Starbucks stores nationwide (a coveted and under-competitive specialized selling venue), Mycoskie told pan that both he and Greiner would need 15% each to invest $300,000 — slashing Pan's valuation from $3 million to $1 million. Next to Mycoskie, however, Mark Cuban started to stir, panicking Greiner and causing her to attempt a semi-hostile now-or-never closing strategy.
It was too late — Cuban was able to squeak out a lightning-fast offer of $300,000 for 20%. Pan was torn between the offers as the three Sharks shouted over each other, trying to convince him of their business potential. It quickly became apparent that Pan was gravitating toward Cuban, and when the investor brought his percentage down two points, Pan took the deal.
Mark Cuban closed his deal with Michael Pan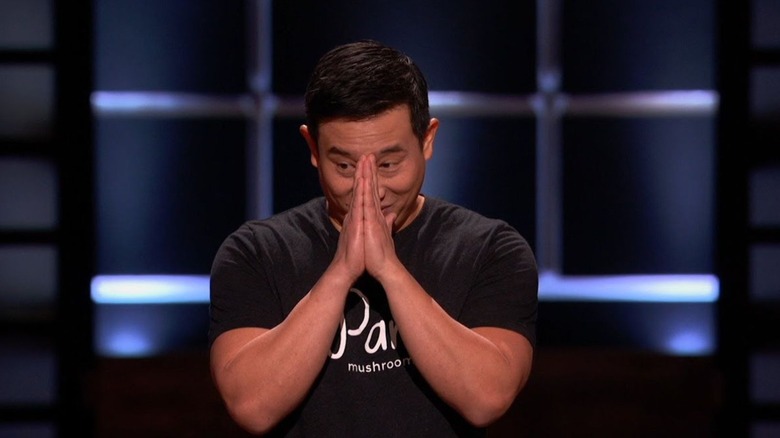 ABC
According to Mark Cuban's personal website, the Dallas Mavericks owner is still in business with Pan's Mushroom Jerky. It's actually not incredibly common for a "Shark Tank" deal to go through after the show airs, with Forbes finding that around 40% of all deals end up falling apart behind the scenes (notably, Cuban's closure rate is significantly higher than his peers).
Cuban's website states that the product can be found in over 900 retail stores in the U.S., which is an increase from the 600 stores Pan's product was in when he first appeared on "Shark Tank." Pan's Mushroom Jerky is also available on its website, where they sell for $8 even. Since debuting the show, the company has added two new flavors to its roster, and has begun selling branded merchandise like hoodies and water bottles. Curiously, the company's website contradicts Cuban's in a rather large way, claiming to have their product in over 3,500 stores in the U.S. — it's likely that Cuban's website just needs to be updated. A vegetarian himself, Cuban has a history of making solid deals with vegan food companies, as he did with the dog food brand Wild Earth.