The Studio Ghibli Easter Egg Fans Think They Found In Spirited Away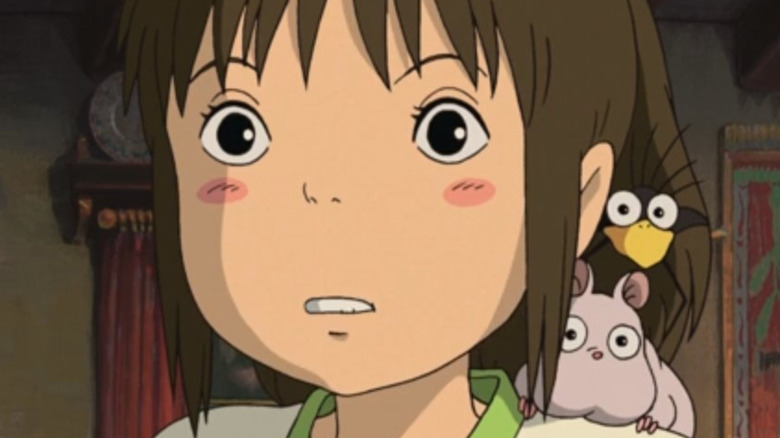 Toho
You'd be hard-pressed to find any film fan who doesn't at least have a passing knowledge of Hayao Miyazaki, the co-founder of Studio Ghibli who has worked in animation for over 40 years and has 11 feature-length animated films to his name. Considered a masterful storyteller and animator, Miyazaki is held in high regard by film critics and analysts alike, with the BBC dubbing him "the godfather of animation in Japan." With his reputation extending far beyond his home country, the Academy of Motion Picture Arts and Sciences even presented him with an Honorary Award in 2014. His films have consistently earned critical acclaim and financial success, but most critics and fans agree that the Oscar-winning "Spirited Away" is possibly his greatest film.
"Spirited Away" follows 10-year-old Chihiro Ogino (Rimi Hiiragi) as she travels to her new home with her parents. The family suddenly stops in front of a dark tunnel leading to an abandoned amusement park. When night falls, Chihiro stumbles upon a bathhouse for supernatural creatures and discovers that her parents have turned into massive pigs. In order to save them, Chihiro takes advice from a boy named Haku (Miyu Irino) and takes a job at the bathhouse.
Like many of Miyazaki's films, the world of "Spirited Away" is incredibly vast, feeling lived-in and fully established beyond the scope of our story. Whether it's the intricate detail in the background or the imaginative creatures in the foreground, most frames of the film have so much to gleefully pick apart. Even 20 years after the film's release, fans are still discovering fascinating new details in the surroundings of any given scene. And one fan did manage to catch a very fun Easter egg that should delight both devout and casual Studio Ghibli fans alike.
A Studio Ghibli Easter egg for cat people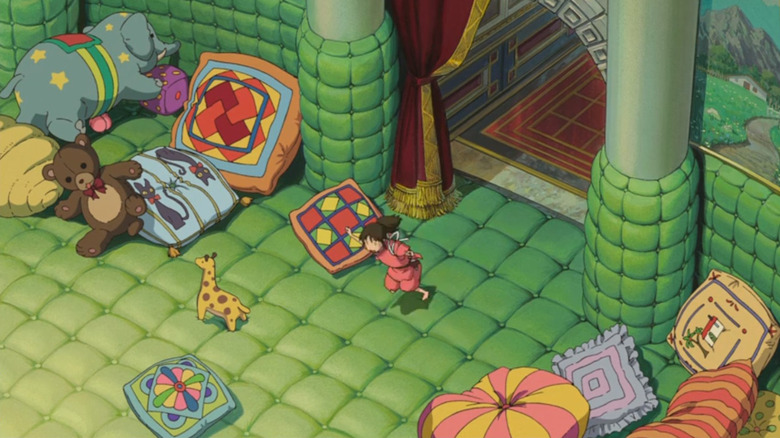 Toho
In the scene, Chihiro is attempting to reach the office of the bathhouse proprietor, Yubaba (Mari Natsuki), to check up on an injured Haku. On the way, she stumbles upon the nursery for Yubaba's baby, Boh (Ryūnosuke Kamiki).
Redditor u/Outside_Pizza_1950 made all their fellow fans aware of a pillow to Chihiro's right featuring a pattern of a black cat wearing a red bow tie bearing a striking resemblance to Jiji (Rei Sakuma), the wisecracking feline familiar to the titular young witch of "Kiki's Delivery Service," another animated Hayao Miyazaki-directed film about a girl coming of age. Redditor u/voiceless_sufferer summed it up best with their reply, saying, "This is why I love ghibli, they put so much [sic] details its [sic] just too good!" The post garnered OP over 150 upvotes, most of which were probably from cat people and/or Studio Ghibli fans.
With so much in the background to examine, there are likely additional references in "Spirited Away," and it seems that at least one of them could be another homage to "Kiki's Delivery Service." Redditor u/Cubbage-kun spotted a potential reference during a scene that takes place at the cottage of Yubaba's twin sister, Zeniba (also Mari Natsuki). As Chihiro laments to Zeniba, there is a tapestry to Chihiro's right featuring a girl clad in a dark dress and a witch's hat, wielding a broom with a bow. Since the titular Kiki primarily sports a purple dress and a red bow and uses a broom for her courier business, it seems likely that this is indeed another reference to "Kiki's Delivery Service."
While by no means the most prominent reason, the film's rich detail likely contributes to why some anime fans consider "Spirited Away" the best animated film of all time.