Dakota Johnson Almost Had A Prominent Role In Don't Worry Darling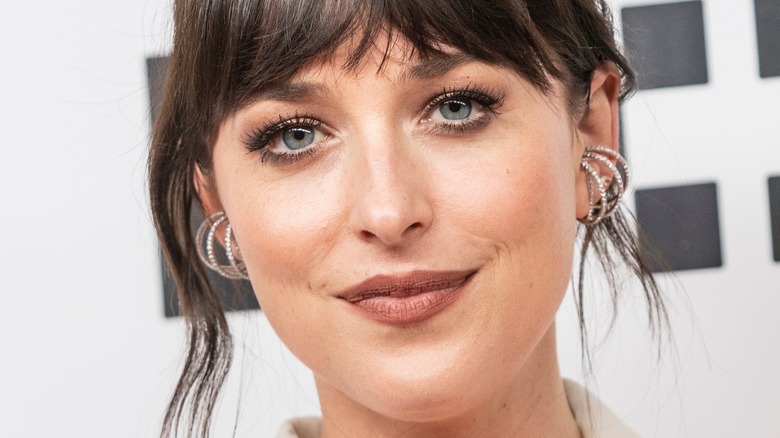 lev radin/Shutterstock
"Don't Worry Darling" may have been one of the most controversial films of 2022. Even before "Spitgate," when a majority of the Internet came to believe that star Harry Styles had spat on Chris Pine at the Venice International Film Festival (via People), there was the whole business about Shia LaBeouf dropping out of the project — or was he fired? Neither LaBeouf nor director Olivia Wilde could seem to agree (via Entertainment Weekly). However, things certainly didn't appear so black and white when LaBeouf shared a video of Wilde apparently begging him not to quit, despite Wilde's earlier assertions that she had fired him to protect his costar Florence Pugh (via Rolling Stone). And, speaking of Pugh, there was a whole separate rumor about her relationship with Wilde. Supposedly, she had never approved of Wilde's on-set romance with Styles, since Pugh was friends with Wilde's ex, Jason Sudeikis (via W Magazine).
Though the dust has mostly settled on "Don't Worry Darling," there's another bit of gossip that few people have discussed. Namely, Dakota Johnson was almost in one of the movie's key roles.
Dakota Johnson would have played the role of Margaret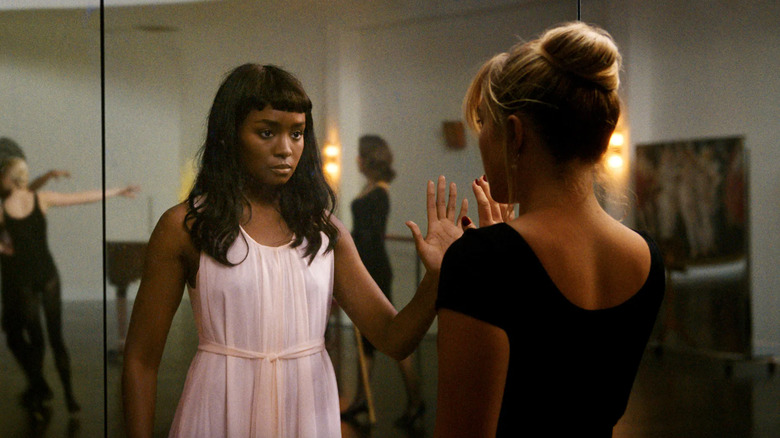 Warner Bros. Pictures
Dakota Johnson joined the starry cast back in May 2020 (via Deadline), when Shia LaBeouf still hadn't quit and Harry Styles had never been accused of expectorating onto America's one-time "Best Chris." Unfortunately, Johnson soon had to drop out due to scheduling conflicts, prompting KiKi Layne to take her place.
Assuming Johnson would have played Layne's character Margaret, this would have meant that Johnson would have been the outcast of the 1950s-style community in which the women of "Don't Worry Darling" lived. Of course, Margaret wound up meeting a tragic end after witnessing a strange plane in the air and seemingly going crazy. 
It's possible that Johnson dodged a career bullet, however, considering all the drama surrounding "Don't Worry Darling." Additionally, the erstwhile character Margaret had many scenes cut from the final movie, as Layne eventually revealed on Instagram. That said, Layne also met her current flame, Ar'iel Stachel, on the "Darling" set, so perhaps Johnson had to drop out of the movie so that Layne's love life could take off. Fate, unlike the plot of "Don't Worry Darling," works in mysterious ways.