Why There Was A Major Battle Over Lois After Family Guy's Pilot Episode
Like "The Simpsons" and "South Park" before it, "Family Guy" has remained a mainstay as one of the longest-running adult animated series on TV. Fox debuted the new cartoon anti-sitcom in 1999, and the show was canceled by 2002. However, strong DVD sales and early-internet public outcry led to the show's return in 2005 (via National Review Online). As of 2022, the show remains on the air.
None of that would've happened if it weren't for the pilot presentation that creator Seth MacFarlane drew up for Fox as a proof of concept for the show. One look at the pilot pitch and fans can right away spot the similarities to the show's actual pilot episode from Season 1, "Death Has a Shadow." MacFarlane not only animated a lot of the pitch project himself, but he also voiced many of the characters. While some of those characters were recast, MacFarlane had to fight to keep one of the cast members going into the actual series.
While the showrunners were quick to change the prominent detail about Lois' hair color from blonde in the pilot presentation to red in the actual series, the network also wanted to recast the actress playing Lois. The actress known for voicing the Griffin matriarch, comedian Alex Borstein, has explained what went down with her casting on the show.
Seth MacFarlane had to fight Fox to keep Alex Borstein as the voice of Lois after the pilot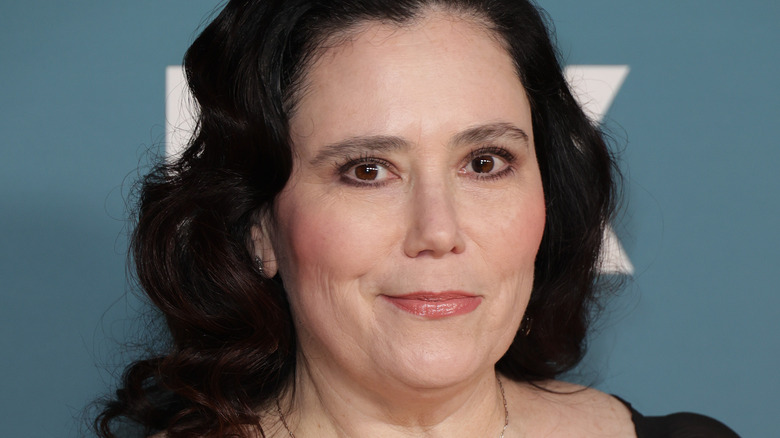 Momodu Mansaray/Getty Images
In an interview with Digital Spy, Alex Borstein said she got the offer to play Lois while working on "MADtv," also at Fox. In fact, according to Legends Revealed, before being picked up as a series, "Family Guy" was once considered to be a series of animated shorts that played during "MADtv" a la "The Simpsons" and how the latter was featured in the "Tracey Ullman Show." When Borstein heard about helping out on the pilot presentation of the show, she jumped at the opportunity as she recalled just enjoying working on projects in general.
When developing the character, Borstein recalled doing a voice similar to one she was doing for a comedy play she was working on. MacFarlane loved it, which became Lois' voice in the pilot presentation. After the show got picked up as a series, Borstein said the network wanted a bigger star to voice Lois in the series. Borstein said of Fox, "They proceeded to have a series of auditions. Literally, every person that has ever had a f**king Screen Actor's Guild union card was on the couch to audition for the part!" The network did want someone else, but MacFarlane fought for Borstein to remain in the role, and he ultimately won out.
Alex Borstein even went on to write for the show and further develop Lois
Alex Borstein remained very grateful to Seth MacFarlane for the role she continues to love to play. She even got to join the writer's room for the show when MacFarlane asked her to fully flesh out her character so as not to make Lois a stereotypical sitcom wife. "It was a cool opportunity to create this other person, with this dark underbelly and this dark path. Even though she's animated, we try to make her three-dimensional and create this sexual human being who likes it, instigates it and welcomes it. So it was definitely a cool opportunity to do that," Borstein said (per Digital Spy).
It seemed as if Borstein had narrowly dodged recasting, as Lois' daughter in the show, Meg, would have its voice actor recast after the first season. "Mean Girls" actress Lacey Chabert voiced Meg in the first season. However, Chabert left "Family Guy" to have time to continue her education and finish work on "Party of Five." She was recast with Mila Kunis whose voice is now synonymous with the role of Meg, but there was no ill-will between Chabert and MacFarlane (via IGN).