Jorja Fox Managed To Get A Catherine And Sara Rivalry Removed From The CSI Script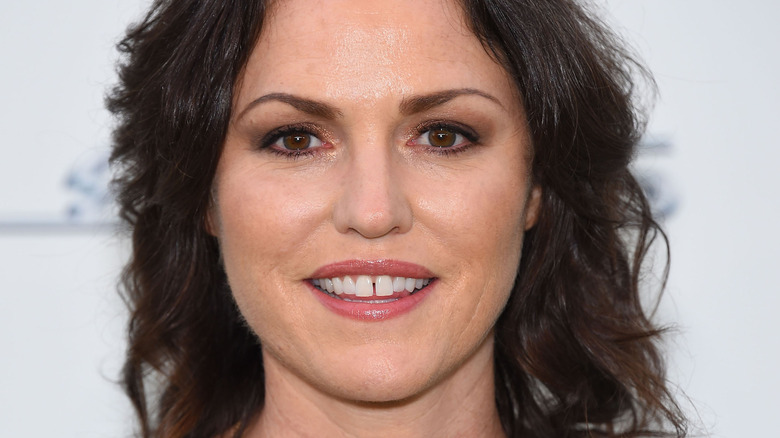 DFree/Shutterstock
Filming a season of network television is a gargantuan task. The task of essentially offering a feature film a week becomes near-impossible when episode counts get into the double digits. While not as common today, typical network procedurals still knock out large episode orders that require them to be in near-constant production. It's an exhaustive process. Production on "Law and Order: SVU," for instance, was partly shut down in 2014 to give its cast, especially lead Mariska Hargitay, a chance to rest (per Deadline). 
The need for fast-paced work in an environment where content is king and needs to be churned out as fast as possible, collaboration can sometimes be an understandable secondary priority. The late Ray Liotta noted in 2006 that television work was far less collaborative than he expected considering the amount of hours needed just to get an episode to the finish line. "Between the hours, the speed you have to get [the episodes] done, the egos involved ... And it's not as collaborative as I thought it would be," he said in 2006 while promoting the short-lived CBS drama "Smith" (via Entertainment Weekly). 
Another CBS drama that needed a lot of muscle and time behind its mountains for seasons was "CSI." The crime procedural regularly produced more than 20 episodes a season in its early years, so it may be a surprise that star Jorja Fox managed to get the potentially major storyline of her character Sara Sidle and Marg Helgenberger's Catherine Willows removed from the show. 
Jorja Fox didn't want the only two women on CSI feuding
"CSI" star Jorja Fox revealed in a 2007 interview that she managed to successfully shoot down a proposed storyline of a rivalry between colleagues in "CSI," namely between her character Sara Sidle and Marg Helgenberger's Catherine Willows. Fox said she discussed the potential rivalry between her and Helgenberger and they decided they didn't want the only two women in the main cast constantly fighting each other. 
"They started off right away that we would lock horns and that this would be a theme that would go throughout the show. Marg and I talked about it and we both felt that, since we were the only women on the show at that time, to have [us] fighting each other and jockeying for position was an area that we were hoping that [we didn't have] to go," she told PopGurls in 2007 (via Fans of LeFox). 
According to Fox in the same interview, compromise was actually common on the "CSI" set despite the typical pressing demands of producing a network drama. The actress said even on set, the actors, director, and writers could be debating scenes. "If we can go away and talk for a few minutes — all four people come out with a great resolution which might be very different from what each person wanted individually so it's very exciting," she said.