Jorja Fox Didn't Expect To Return As Sara Sidle On CSI: Vegas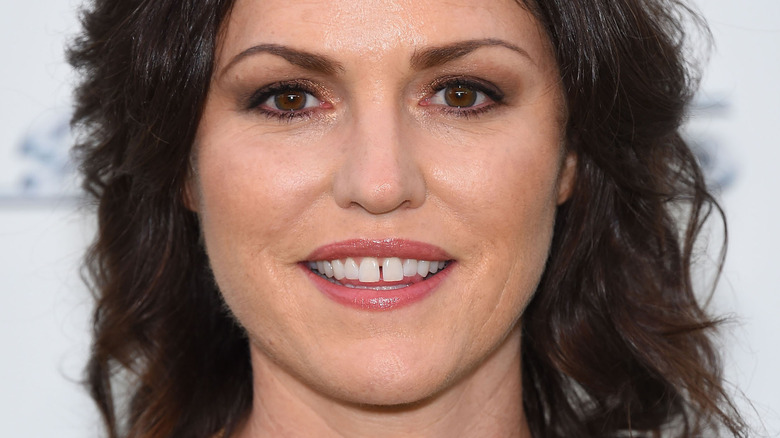 DFree/Shutterstock
Jorja Fox was one of the original cast members who helped sell "CSI: Vegas" to audiences upon its launch in 2021. Fox returned as Sara Sidle along with "CSI: Crime Scene Investigation" stars William Petersen as Gilbert "Gil" Grissom and Marg Helgenberger as Catherine Willows. 
The franchise had survived without Fox's Sidle before, but it never needed to do so for long. Fox became a recurring star on "CSI" after Season 8, returning to full-time duty for Season 12 when Peterson wasn't even around and Ted Danson took the reins as the group's leader (per TVLine). Unfortunately, Fox's Sidle was written off "CSI: Vegas" after Petersen announced he would not be back for the show's sophomore season. Fox revealed through Twitter that she chose to depart after Petersen's decision to leave, feeling it wouldn't be right for her character. 
"For me, 'CSI' has always been a love story," she wrote. "The story that people can find love in the darkest of places and times. And the story that love, even in the darkest of places and times, can expand and grow roots and endure. I personally just can't split Sara and Grissom up again. So goes Grissom ... So goes Sara." 
"CSI" fans should be a bit thankful, though, as according to Fox, she never expected to return to the world of "CSI" and have another chance to play her favorite character in her entire career. 
Fox thought the original CSI finale was a perfect ending for Sidle
According to Jorja Fox, she and the rest of the "CSI" cast thought they were absolutely done when the show came to a close in 2015. While promoting "CSI: Vegas," the actress said she believed that the story of Gil Grissom and Sara Sidle was over, as the two characters end the original "CSI" run by riding toward the unknown in the finale, "Immortality." 
"Gil Grissom and Sara Sidle literally sailed off into the sunset," Fox told Stephen Colbert on "The Late Show." "It was such a great way to go out. I was like, 'Okay, the book is closed, that's it.' I was completely surprised and floored. I thought fans had moved on, audiences had moved on. I'm like, 'No one wants to see this "CSI" stuff anymore, right?'" Fox was clearly wrong. After she suggested that maybe people had seen enough of "CSI," she earned cheers of encouragement from "The Late Show" studio audience. 
While Fox's Sidle and Petersen's Grissom are gone from "CSI: Vegas," Petersen never wanders too far away from the series. He's still involved in the drama as an executive producer (per The Hollywood Reporter).