The Only Better Call Saul Character That Appears In Every Episode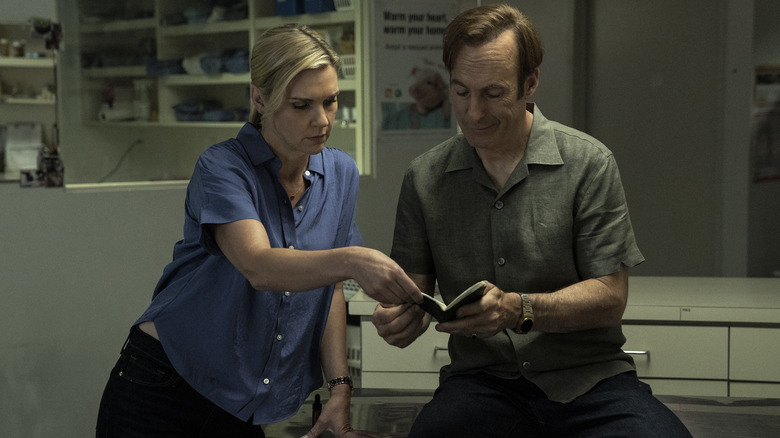 Greg Lewis/AMC/Sony Pictures Television
Having ended earlier this year, "Better Call Saul" is preparing for its last awards season. Despite some misconceptions that the series took its final bow last year, the second half of Season 6 remains eligible for both the upcoming Golden Globes and the Emmys, due to the timing of its release. For the former, "Better Call Saul" has already earned two more nods — one for the series as a whole and the other for its lead star, Bob Odenkirk.
The "Breaking Bad" prequel has been regarded by some as a rare example of a spin-off meeting — and sometimes exceeding — the quality of the original show. For six seasons, fans followed hapless legal hopeful Jimmy McGill (Odenkirk) as he scammed and scrambled his way through the whims of his older brother, Chuck (Michael McKean), the Salamanca Cartel, and his own selfish ego.
By the time the final episode aired, the series had amassed an impressive roster of new and returning characters, from Jonathan Banks' impeccable revival of Mike Erhmantraut to the introduction of Nacho Varga (Michael Mando) and Lalo Salamanca (Tony Dalton). Among this ensemble, however, only one actor appeared in every episode of the AMC series.
It's all Saul, but Kim isn't far behind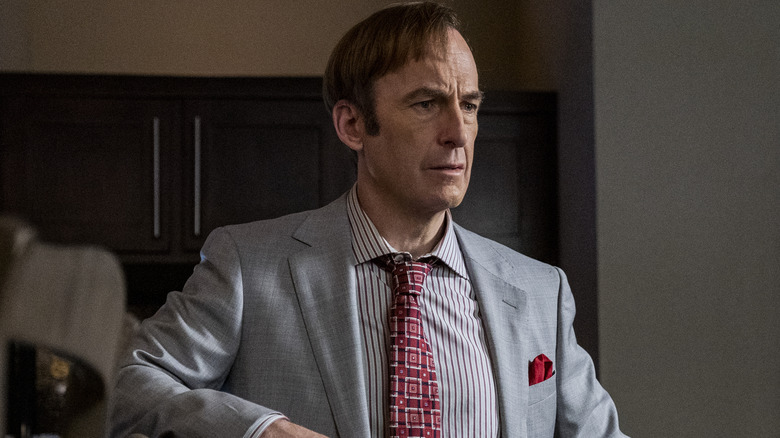 Greg Lewis/AMC/Sony Pictures Television
Unsurprisingly, Bob Odenkirk's Jimmy McGill is the sole cast member to appear on screen in every single episode of "Better Call Saul" — though a few others come close (per IMDb). In fact, it's arguably more notable that there are three episodes wherein series co-lead Kim Wexler is absent. Two of these episodes take place in the second half of Season 6, during a jump forward in time to when Jimmy has fled to Omaha, Nebraska.
Now living as Gene Takavic, humble Cinnabon employee, Jimmy is recognized as Saul Goodman by Jeff (Pat Healy), a local cab driver with criminal tendencies. Season 6, Episode 10, "Nippy," follows Jimmy's attempts to ensure that Jeff won't reveal him to the police by involving him in a burglary scheme. The second episode without Kim, Episode 11, "Breaking Bad," does involve a one-sided phone call between her and Jimmy (Kim's side is later revealed in Episode 12, "Waterworks"). Additionally, though Rhea Seehorn is credited in Season 1, Episode 6, "Five-O," Kim does not appear.
Who else appeared in almost every episode?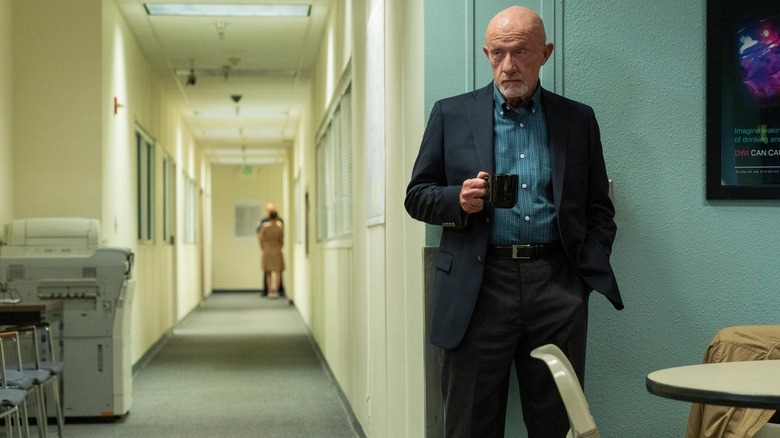 AMC
Speaking of "Breaking Bad," the episode also features a number of flashbacks (or flash-forwards, depending on how you view the series' timeline) to the original series of the same name. In one of these scenes, viewers see Mike Ehrmantraut's first conversation with Saul about Walter White (Bryan Cranston). Like Kim, Mike is also credited in all but two episodes of the series. In addition to "Nippy," Mike does not appear in "Waterworks," an episode mostly focused on how Howard Hamlin's (Patrick Fabian) murder altered the course of Kim's life. Mike ultimately appears in 59 out of 63 installments, with Jonathan Banks credited for two episodes wherein Mike is absent.
Similarly, Nacho Varga and Howard Hamlin are tied for credits but not appearances. Of his 59 credits, Michael Mando only actually played Varga in 39 episodes — he is even credited for several episodes after his death at the beginning of Season 6. Fabian is also credited post-mortem, having ended his "Better Call Saul" run with only 43 actual appearances. Directly behind Mando in fifth place is Giancarlo Esposito, who played Gus Fring 35 times on the series. He appeared in seven more episodes than Michael McKean's Chuck McGill, who was voted as the second favorite character among Looper's readers.